This fall I interviewed women who recently graduated from Arizona State, Cal, Dartmouth, Stanford, Tufts, UCLA and UC Santa Barbara. The question I asked was, "What advice would you offer an incoming freshman girl on how to navigate the hook-up culture?"
Each woman offered practical wisdom and heartfelt advice. I am currently working on a book on this topic but feel compelled to share some of these women's insights immediately to help girls who are in college now.
I interviewed my own daughter first and then many of her friends and their friends. I asked each woman to imagine a girl she loved -- a younger sister, a cousin, a neighbor -- and to offer advice with that person in mind.
Here are some of their insights on navigating the hook-up culture and alcohol: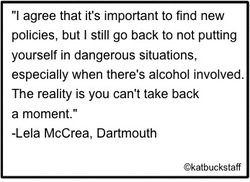 Kathleen blogs regularly to The Huffington Post. To be notified when she publishes a blog, please sign up here. Kathleen is the author of two books that celebrate life and motherhood:Mother Advice To Take With You To College, a collection of humorous drawings and wise sayings, and The Tiffany Box: A Memoir, an International Best Book Awards Finalist, a true story full of humor, heartache and love--told through emails, letters, diary entries and columns about the last two years of Kathleen's mother's life. You can find her on Facebook and Twitter.
REAL LIFE. REAL NEWS. REAL VOICES.
Help us tell more of the stories that matter from voices that too often remain unheard.