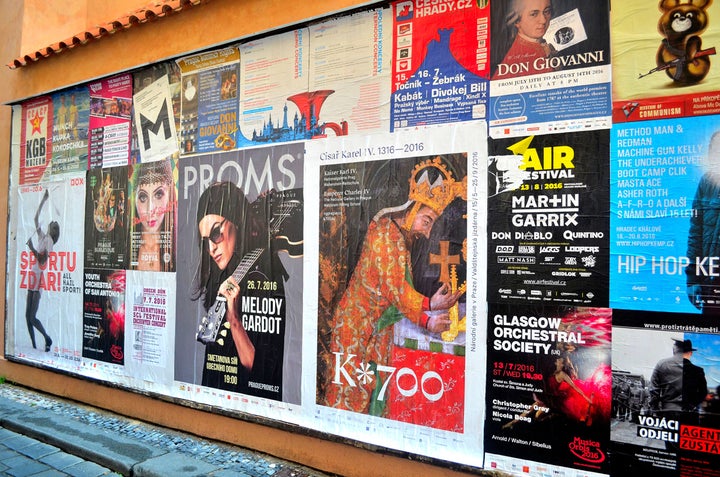 Arguably the most beautiful city in Europe – certainly at least an equal with Paris – Prague is a labyrinth of cobblestone streets, picturesque town squares, secluded courtyards, castles, towers, and jaw-dropping views. A place where even a non-beer drinker like me has to acknowledge that here is the best brew in the world.
Prague escaped World War II with minimal damage to its historic buildings, making the city's architecture some of the world's most pristinely preserved, including exquisite examples of Gothic, Baroque, Rococo, Renaissance, Art Nouveau, Neo-Classical and über modern.
Ranked sixth in the TripAdvisor list of best destinations in the world, Prague's iconic sights should certainly be explored. But the fun doesn't stop there...Prague is also host to some unusual activities that should be not be missed.
1. Visit the Museum of Medieval Torture Instruments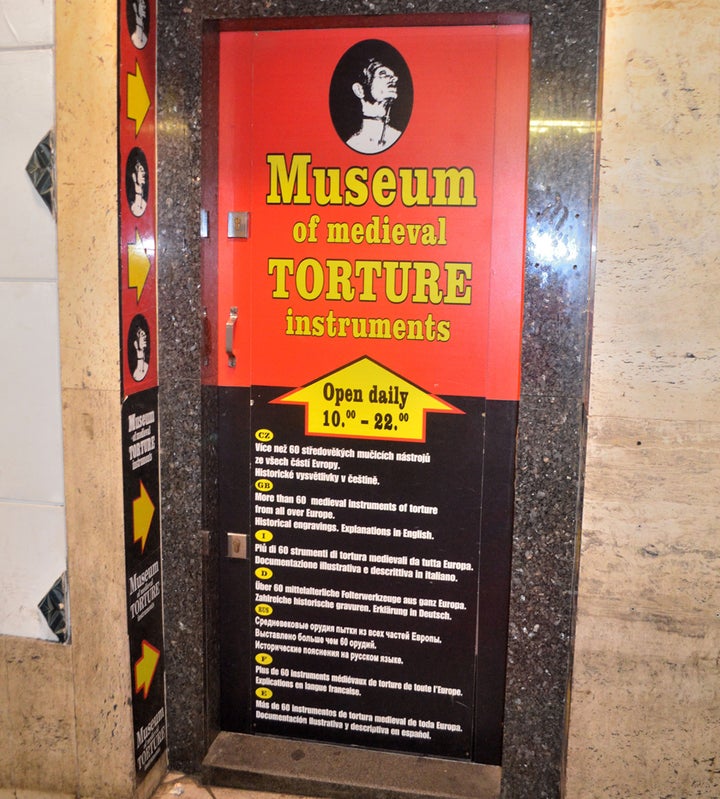 Located in the arcade next to Charles Bridge, the Museum of Medieval Torture Instruments will be of interest to those who are fascinated with the history of macabre and gruesome infliction of pain. Three floors include familiar instruments like the Iron Maiden and the Rack, as well as numerous other ingenious ways designed to exsanguinate, garrote, tear limbs, or for the lucky ones just inflict public shame.
2. Party at the Dancing House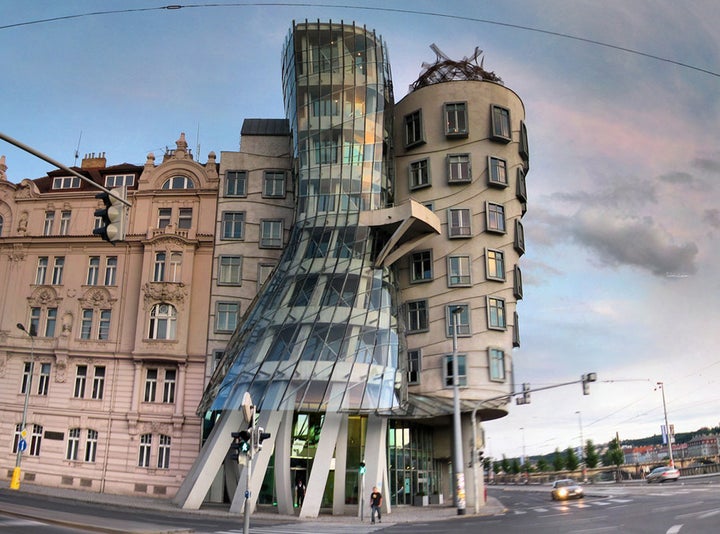 Designed by my favorite architect, Frank Gehry, in collaboration with Vlado Milunić, the Dancing House, as it is known, is considered noveau baroque architecture, but it reminds me more of the deconstruction style of Gehry's "Building 32" on the campus of MIT (Massachusetts Institute of Technology). The fluid curves of the Dancing House give the illusion of a couple dancing… well, maybe after an amount of absinthe. The best time to photograph the exterior is at twilight, then go to the top floor for a drink on the rooftop with panoramic views of Prague Castle.
3. Tour the Sex Machine Museum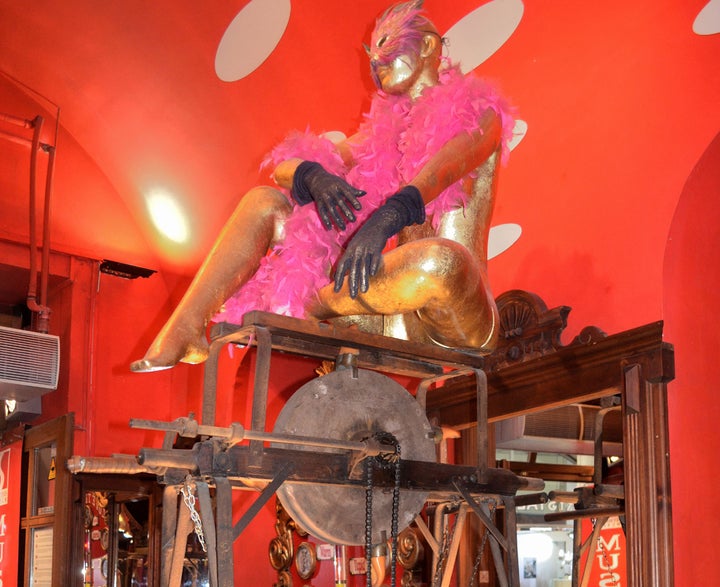 I stumbled on the Sex Machines Museum on a side alley right off the busy Old Town Square and thought, "Why not?" It turned out to be a hoot! This museum contains every kind of erotic appliance, physical restraint, and contraption – some 200 inventions which were probably designed for pleasure but look anything but pleasant. It's one of the most unique public displays you'll likely see and worth a walk around the three floors of kinky devices dating back centuries. There is also a theatre room with a continuously running film; the one playing while I was there was from the silent film era and (unintentionally) hilarious.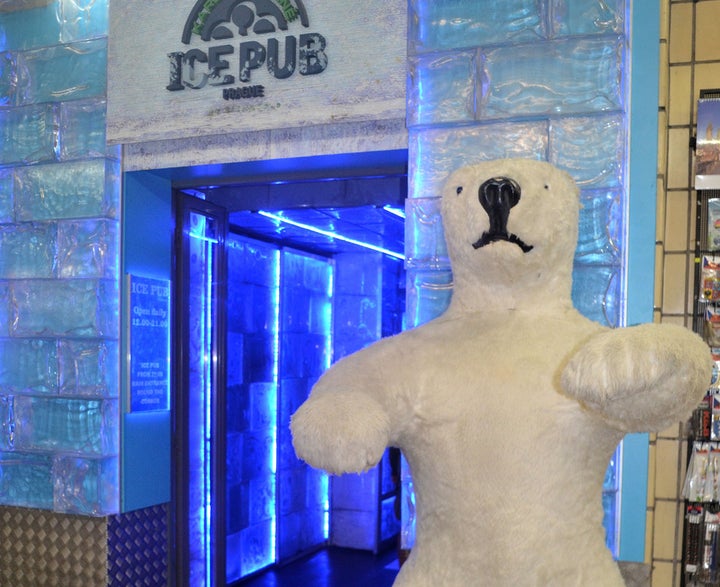 Everything… the walls, bar, tables, sculptures and even your own personal glass filled with vodka cocktails – ice sweet, ice sour, or ice bitter – are made of ice. But don't worry if you didn't dress appropriately for this unique experience – you will be handed a very heavy thermal coat and thick gloves to keep you from getting frost bite in the minus 7 temperatures.
5. Go to a Black Light Theatre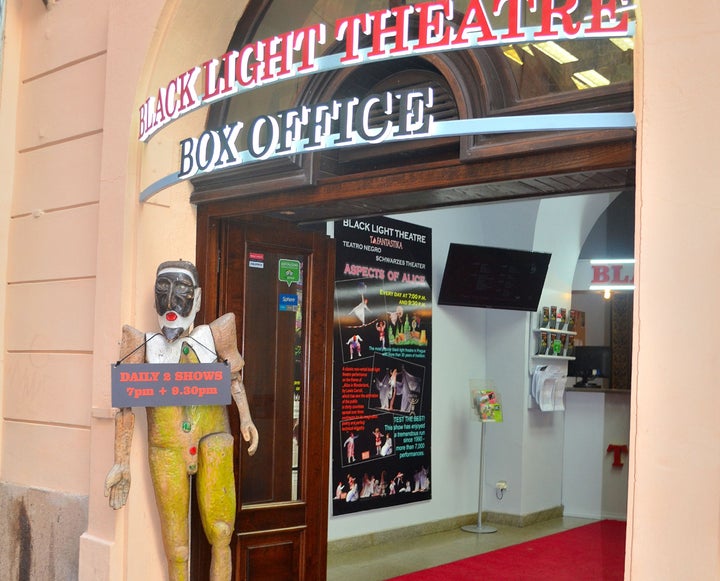 Prague is host to several of these theatrical performances which combine black box theatre augmented by black lights in precise execution of visual tricks. The variation between light and dark, with modern dance, costumes, and performance and audience participation create a mystical experience.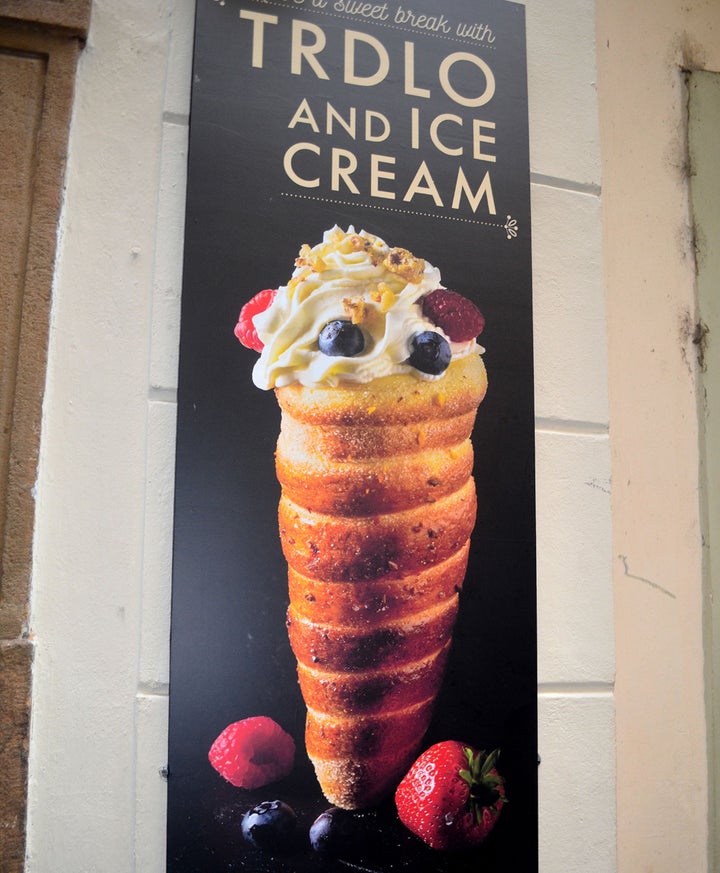 Trdelník is a sweet pastry made from rolled dough that is wrapped around a stick, then grilled and topped with sugar and walnut mix or filled with ice cream. It's one of the more popular street foods in Prague and easy to find – or better, smell – the fragrant pastries made out in the open air by the small shops in Old Town.
7. Visit the Museum of Communism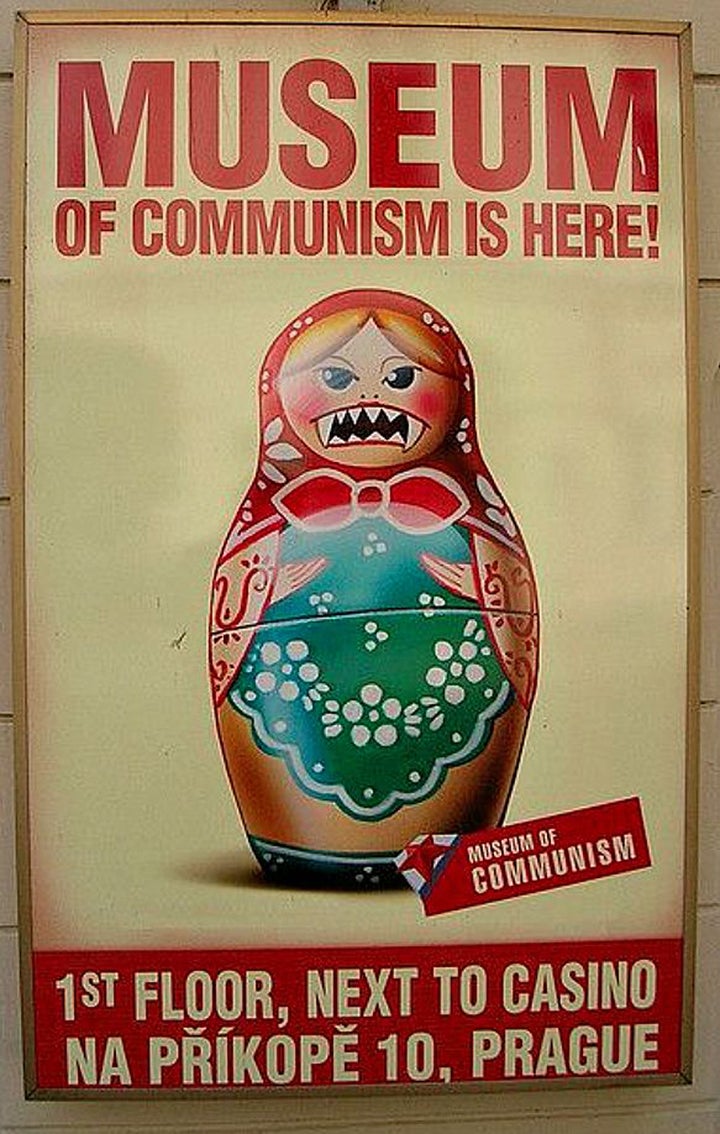 The Museum of Communism contains exhibits of communism in Prague as well as the rest of Czechoslovakia. There are authentic artifacts which depict communism in such areas as politics, censorship and propaganda along with everyday life and labor camps and even a sample interrogation room. While you can find historical propaganda displayed against capitalism and USA, the museum is presented from a Czech but not pro-communist point of view. The overriding theme of the museum is "Communism: The Dream, The Reality and The Nightmare."
8. See the Upside Down Sculpture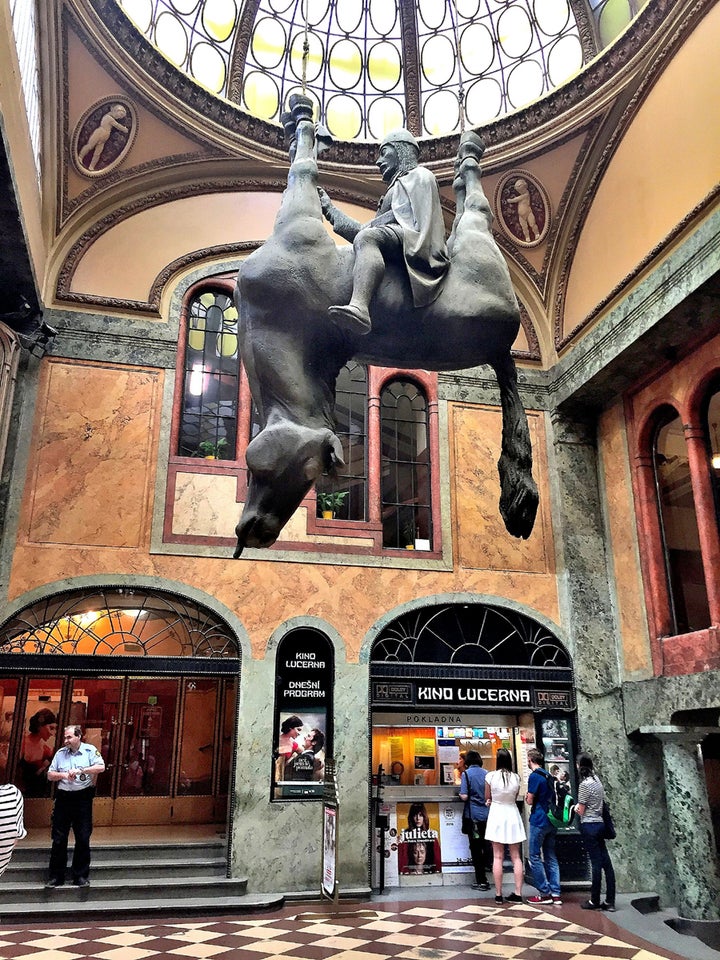 Created by provocative Prague-born artist David Cerny, hanging from the ceiling of the Art Nouveau Lucerna Palace in Wenceslas Square you'll find the monarch himself – King Wenceslas (the "Good King" of the English Christmas carol). He is riding an upside-down horse, which is apparently dead. The bizarre sculpture is much more thought-provoking than the more traditional majestic mounted version of the king in front of the National Museum at the top of the square.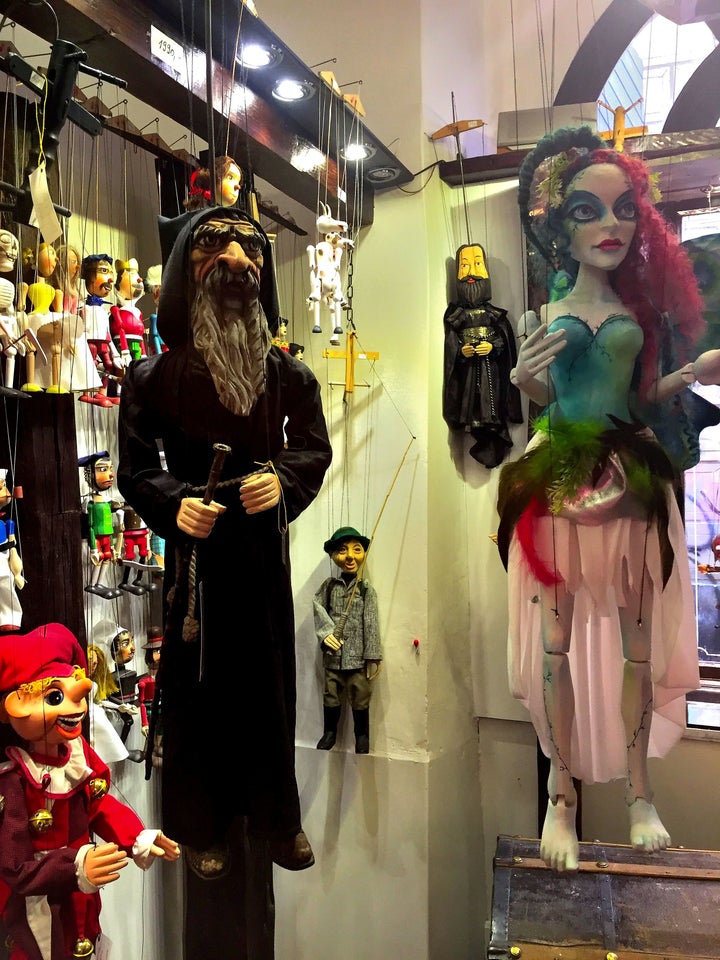 Making marionettes from wood is Czech tradition. Although pricey, the workmanship is extraordinary. The puppets made from plaster are much less expensive, but also much less unique. There are several shops selling marionettes in Old Town, but none as exquisite as Galerie Michael. I spent quite a bit of time there, captivated, my inner five-year-old unable to tear myself away. If you have the means, this souvenir from Bohemia would make a fabulous conversation piece.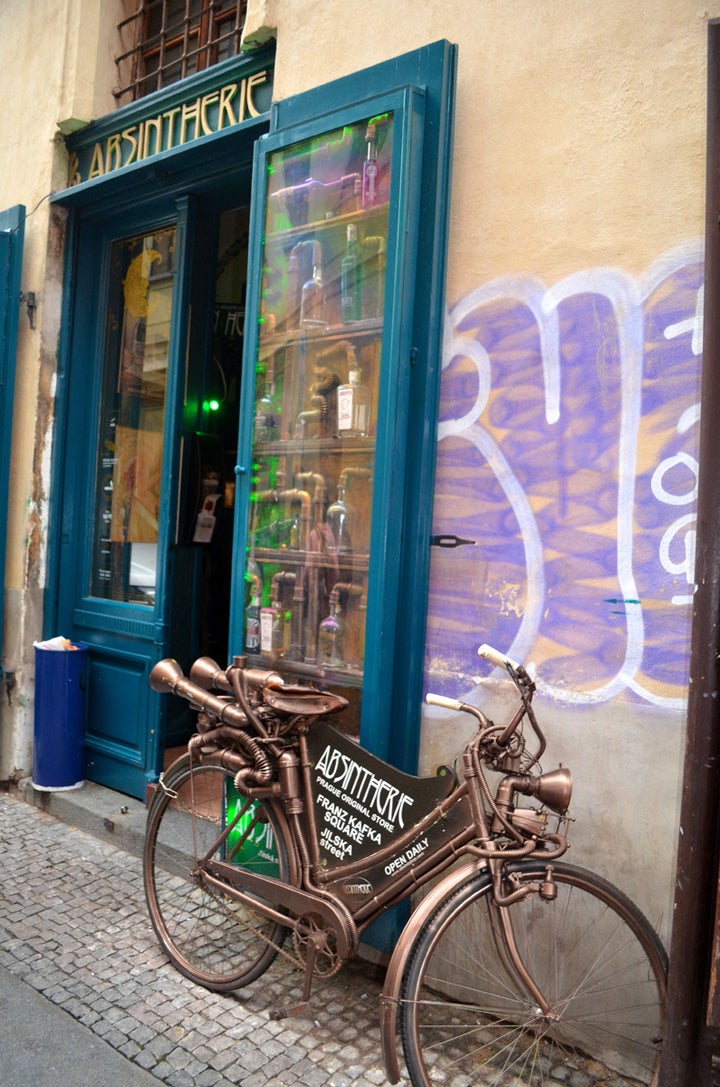 Absinthe is a distilled, anise-flavored, highly alcoholic spirit, made in Prague since time immemorial. Historically, it has been association with bohemian culture and portrayed as a dangerously addictive psychoactive drug and hallucinogen. The chemical compound thujone (wormwood), although present in the spirit in only trace amounts, was blamed for its alleged harmful effects; however, studies have shown that the psychoactive properties have been exaggerated. The Absintherie in Franz Kafka Square serves a variety of absinthe drinks mixed with such components as cactus flower or chocolate, as well as absinthe beer, coffee and ice cream.
11. Sing on the Charles Bridge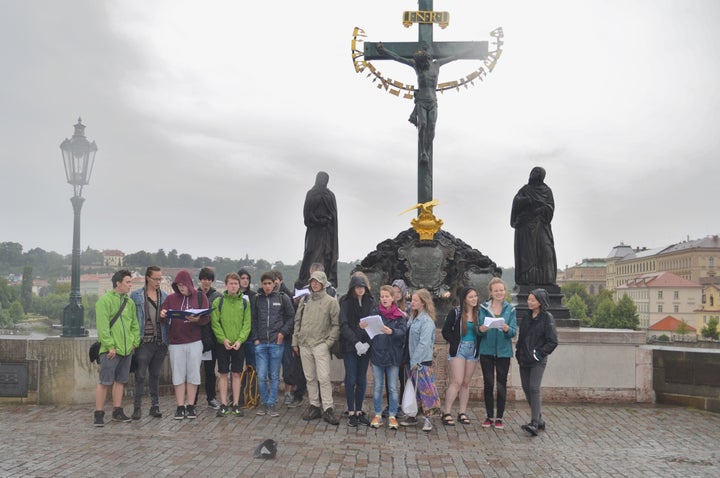 The stunning cobblestone bridge on the Vltava River was built in 1357 with 16 arches and 30 baroque religious statues. There are always hordes of elbowing tourists, so if you're looking for a free performing place to be noticed, this would be the spot.
12. Blow Bubbles in Old Town Square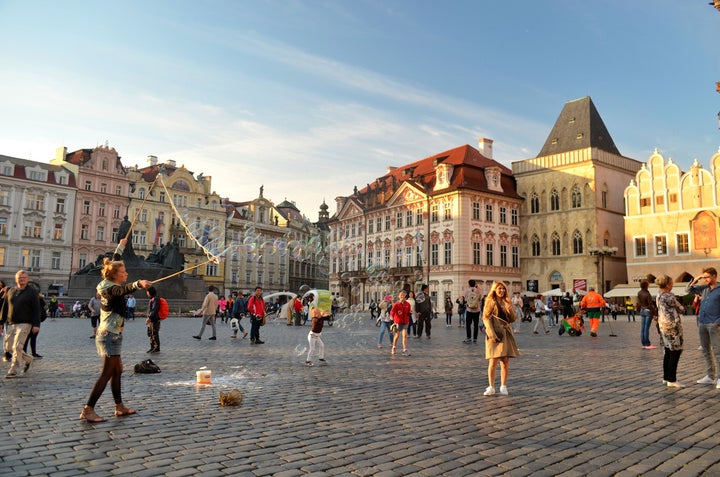 The most significant square in the Old Town quarter of Prague (Staroměstské náměstí) was founded in the 12th century. It's a step back in time, flanked by the Old Town Hall, the Church of Our Lady before Týn, and baroque St. Nicholas Church. The square is notably one of the most beautiful in Europe, so it's well worth spending time here soaking up the atmosphere with a cold beer or steaming mug of coffee from one of the cafés surrounding the square, or doing whatever you like.
Disclosure: The author was honored to be the guest of JayWayTravel and CzechTourism during her stay in Prague, but as always, the opinions, reviews and experiences are her own.
Related
Popular in the Community