For years I've kept a journal to chronicle my life, plan for my dreams and strategize my goals. It is one of the important success habits that I do daily. Journaling empowers me to take my ideas and turn them into reality. What's written is real. Once the words and images hit the paper, you have now crystallized a thought or idea. You can use the power of pen and paper to strategize and create anything you want. Many successful people use this method to attract their dreams and goals. Others use it to overcome slumps and as a form of self-therapy.
In her interview with Oprah, Black Eyed Peas front woman Fergie shared some of the steps she took to overcome her addiction to crystal meth. She started journaling as a part of therapy and began to not only "figure herself out" (her own words) but she tapped into the power of creatively visualizing her future and writing her truest desires in a journal.
She wrote in her journal that she wanted to have a #1 song and to win a Grammy. Despite feelings of guilt or unworthiness after all she had been through, she silenced her inner critics, embraced her inner winner and tuned into her truest desires.
Fergie not only had a very successful solo-album, but she went on to win eight Grammys!
Many times it's hard to admit, even to ourselves, our greatest desires. However you can allow your journal to be a sacred space to dream beyond your means and share your truest desires with yourself.
You shape your world for success. There is incredible value in recording your dreams, goals and all things pertaining to your personal advancement.
Webster's Dictionary defines a journal as "A daily record, as of occurrences, experiences, or observations." While that is certainly true, your journal is much more! It is the canvas on which you can begin creating the masterpiece of your life. The art of writing is a key factor in attracting success. This activity, which can take less than 20 minutes each day, could be a huge missing link to help you get results and fully manifest your dream life. Great minds journalize.
Here are my top 12 reasons you should keep a journal.
1. To capture your brilliant ideas. Journaling is a way to capture ideas and keep your dreams alive until you can put them in motion. Ideas are all around you. Inspiration is not required to knock twice. Write your ideas on paper so you're able to retrieve your thoughts whenever needed. In a journal, your pertinent life information can be remembered and referenced so that you can run full speed ahead. Whenever an idea comes to you, grab your journal and write it down.
2. To ponder and pen your big dreams. Your journal is an ideal place to write out all of your desires and dreams. If there were no limits, what would you want to become? Who would you want to meet? What would you have? Where would you go? Write it all down, describing in detail what your success looks like. With your intentions set, everything around you can begin to align to make even your biggest dreams possible. By doing this, you can begin to put the laws of success attraction into motion.
3. To get clarity. If you're foggy about an issue, write it out. When you are unable to see a clear path in your life and business, it's better to jot down all those thoughts swirling around in your head. Pen those reoccurring thoughts that you are trying to ignore because you're not quite sure what to do with them. Write out the issue. Research shows that writing about an issue versus talking about it brings higher levels of self-esteem and happiness.
3. To help you solve problems faster. One of the most rewarding uses of your journal is problem-solving for your personal and professional life. Writing things out gives you the accurate perspective necessary to attract the right solutions. Write down questions that you have about your problems. When you ask the right questions, you will get the right answers. In fact, you should take on an attitude of expectancy that you will find the answers.
4. To chart what works. Getting your ideas, successes and even failures on paper empowers you to backtrack to see what's working and what's not. Consistently penning your life's events gives you the insight to repeat what works and make adjustments where needed to live a rewarding life.
Also, record where you have progressed and what present successes make you hopeful for the future.
5. To track your past victories. What have you done well? On occasion, take a minute to celebrate those times and write when and where you have excelled in life. It's easy to chronicle your every mishap, but also make it a point to note what's going right in your life. Make note of your progress.
6. To plan and strategize. Your journal can be used to for both short-and long-term planning. You can use it to work through specific strategies on how you will accomplish your goals. Plan everything from the week ahead to the entire year in your journal.
7. To create a success action routine. Your success action routine should consist of time for meditation and visualization, speaking positive affirmations and reviewing your goals. Visualize yourself completing your goals and feeling the benefits and rewards of doing so. Makes notes of the goals you visualized and any ideas that came to you during that time. Your journal is a place you can record and document your success actions.
8. To take control over your future. Write about your ideal life and begin to act as if you have that life right now. Be descriptive and detailed. This will help you prepare for an opportunity that doesn't exist yet, and ready yourself to win.
9. To increase your cash flow. One of my all-time favorite success attraction visual prompts is writing yourself a check. Over the years I've heard many stories about high achievers who have used this method. I especially love the story about Jim Carrey, who wrote himself a $10 million check before he ever made it big so he could visualize himself making millions at his craft. Conclude that you are worth it -- the money you want to make, the life you want to live and the relationships you want to have. Give yourself permission to succeed. Then designate a day every week as "my money-making day" and use your journal to write out all the ways you can profit.
10. For self-improvement. A journal is a safe place where you can truly be honest with yourself. This is your book; your story. You have no limitations. It is your private outlet to express yourself and get to know who you really are and what you truly desire.
11. To help you through the decision-making process. In your journal, you can list pros and cons when you are faced with having to make a difficult decision. Write out every possible outcome and use this to guide you through the decision-making process.
12. To keep you in a state of gratefulness. As you build a better future, stay thankful through your current situations. Express gratitude in your journal. Slowing down to make note of what you're thankful for can relieve you of anxiety, stress and help you to enjoy life to the fullest. The act of gratefulness also draws more positivity your way, helping you to create a cycle of success.
I want to encourage you to go out and buy a new journal today. Choose one that is attractive to you, and consider buying a nice new pen set as well. Then set aside 20 minutes each day to write, and watch the positive results and benefits flood your life!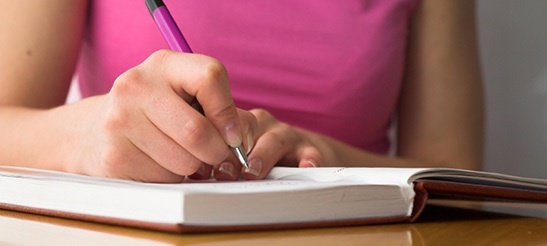 Related
Popular in the Community