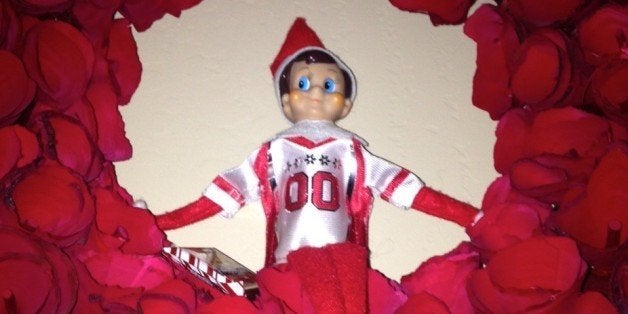 Oh, the holidays -- truly a magical time of the year! A time where even the smallest surprises can make a big impact. Speaking of small, our family (probably like yours) has embraced the Elf on the Shelf for the past few years. Our oldest daughter has since outgrown the "mystery," but she still enjoys participating in the "magic" of this little elf, who flies home to the North Pole every night to report to Santa and then arrives back in our home just in time to be greeted with smiles from our kids in the morning. Yes, there are plenty of pictures of said Elf on Pinterest, Facebook and Instagram in various different places (and positions) all over your home. And yes, many of you enjoy the magic behind this holiday tradition. But, can I be honest with you? Sometimes, between the holiday parties, events, work, school and shopping, there are times when the Elf doesn't make it to the North Pole (oh, the horror!). So, just in case this happens to you (no judgement), here are my 12 Reasons Why Our Elf Did Not Fly to the North Pole Last Night (feel free to use these excuses eh hem, I mean reasons too):
1. Elf stayed up too late texting a fellow elf (lesson learned: no texting after 8 p.m.).
2. Elf binge-watched Breaking Bad on Netflix and fell asleep after 3 a.m.
3. Elf drank too much egg nog and didn't want to get a FWUI (flying while under the influence).
4. Elf thought he saw you coming into the room (so stay in your bed kids, all night!).
5. Elf didn't move? Are you sure? Are you absolutely sure?
6. Elf found out that there was a major storm and it wasn't safe to fly (it is the North Pole, you know).
7. Elf wanted to make sure you were paying attention. Congratulations, you win! (Insert some last-minute prize here.)
8. Elf was so happy with this very spot in our home that he wanted to fly back to this exact same spot.
9. Elf was so proud of how nice you were today that she didn't want to miss out on putting together a compete report for Santa's Nice List.
10. Elf was so disappointed in how naughty you were today that he didn't dare fly back and have to report to Santa for his Naughty List.
11. Elf didn't move? Really, come on. I thought for sure he was over there last night? (Point with true conviction). Are you sure?
12. Elf loves our home and our family with all of his/her heart and wants to stay right here and live with us forever! I mean, just wants to stay one more night... yeah, one more night.
Popular in the Community