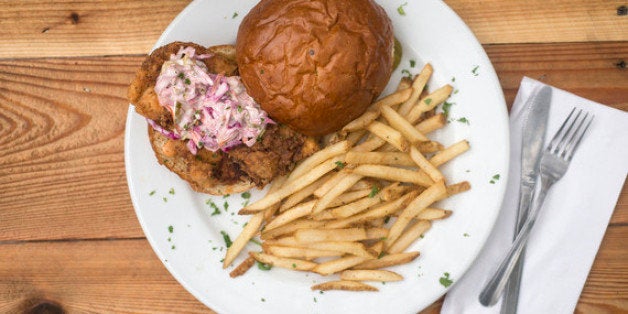 No matter how you like them or what's inside, gorgeously stacked sandwiches are awesome. The invention of the modern day sandwich can be traced all the way back to 18th-century Europe, when it started as two slices of bread with a simple meat filling. The delicious, portable meal has come a long way in the last few hundred years.
Today, you can put in almost anything -- smoked meats, fish, vegetables and more -- to enjoy at any time (midnight grilled cheese or breakfast egg sammie, anyone?) and anywhere (picnic and beach season here we come!). Here are 12 great sandwiches to sink your teeth into.
The Southern Style Chicken Sandwich at WHISK in Chicago -- made with buttermilk-fried chicken breast, chipotle mayo and jalapeño coleslaw -- makes your mouth water with every moist, crispy bite.
An open-faced delight, the Tuna Melt at JG Domestic -- tuna salad, beefsteak tomato and domestic Muenster on sourdough -- is an elevated take on a childhood classic.
The Banh Mi at Little Sister in L.A. brings together the basic French baguette with Vietnamese-inspired meats -- cold cuts, lemongrass chicken or spiced brisket -- and tops it off with plenty of light, fresh vegetables, including pickled daikon radish and carrots, sliced cucumber, cilantro and jalapeño.
Our favorite coastal New England sandwich, the Lobster Roll at B&G Oyster Bar in Boston is prepared on a beautifully buttered roll with sweet, fresh lobster and optional bacon and comes with sides of butter pickles and french fries.
The Smoked Trout BLT at Sink Swim in Chicago is anything but an ordinary bacon-lettuce-and-tomato sandwich, combining smoky fish, crunchy bacon and a light, bright tartar sauce.
Offering its signature wood-smoked meats -- brisket, pork shoulder and turkey -- as sandwiches, Maple Block Meat Co. in Los Angeles serves a mouthwatering Turkey Breast Signature Club with peach wood smoked bacon and tomato jam.
With zesty tomato sauce and oozy melted mozzarella, the chicken, eggplant and meatball parm sandwiches at Parm in New York, as well as the Italian combo hero, can't be beat.
Great for vegetarians or meat lovers, a.kitchen in Philadelphia serves many types of sandwiches, including an Eggplant Cutlet Sandwich with mayonnaise and pickled mushroom relish, as well as a Smoked Turkey Club with bacon, lettuce and tomato on rye bread from High Street.
Made with roasted pork, ham, chicharron (fried pork belly), Dijon mayo and house-made pickles, the Cuban Media Noche at Sunny Spot in Los Angeles is blanketed in mouthwatering Gruyere cheese and served with a side of plantain chips.
In the Classic Lobster Roll at Lure Fishbar in New York, the seafood salad is tucked into a fresh, plush brioche and paired with tangy vegetable slaw.
Juliet in Boston serves up farm-fresh egg sandwiches on English muffins with add-ins like country terrine (a cooked meat mixture that's typically served in slices), ham or cheese for a delectable breakfast.
Served with a choice of salt and vinegar chips or broccoli salad, the sandwiches at Formento's in Chicago -- including an Italian sub with salami, mortadella (Italian salami), capicola (dry-cured pork) and provolone, a ciabatta roll with wood-fired zucchini, mozzarella, basil pesto and pickled shallots, and an eggplant Parmesan baguette -- are oh so satisfying.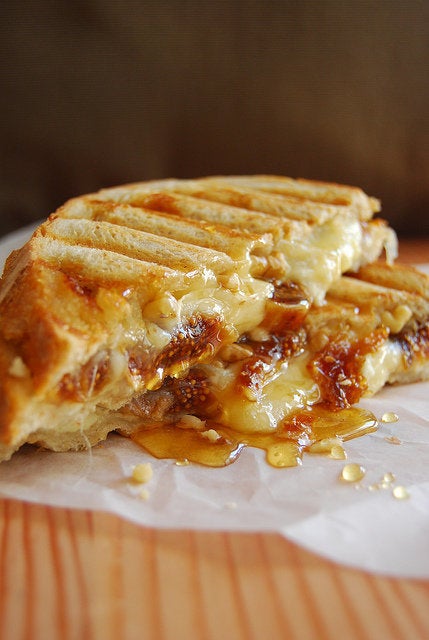 The Best Grilled Cheese Sandwich Recipes