Ask someone to name a famous salesman, and chances are they will pick Zig Zigler, Dale Carnegie, or Mary Kay Ash, the cosmetic queen who convinced a legion of women to sell her beauty products and drive pink Cadillacs. Their ideas about the art of sales are legendary and still influence people to this day.
But time of course has changed, and we've wanted to update some of the sales lore to include the top social sales thought leaders in the industry. I asked them what social sales tips they could provide us and they delivered.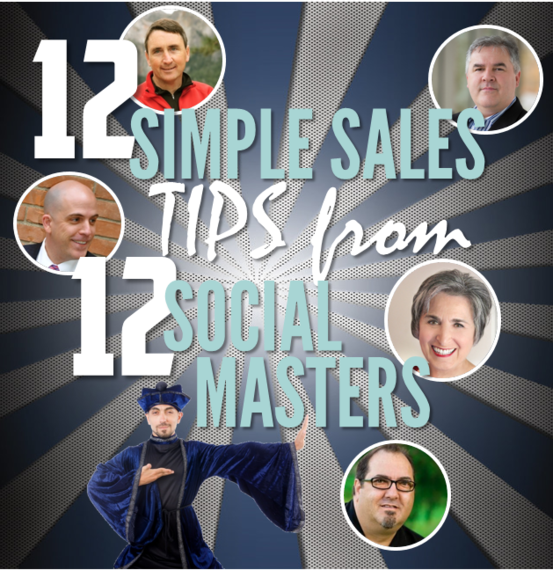 Can you give any specific strategies, tips and/or examples of using sales intelligence and social media to engage customers and prospects during sensitive sales events?
"Social media has provided a new outlet to showcase your expertise -- and your passion. Brick and mortar establishments are about location, location and location. The cyber-world is about content, content and content. When you provide consistent, relevant, helpful content, and answer people's questions about your area of expertise, you quickly become known as the go-to person for your topic. Buyers will gravitate to you. You will be the expert everyone turns to for advice (and yes, to spend some money). After all, you're not just a salesperson; you're a thought leader."
"Follow what I call the "Four C's" -- Community, Content, Communication and Consistency. Think about your community -- both fans and strangers. What do they want from you? You build your community by publishing content that enhances their lives, not just ads for your product or service. You engage your community via two-way communication -- asking them questions and responding to their questions, comments and complaints. And you have do it consistently."
"Prospects today want to buy, they don't want to be sold. They want to buy from people, not sales people. It sounds like pie in the sky language, but there is a difference. Using tools to personalize your sales contact can make the difference between a "no thank you" and "tell me more." Always know something about your prospect. You can find them on social platforms such as Twitter, Facebook or LinkedIn. Then dig deeper on their corporate sites, or LinkedIn. When you approach them or engage them in a conversation, use this information. Tailor your conversation to include key points you learned about them."
"Sales intelligence boils down to any information or context you as a salesperson use in the sales process to better establish trust, rapport, expertise and suitability of yourself or your company in order to make the sale. Ultimately, people (buyers) purchase from people they trust and want to do business with you."
"The first specific tip is to invest in getting to know the person/people you will be selling to. This research investment used to take inordinate amounts of time and was fraught with leakage as sales professionals bounce around Google, trying to learn about a person, making mental notes and potentially even entering in data to a CRM. Better tools like Nimble and its Smart Summary automatically bring a dossier-like summary to the contact record -- in a single place, for immediate insight."
"A lot of sales organizations are using social media and sales intelligence to "listen" for trigger events. They're looking for clues that something has changed for their dream clients. That's good, but there is something better. What the social tools really enable is the engagement necessary to nurture your dream clients with relevant content BEFORE they experience that event. The social tools give you the ability to be known, and to be known as a value creator. This is how you open relationships that create opportunities."
"Use social to find trigger events. What type of trigger events do your customers experience that elevates them to a good lead? A change in leadership, a dip in sales, a new software implementation, growth, etc. What ever trigger events are important to you, create key word searches for those trigger events in Twitter and look for them in LinkedIN, and when you see them pounce. Use social to get the trigger events to come to you."
"When a connection gets a promotion. When a key decision maker moves up in an organization, you should regard this as a trigger point that can change the dynamic of the decision making process. Follow them into their new responsibility and give them tools or services to be successful. The status quo has changed. Be there."
"Just for kicks one day, I ran a quick test. I actually opened an email from a prospecting salesperson. I visited their website. I followed the company on social media. Guess what, the rep did not call right away. The rep had no idea. I did not receive a call until a week later and there was no reference to the actions I took."
"At HubSpot we use these buyer signals to know when and how to engage with a prospect. We call this buyer context and, if used correctly, it can be an enormous edge to your sales team. Our reps use Signals to fuel this process. As a result, we can identify when a prospect is looking at our pricing page or revisiting a link in an old email -- those signals (driven by the prospect) help reps invest their time on the highest quality leads in their pipeline versus wasting time on people who will never buy your product or service."
"Negotiation to Close -- whether it's negotiation or the events leading to closure, a deal is never done until you have a signed contract. There will be times when you already have internal approval for your sale and you are awaiting final signature. In these critical moments, it is important to monitor the profiles of everyone involved in the decision-making process, as well as information being published by the company itself, to ensure that you are not missing out on any signs that could endanger your sale before the close."
"By ALL means, AVOID the horribly common approach of connecting and writing them a salesy InMail to tell them anything about your company, products, or how you might help them."
"Social approaches should be far more subtle. Even the "I would love your feedback on my product set," which at one time seemed original, is known seen through as an "approach." At some point, the cat will come out of the bag. Best if they see what you're sharing (content marketing) and ask YOU something... but that's ideal and sometimes you will just need to approach them, subtly, but approach them nonetheless."
"Listening, in LinkedIn you can see what your prospects are following, which groups they are in, and they are contributing, you can glean some great insights. See what they are starting, and what they tend to comment on. This will give the opportunity to engage around specific interest of the buyer. If you are inclined you can curate content that is in line with their interests and use that as a means to approach and engage."
"Coach newbies to do what salespeople are supposed to be doing anyway: Listen! Observe. Gather intelligence. Instead of worrying what to "say," how about just investing the time to follow and watch the key contacts at target prospects? You can see what they're tweeting or the type of content they share on LinkedIn. Take note. Go to those blogs and snoop around. Leave a comment. Retweet something valuable. Pay attention to what your prospect may be telling you. Then, when the time is right, take the initiative to share something of value that could pique their interest and gain their attention. That's not so scary, is it?"
Calling all HuffPost superfans!
Sign up for membership to become a founding member and help shape HuffPost's next chapter