I'm trying to be brave today. I'm not very good at brave when it comes to my children and growing up.
ER visits? Gnarly splinters? Friendship woes? Anything involving blood? I'm your gal.
Outgrowing a newborn onesie? First day of kindergarten? Graduation? You'll find me I'm in a puddle of tears, handing the parenting reins to my husband.
Which brings me back to being brave. My middle daughter Rosie started high school today. A brand new school with a fresh set of peers. She donned a uniform for the first time and traveled by city bus packed with commuters. She'll be taking classes alongside boys who look like men. She'll read The Odyssey, for God's sake.
She'll be OK, I tell myself. She's so capable.
Already she's taking care of things, starting with breakfast. Worried about her early departure, she asked me for breakfast ideas. Ones she can make the night before or are quicker in the morning than poached eggs.
I embraced her request with the enthusiasm of a first grader asked to take attendance.
This I could do. I couldn't keep Rosie from growing up at what feels like warp speed, but I could tackle the question of breakfast.
So this is for Rosie on especially busy mornings. The aim is to get some protein into her along with whole grains or wholesome carbs and healthy fats. Some of these meals are made the night before, others take a minute or two in the morning, several can be taken on the road and all are easy enough for older kids to handle on their own.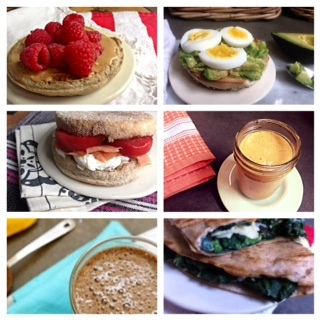 12 Speedy Breakfasts for Busy School Day Mornings

1. Overnight Oatmeal. In a glass jar, combine a scant 1/2 cup rolled oats and a generous 1/2 cup milk and stir. Add any dried fruits, nuts, cinnamon, maple syrup, etc., you like. Leave overnight in the fridge. In the morning, heat in the microwave for 1 minute. It's not as creamy as regular oatmeal, but still tasty and satisfying.
2. Breakfast Quesadilla. Stock the fridge with pre-grated cheese, pre-washed spinach/baby kale and whole grain tortillas. Cover a tortilla with greens, sprinkle cheese on top, and zap in the microwave until melted. Roll up and go.
3. Three-Ingredient Smoothie. Combine 1/2 cup plain kefir, 1/2 frozen banana and 1/2 cup fresh or frozen berries or chopped fruit in a blender and run until smooth. Sweeten with 1 to 2 teaspoons honey or maple syrup if desired. Scale up for bigger appetites. Take in a to-go cup if needed.
4. Open-Faced Waffle. Stock whole grain waffles (Nature's Path, Kashi and Van's are better options). Toast a waffle and spread with nut or seed butter. Eat it bare naked or add favorite fruits.
5. Hard-Boiled Egg. Make these the night before and peel ahead of time to make mornings faster. Here's how: cover an egg (or several eggs) with water in a small saucepan. Turn the heat to high. Once the water boils, let it boil for one minute. Turn off heat and leave for 10 minutes. Transfer to the fridge until ready to use. For breakfast, pair with a piece of fruit and slice of toast.
6. To-Go Yogurt Parfait. Make this the night before and keep in the fridge. Spoon one cup plain yogurt into a small container with a lid. Top with a spoonful of honey or jam, any favorite fruit and granola or chopped nuts. Pop on the lid and take it to go.
7. Chocolate Breakfast Drink. Chocolate for breakfast? Yes. It's better and better for you than powdered mix any day. Blend together one cup milk, one tablespoon cocoa powder, one and a half tablespoons peanut butter, one tablespoon honey and five small ice cubes. Whirl and down the hatch. DELICIOUS.
8. Granola Bar and a Glass of Milk. A good quality granola bar and a glass of milk isn't a bad bet for a busy morning. You'll find a few granola bar recipes here and tips for buying a better bar here.
9. Avocado Bagel Smash. Top 1/2 toasted whole grain bagel with 1/2 small ripe avocado. Add a pinch of salt. If time permits, top with sliced hard boiled egg or grab a cheese stick for protein.
10. Smoked Salmon Muffin Sandwich. Spread cream cheese on a whole grain English muffin (Rudi's, Whole Foods Wheat, Food for Life and Open Nature are good options). Add smoked salmon and any of the following: cucumber slices, tomato slices, baby spinach. Sandwich together and take it to go if need be.
11. Nut Butter Banana Roll Up. Spread a whole grain tortilla or 1/2 whole wheat lavash bread with peanut, nut or seed butter. Lay a peeled banana at one end of the tortilla/lavash and roll up. Cut in half. Substitute sliced apple, pear, strawberries or other fruits if desired.
12. Breakfast Trail Mix. When you've got 30 seconds for breakfast, mix together a handful of trail mix and a handful of your favorite whole grain breakfast cereal. Pop it in a sandwich baggie and take it to go.