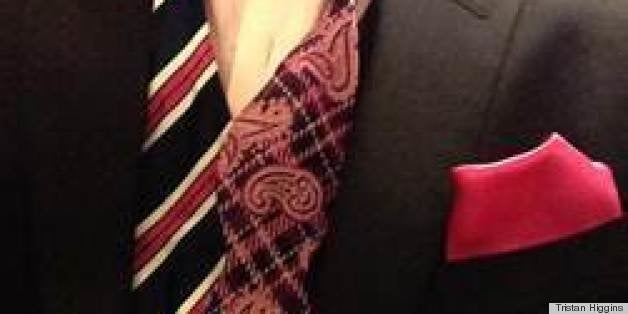 Butch's note:This blog post is meant to be tongue-in-cheek. Suffice it to say that I want to make you laugh. I do not mean to pass judgment on whoever you are, whatever your style may be (except for you over there in the ratty T-shirt and cargo shorts) or however you live your life. Now, that said, let me tell you how to be butch.
I know that you may be so delighted, so intrigued with my life experiences that you want to know how you, too, can be butch. You're thinking, "You must have the secrets -- and stat! If only there were an instruction manual." Wait just a tick! I have found such a manual -- which I have written! Read on for a step-by-step guide to being a proper butch.
Go to your closet. Find every piece of women's clothing. Throw it out. Well, OK, donate it, but it has got to go. You can't look butch in a blouse, for chrissake. Shoes, too. Straps are out. Heels are OK if stacked or on a cowboy boot; otherwise, not so much. OK, jeans are good, always. Buy some vests; that will get you started. There are lots of more advanced rules, but I could write blog posts and blog posts about lesbian fashion alone. (Actually, I already have: See "Tipping the Velvet," "Out of Pocket" and "Tie One On." And there will be more. Fashion is fun to write about.)
I am pro-jewelry as long as it's the right kind. Nothing you would buy for your girl. No hearts. No unicorns or rainbows. Fleurs de lis, shamrocks, skulls? All acceptable. Silver is golden. Gold is a bit too Jersey Shore. Jewels are your own call. Leather is golden. Just remember, less is more -- except with cuffs. You can rock a bunch of cuffs at once: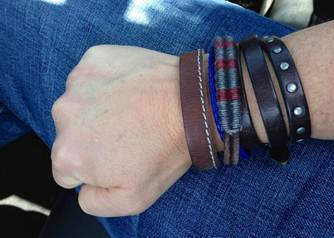 You can't go wrong with a team sport: football, basketball, hockey (extra butch), volleyball (boasting a high quotient of attractive Sporty Spice lesbians, neither femme nor butch but displaying qualities of both) and softball (where you will find many femmes and loads of sturdy-but-not-quite-butch lesbians). Shooting sports like archery and marksmanship are obviously butch, although they're obscure and inaccessible. It's hard to imagine your femme coming out to watch your archery match. Country club sports are tricky and can go either way, largely depending on what you wear. There is kind of a spectrum, starting with tennis (no tennis skirts or ladieswear) being less butch, moving to racquetball, which is more butch, and then on to handball, which is super-butch. Hitting something that hard with just your hand? Wow. Scary butch activities would include things like boxing, kickboxing, hunting, sport fishing and cage fighting. Do one of these and you are sending out a very scary vibe. Badminton (which involves hitting a "shuttlecock") is out. Golf is the holy grail of butch sports: It entails hitting a small ball hundreds of yards with a metal club and involves stylish, wonderful clothing options; lots of drinking while you play; and great opportunities for being charming (not out of breath), lifting heavy things for your femme (e.g., her golf bag), offering to clean off her spikes and smoking cigars without it being odd. Of course, as an avid golfer, I am biased. Plus, lots of lesbians play golf, and straight men seem to embrace this (a bonus).
Alcohol? If not, that's rad. If you drink, though, drink whatever you like, but no fruit or cherries in the glass. If you do drink alcohol, don't order a cream-based drink (think Baileys) if you want to be butch. Drink that at home (yum). Stick to beer and you can't go wrong. The hard stuff (e.g., whiskey, bourbon, Scotch) is super-butch -- as long as you don't get sick. If you can't hold your liquor, don't drink it. If you do drink it, don't drink anything with an umbrella. In my opinion, don't even drink anything with juice. The downside to beer is gas -- not too sexy. Drink slowly!
Let's see, what is the butchest job? Unless you are one of those Deadliest Catch fishers, you probably don't need to think about having a butch job. I will go so far as to say that any job is a good job. Pay your bills. Handle your business. Be secure. If you decorate cakes for a living, that is plenty butch if it allows you to meet your needs and take your date out for dinner and a show. I don't care if it's floral design or painting nails. Being employed and responsible is very butch. If we were highlighting butch jobs, though, it's got to be cops, firefighters, doctors, lawyers (slight bias here) and race car drivers.
The shorter the better. I would like to try and change the butch world a little bit here. It doesn't have to be shapeless. Style is sexy. Style is cool. Yes, style is butch. If you've had the same do for a couple of years, it is time for a change. The Bieber was cute and fairly butch for a little while, but it's not as cute now. Even my mohawk might not be around two years from now, at least not on me. But no matter what hair you rock, no mullets, please. Represent, butches!
Butches generally don't have drawers of makeup like your girl probably has. Of course, you should have high-end chapstick or lip balm that you carry with you always. My current favorite, by the way, is the Jack Black (not that Jack Black) men's skincare line. Black, brown or charcoal guyliner is awesome on occasion; I've got all three and some mascara. What? When you wear guyliner, your eyelashes vanish if you don't use it. And you should wear moisturizer that contains sunscreen every day.
Keep them very short and clean. You don't have to just hack them off yourself with clippers, though; there is nothing wrong with a nice manicure. I always choose "buff" rather than any polish. Recently, though, I got my nails painted black and put some silver crackle stuff on top. To my surprise, it looks very, very butch! Plus, there is nothing wrong with giving women a reason to stare at your hands. I guess the lesson here is "think outside the box."
Dogs, lions (or any other big cat), turtles and sharks? Yes. Seriously, "come see my pet shark" is hella butch. Cats, birds and fish? Not so much. Not all dogs, though. The bigger the better. Have a St. Bernard, a mastiff, a Great Dane, a sheepdog or a Lab and you are rocking the butch pet. Terriers, poodles, schnauzers and anything miniature or teacup? Forget about it. But it's OK if your girl has one and you happen to be seen walking it for her on occasion.
Learn to tie them, and fast. I mean, learn how to tie a bow tie quickly, not quickly learn how to do it. This is very sexy to femmes. Plus, other butches, straight guys and your gay brethren will be envious at the end of the evening, when you untie your bow tie and leave it gallantly hanging around your neck James Bond-style, thereby proving it's not a clip-on. Clip-ons are for ring bearers. Seriously, my 6-year-old son has one. But tying it yourself? Oh, yes, it's hot. "But Butch, I don't know how!" you say. No problem. Check out this drawing that I used for a couple of months until it clicked for me. There's no shame in asking a friend or the lady at Nordstrom for help. As for regular ties, if you want a real tie knot, go with the Windsor. My dad showed me how to tie a good old-fashioned Windsor knot. Thanks, Dad! Now I'm set on both fronts.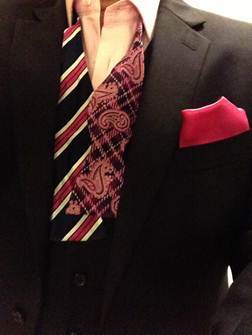 This is a wide-open category. It doesn't matter much unless you are on vacation. You don't want to be seen by the pool with anything by Danielle Steel or Mary Higgins Clark. Any kind of fantasy, sci-fi, spy or thriller novel is OK. Romantic novels are right out! Michael Crichton, Stephen King, Tolkien? Yes. Stephanie Meyer? No. But now that we are on the subject, just how much like a lesbian does Edward seem?
This is a tough one for me, because I am a music fanatic. I can't get enough. Classical, easy listening, dance, adult contemporary, big band? These are questionable choices for a butch, but that's not very evolved. Metal, EDM, rock, country, hip-hop, house? These are obviously safe, but who wants to be safe when it comes to music? If you play an instrument, lead guitar (acoustic or electric) is perfect. Drums? Yes. Bass guitar? Of course. Sax? Maybe. Piano? This is a tough one. I say yes. It's not super-butch, but sit at the piano with your bow tie undone and play something, and I say you are going to score. Flute, violin, clarinet, harp, viola, tambourine? You play one of these and you can leave your butch card at the door. As for movies, I just covered the butchest movies of all time, so refer to that.
Alrighty then. Now that you know everything that the "how-to" guide says about being butch, you are all set. But better yet, it is very butch to be yourself. You define whether or not you are butch. So throw out this guide and just be yourself -- as long as you lose the mullet! Be butch.
Popular in the Community