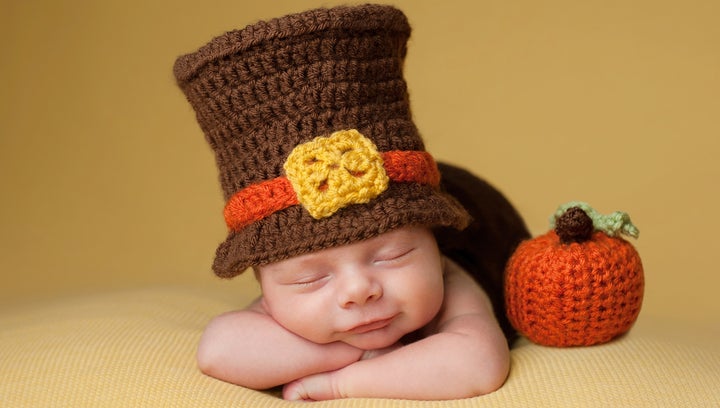 If you're still looking for a name for your late November baby, there are several interesting baby names tied to the Thanksgiving holiday, from arrivals on the Mayflower to those who established it as a national holiday to the perennial parade. Here are some of the best Thanksgiving-related names.
John Alden sailed on the historic Mayflower's 1620 voyage to America and became a prominent member of the Plymouth Colony, also remembered as a famous rival of Miles Standish for the love of Priscilla Mullins. Alden, which means "old friend," is currently ranked at number 720. It was on the Social Security Administration's top 500 names list from 1911 to 1932 and may become more popular again, thanks to Alden Ehrenreich, the new young Han Solo.
Virtue names were popular with the Puritans, and many ― beyond the expected Hope, Grace and Faith ― are usable today. Amity, which means friendship, is a neglected gem, and others we love equally well are Verity, Mercy and Clemency ― all aspirational virtues in the modern world.
In 1789, New Jersey Representative Elias Boudinot presented a resolution to Congress requesting it to persuade President Washington to declare a thanksgiving observance to celebrate the new U.S. Constitution. His Greek name Elias, now ranks at a solid number 200, following in the wake of biblical original Elijah. It also ranks fifth among the most popular baby names in Sweden.
For 36 years, Sarah Josepha Hale, author of "Mary Had a Little Lamb," campaigned to establish Thanksgiving as a national holiday. Sarah, of course, is a biblical classic, but her middle name, long neglected, could make a more distinctive girl's namesake for Joseph than Josephine. It's Josefa in Spanish.
Most of the ancient deities associated with the harvest are goddesses like Ceres, Demeter, Parvati. But one of the few males in the pantheon ― and bearing one of the most interesting mythological names ― is the Celtic Lugh, pronounced Lou, and is also known as Llew in Welsh myth.
Macy's Thanksgiving Day Parade has been a NYC tradition since 1924, when it featured the store's employees in costume, animals from the Central Park Zoo and a Mickey Mouse float. The upbeat name has been largely associated with musician Macy Gray, who was born Natalie McIntyre, but its use is now spreading. It's currently at Number 413, and was chosen by actress Edie Falco for her daughter.
Corn was one of the principal crops of the early Plymouth colonists and a staple of their diet, so it is no surprise to find it the first Thanksgiving table. Maize is also a color name, and sounds like a cute shortening of Maizie. It's one of the unique baby names that may appeal to adventurous parents.
Oceanus Hopkins was the only baby born on the Mayflower's maiden voyage. His name is doubly on trend, as both a water name and a Latinate appellation ending in us. In Greek myth, the Titan Oceanus was believed to be the father of rivers and water nymphs.
Peregrine White, brother of Resolved, was an in utero passenger on the Mayflower, the first known English child born to the Pilgrims in America, on the ship when it was docked in Provincetown. Often heard in the British aristocracy, Peregrine has never crossed the pond, despite its standing as both a saint's and bird name. "Downton Abbey" creator Julian Fellowes, not surprisingly, used it for his son.
Every poor turkey sacrificed for the feast's table is a Tom ― the generic name for a male turkey. Though among the most classic nicknames for boys, Tom has been off the U.S. list since the early 1990s. But it's a top 50 name in Ireland, Germany, Belgium, the Netherlands and France, where it's number 13! Tom could rise to popularity again here à la Sam and Ben.
Thanksgiving has been the last Thursday in November since George Washington's day, solidified by an Abraham Lincoln 1863 proclamation. As for the name, we've see famous examples like Sunday Rose Kidman Urban, Tuesday Weld and Wednesday Friday Addams. Could it be Thursday's turn next?
It was President Harry Truman who started the tradition, in 1947, of "pardoning" a turkey or two and sending them into retirement on a farm. The name Truman carries the aura of that president's character and reached its highest point in the year of his inauguration, 1945. It's now just inside the top 1000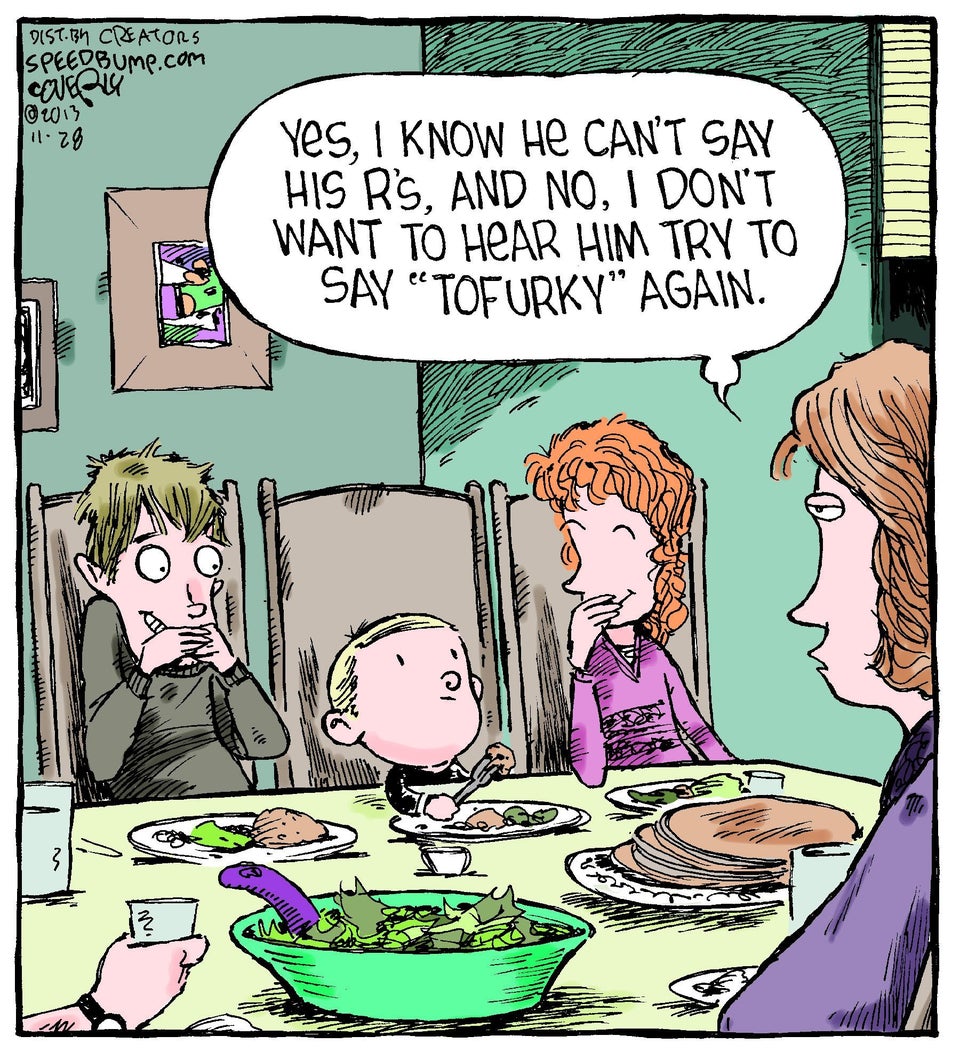 Comics That Sum Up Thanksgiving For Parents