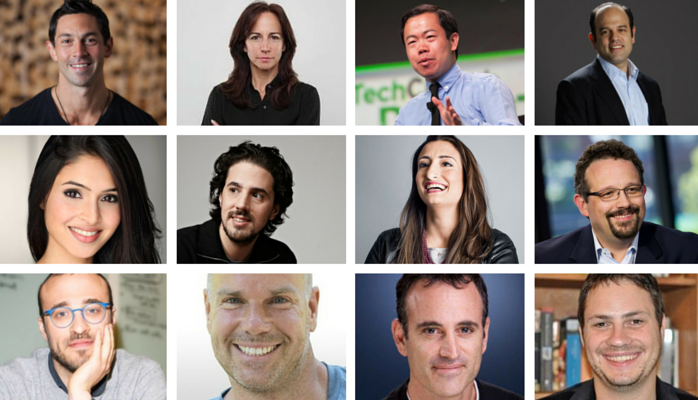 When I co-founded WayUp in July 2014 with JJ Fliegelman, we came up with a set of goals for the company, as well as for ourselves.
For the company, we wanted to help every college student and recent grad find a job so they could find their way up (no pun intended) in the world.
But for ourselves, all we wanted was to learn. To learn about leading, managing, fundraising, education, coding, sales, design, marketing, and so much more. And almost two years later, we believe we've learned more than we could have possibly imagined.
Learning isn't just about reading articles and implementing ideas. It's also about surrounding yourself with smart people who can teach from experience.
As our company got bigger, we made a cautious effort to get all of our employees to feel like they were learning as much as we felt we were. First, I convinced them to send cold emails to their role models. But as our company grew, I decided to shift our strategy to one that would scale: I decided to bring in colleagues and friends who could teach during monthly "Lunch n Learns" in our office (I may or may not have borrowed this idea from my days at Google!).
As you can guess, about once a month, we invite passionate people from different industries and backgrounds to sit with us, share their wisdom during a "Fireside Chat" with me, then answer questions from the team, all while serving pad thai or subs. These candid talks have been so meaningful to my team, and have taught us so much, that I wanted to share one takeaway from each "Lunch n Learn".
As the Founder of SinglePlatform, and former VP of Seamless / Partner at First Round Capital, Cerilli stressed the importance of listening to your customers and iterating constantly based upon their feedback. His secret for implementing this? When he first started SinglePlatform, he built a "Special Ops" team to sell features that didn't exist yet in order to test the market's needs.
Hayley is the co-founder and previous co-CEO of Birchbox (and now a Partner at First Round). During her talk, she emphasized the importance of letting users try products or services before they invest significant money. With such an influx of products, customers are relying more and more on reviews and samples before they purchase. Earning the customer's trust early by letting them try a product will lead to larger profit margins later on.
Payal is the CEO and co-founder of ClassPass—a company that has grown from four employees to  about 180 since launch. Her biggest takeaway: Don't be afraid to do things manually at first. Startups are scrappy and growth is fast, and that is okay. Once your processes start functioning, then you can focus on automation. (Note: we have taken this to heart at WayUp, and find ourselves almost always testing ideas with as little engineering effort as possible before productizing the efforts.)
Libin is the former CEO of Evernote and, when asked what advice he had for the team, he stressed the importance of asking 'why'. Phil told my team to constantly question projects and processes in place. If you find yourself working on a project and you're not sure why, then ask. Ultimately, you may not agree with the reasoning / decision, but at least you will understand the importance and big picture behind it. You also may find that there aren't always good reasons, which can save you from doing a lot of unnecessary work!
Tisch is the managing partner of BoxGroup (our first investor!), Co-Founder of TechStars NY, and Co-Founder of e-commerce startup Spring. One of our takeaways from his talk was the importance of communities. Communities can be built on the B2C or the B2B side of a marketplace, as long as an ecosystem of information and support is established. Etsy is famous for promoting communities among their sellers, and as we learned from his talk, Spring builds communication tools and communities for its merchants -- something that has inspired us to think more about the communities we're building at WayUp.
As someone who co-founded 3 startups, then ran Facebook's Consumer Marketing team and now advises startups at Foundation Capital, Jonathan stressed the importance of a positive attitude. Companies are hard work, and things get messy. When sh*t hits the fan, you have to stay positive, build networks, and embrace innovative solutions. It's the employees who stick around through the good AND the bad that will be the most valuable to any organization.
As one of General Catalyst's partners and a board member at WayUp, Spencer urges all companies to understand the growing importance of mobile. In particular, he sat with us to explain how behavior will continue to evolve. Companies (especially those that began on desktop) must start predicting the different ways that they can build out their product to align with upcoming changes.
As a General Catalyst Partner (and a board member at WayUp), and as a competitive tennis player, Adam compared his career path to a tennis match. To be successful, you cannot surround yourself with others on your level; you will only maintain mediocrity. Instead, seek out players who are better, stronger, and more talented than yourself. You will learn from them, elevate your skills, and be able to truly compete.
Companies deal with press all the time; they seek to win it, and sometimes, they wish they weren't in it.  As one of TechCrunch's most prolific writers, Ha's biggest takeaway was to talk to journalists like a human being. Don't force your company's latest stats down their throat, and make sure your voice is authentic. A good journalist gets a mind-blowing number of pitches in a day. The best way to break through the noise? Be genuine.
As founder of Work Market, Jeff explained that the best way to grow a marketplace is to keep your finger on the pulse of its behavior. Learn from your marketplace by studying the user behavior. Then, begin to estimate your users' needs, and constantly iterate off of them. In a marketplace, liquidity is key, and you may sometimes need to put in manual work to get different dynamics working correctly.
Amy is the Vice President / General Manager at Red Bull. She hammered home the point that, to feel successful, you must find meaning in everything that you do… but that doesn't mean that you have to quit your job to work for an NGO. Amy finds tremendous meaning in selling cans of Red Bull because of what the energy drink stands for: their mission is to "give wings to people and ideas", and Amy has seen that first hand, whether it's helping an athlete break a world record, or even giving leadership opportunities to young employees.
Isaac is the founder and CEO of Justworks and he focused much of his talk on the importance of being value-driven. Create strong values for yourself and your team, and let these values guide you from the smallest work decision to hiring your next employee. Over here at WayUp, we have a list of seven core work values that hangs in the center of the office to serve as a reminder of the qualities we admire and the types of people that will thrive here. But I will admit that I loved that Justworks' values were an easy-to-remember acronym!
Calling all HuffPost superfans!
Sign up for membership to become a founding member and help shape HuffPost's next chapter
This post was published on the now-closed HuffPost Contributor platform. Contributors control their own work and posted freely to our site. If you need to flag this entry as abusive,
send us an email
.