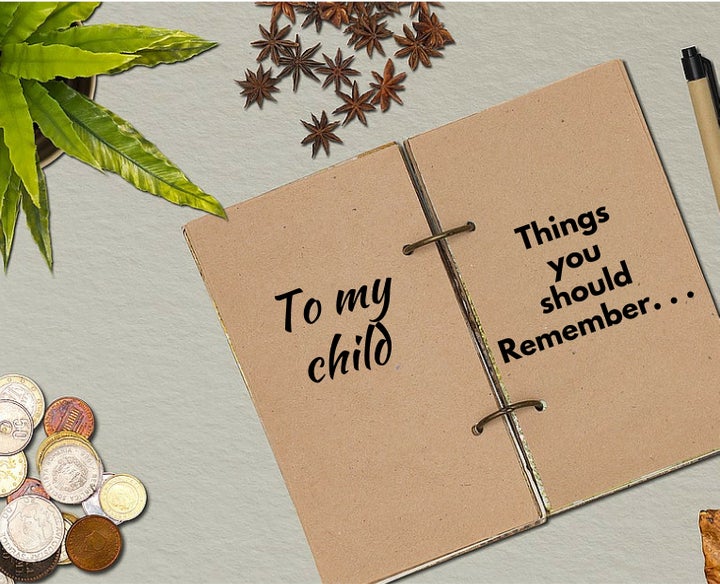 In life, as a parent, you'll realise that there comes a moment when you want to share certain lessons with your children. Apart from teaching them the basics, you have to help them understand love, compassion and fortitude.
Not everything I say will be identical with what other parents want for their kids. The good thing though? There are some things that I want to share with my child which I think every parent can relate to.
Dear child, here are 12 simple things you should cultivate in your life. You can start today and you'll notice how wonderfully different the world can be.
It's easy. Start with the simple things: make your own bed, put your clothes away, wash up after meals, wash your clothes by hand and dust a bit around the house. This builds a sense of responsibility and if you're ever living on your own (which you will), these will come in handy.
I love the way you throw yourself energetically into play. The attention you pay to the ball when it comes into your court and how you focus. It's a wonderful skill. Keep it alive.
You do a lot of this already, don't you? We argue over those 'extra five pages' and 'just till the end of the page.' I try to be stern but I'll tell you a secret: I was exactly like you! My mom used to get annoyed that I would lose myself in a book to the extent that I'd be deaf to everything else. Another secret? It's why I keep you away from gadgets as much as possible. I don't want you to lose that sense of wonder that a book can give you. Trust me. Read a lot. Read so much that it widens your horizons and your heart immeasurably.
Clean up when you make a mess
Yes, you should mop up spills but this is something more important. When you make a mistake, apologise. It can be to a friend, a senior or a junior. Admit when you are wrong and clean up the mess. You will have a lighter heart.
Respond to a cry for help
When someone calls out to you for help, do the best you can. Offer them what they need: most times, it's quite simple. A hug, a shoulder, a ear to listen. It takes very little to make people know that you care about them. But it's an investment that reaps rich rewards.
This is one of the hardest things to do but it's important to do. Learn to say No to things that aren't good for you, are overwhelming and promise more than what you know are possible. These can be people, situations or jobs. How will you know? It's a learning curve but you'll find out soon enough.
I know I tell you not to worry about what marks you score but there is something you should do: study. Study because learning is an ongoing process, for life. Study hard because it teaches you skills like industriousness, sticking to a goal and working towards it. Study because you love the subject and what it can do for you. Find innovative ways to study so it never becomes a chore.
This makes you giggle now but it's important. Spend a few minutes a day in silence, giving thanks for the wonder that is your life. Still your mind and let go of worries. When you are stressed and overworked, this habit will rescue you far quicker than you'd anticipate.
You are blessed to grow up in a home where you see both parents cook. (Yes, your dad cooks way better than your mom. Don't tell him I said that!) Cooking is a skill you need to survive. Do you recall how you loved making that cup of tea for me when I was ill? That's just the beginning. Enjoy every task and somehow it won't seem so taxing, after all.
Never worry about being too sensitive. We all need to cry from time to time, be it while reading a book, watching a movie, listening to stories that move us or expressing our grief. You can also cry in joy but you'll learn about that a little later.
You will have to let go of a lot of things: friends, family, relationships, a few dreams and it will hurt. It will feel like a part of your life has ended. But you will grow, as a person. The one thing I want you to remember here? Do it with kindness. Don't hold grudges, don't rant about it, don't call people 'toxic' and don't wish them ill. There are no such things as toxic people, only unfavourable circumstances. Everyone has a story and always be compassionate.
I can't always be with you in person but I am always here to listen. Sit next to me on the bed, pick up the phone and call me and some day, very very very very far into the future, when I am not with you, close your eyes and speak to me. I promise to always listen. Always.
This isn't an exhaustive list, not at all. In fact, I may come back and add a few more things to this a few days from now when you turn ten, and again when you turn 13.

I won't call this an open letter or a set of guidelines. I would rather borrow a phrase from a dear friend and call it my legacy to you. Life is uncertain and one never knows how long one has on this beautiful, blue-green planet.

Doing even two of these things with heart, will help you as you walk down this exciting path called life and learning. So,if I were to be gone tomorrow, know that these are some of the things I wish you could practise as you grow. Doing them for yourself, not for anyone else, will help you face a lot that life throws your way.

Life, for all its beauty, can be pretty challenging and on most days, we are our own best warriors. Never buckle. Never stop. Never give up.
* A version of this post appeared on the author's blog.
Related
Popular in the Community