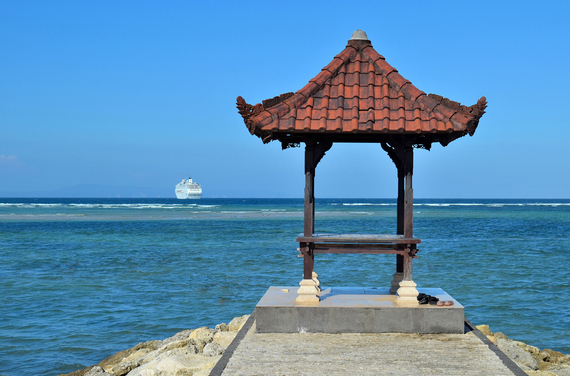 It's on everyone's bucket list. Everyone. And for good reason. Just whisper the seductive word "Bali" at a party and witness the dreamy, faraway look in the hearer's eyes. Bali is more than just a destination. It's the epitome of an exotic paradise.
An Indonesian island known for lush terraced rice paddies, lively beaches, and cloud-capped volcanic mountains, Bali is also home to some of the world's most magnificent temples. The island is just 8 degrees south of the equator, giving it a fairly consistent year-round climate with daytime temperatures between 68-93⁰ F in the lowlands and somewhat cooler in the mountains.
Between the American government lifting its travel warnings in 2008, and the run-away popularity of the 2010 movie Eat, Pray, Love based on the Elizabeth Gilbert book, American interest in traveling to Bali has been on the rise.
In addition, Bali offers diverse tourist attractions and adventures, delicious cultural food, and exuberant and friendly local people. All told, it should be no surprise that Bali has been consistently been named as one of the world's best islands.
First sight of the rice paddies is stunning. The terraces zig zag up the hills, looking more like art than food planting. The fields are in the rural areas of central Bali, a short drive from Ubud, but away the tourist crowds. Just the drive to get there is a visually-stimulating experience where you can see workers in conical straw hats working the fields.
Drama and dance are an important part of Bali's religious and festival celebrations. A lucky tourist may accidentally stumble upon an impromptu village performance, but there are also many staged performances complete with spectacular costumes specifically for tourists.
The Barong & Kris dance is a vibrant and elaborate ritual dance representing the eternal struggle between good and evil. Barong is fearsome lion-like animal representing the good spirit and Rangda is a mythological monster representing evil. Be prepared for some edgy, almost obscene, stage antics in some of the small village performances.
The Kecak dance tells the story of Ramayana. Prince Rama's wife, Sita, is abducted by the ogre Rahwana after ignoring Rama's safety precautions. The most dramatic setting to watch Kecek is in the open near Pura Tanah Lot temple with the sunset as a backdrop.
There are a plethora of dive sites in Bali, clustered around the northeast tip, easternmost point, and south coast. You'll find diverse marine life around the reefs and you may even spot an elusive sunfish. The USAT Liberty wreck from WWII, located in Tulamben, is one of the most famous dive spots in the world. The wrecked ship itself has become something of a living reef, enveloped in marine life, coral, fans and sea grasses. The vessel is open, filtering abundant sunlight, so it's possible to swim in and out of the various ship compartments without fear of becoming entrapped. Throughout the island are various dive outfits that offer options for certified as well as first time divers.
Bali is sometimes called "the land of 1,000 temples," but it has been estimated that there may be up to 20,000 temples of various sizes on the island. The biggest and holiest of all temples is Pura Beskih, the "Mother Temple" 3,000 feet high at Mt. Agung. Sunset at Pura Tanah Lot is one of Bali's best photo opportunities with its perch on a rocky outcropping. The stunning temple is always crowded, even though access to it is limited to low tide. Pura Taman Ayun was built in the 1600's and is a stunning example of a royal public temple. Gunung Kawi Sebatu Temple, locally referred to as Pura Tirta Dawa Gunung Kawi Sebatu, is distinctly different, as it's one of the least visited temple complexes. Beautiful and peaceful, it contains a petirtaan or bathing structure spouting fresh spring water for the Hindu ritual purification bath.
If you want to avoid the chaos of Kuta, head to Nusa Dua in southern Bali. Here you will find luxury hotels, shopping, water-based activities, and the international convention center. There are some great values to be had in this area, like the oceanfront four-star Grand Aston Bali Beach resort.
Whether you have a life-pressing question, a physical condition, or just curious, seek out one of Bali's healers for a private consultation. In Ibud, you may even get to meet Ketut Liyer, the medicine man made famous as the healer in Elizabeth Gilbert's Eat, Pray, Love. At his advanced age, though, the stooped and wizened 9th generation healer seldom gives advice but sits nearby and observes as his son does the actual readings. While this was a very fun experience for $35, I quickly determined I wasn't going to make any life-altering decisions after my palm-reader said I wasn't going to have any more children. Pretty much a no-brainer, but I gave him my most toothy smile, basking in the compliment.
Kuta was one of Bali's first tourist developments. Once a rustic fishing village, the Indian Ocean beach town is now a favorite entertainment spot with both locals and Australian tourists due to its reputation as one of the Top 10 Wildest Beaches. There is a white-sand beach behind a downtown spilling over with shops, bars, restaurants, and nightlife. The beach is usually very crowded with kiosks hawking food, beer, and souvenirs along the boardwalk. It's not the best beach in Bali, but the quirky vibe is worth spending a day here, provided it's not during peak season where vomiting partiers and vile tee shirts prevail.
If you want to channel your inner little girl, don't miss this fun, one-hour dress up experience. Literally hundreds of costume options from traditional to wedding garb are offered from multiple photo albums. Once chosen, you are corseted and dressed from head to toe. Next, authentic make-up is applied before you are led into the studio. The large room houses a variety of background sets, props and lighting for the professional photo shoot. Fuku Indah's fee includes transportation to and from your hotel, 12 printed color photos in an album as well as a photo CD.
Visiting Bali's sensational sister islands -- Nusa Ceningan, Nusa Lembongan, and Nusa Penida -- off the southeast coast is a must. You can visit all three on an adventure day tour on power raft (you will get wet!) or spend more time on one or more. For surfing, go to Nusa Lembongan. As part of the Coral Triangle, Nusa Penida, offers a variety of dive sites with diverse marine life in the reefs. Ceningan is the smallest of the three islands, a tropical paradise marked by calm, iridescent aqua and azure water lapping onto a white sandy beach.
Also known as the Land of the Gods, Bali's looming volcanoes stand sentry to the heavens. Mt. Batur is an active volcano offering stunning views from peaks piercing the clouds down to Lake Batur, the largest crater lake on the island. There is a sunrise trek to the summit which is best undertaken by physically fit hikers, taking around two hours.
Bali is one of the few regions in Indonesia where the major religion and culture is Hindu, not Muslim, so babi guling ,or roasted suckling pig, is a savory specialty and something to try. Do opt for the traditional dessert - black sticky rice with freshly grated coconut and drizzled (or in my case, drenched) with sweet palm syrup. It's delicious and tastes much better than it looks! The best place to try Balinese cuisine? Why, any place with a view, of course!
The #1 most expensive coffee in the world is made from the #2 of a jungle cat. Kopi Luwak, aka Bali jungle cat poop coffee, is produced in the jungles of Bali. After spending about a day and a half in the civet cat's digestive tract, the partially digested beans are expelled in clumps through the defecation process, thus gaining the alias "cat poop coffee." The collected beans are harvested, washed and roasted. Believe it or not, the coffee has a smooth flavor with just a tiny hint of caramel.
Would you dare to try this cat poop beverage?