To Ensure You Have A Great Nocturnal Experience With The Kids At The Night Safari In Singapore, Check Out These Handy Tips.
The Night Safari is one of the most popular attractions in Singapore for families, winning the Best Attraction category awarded by the Singapore Tourism Board on 12 occasions. Opened in 1994, Night Safari is the world's first safari park for nocturnal animals. Home to over 2,500 animals of over 130 species, it spans across 35 hectares of forests. With 38% of its species under threat of extinction, one of the Night Safari's focus area is captive breeding. They also have a strong mission to promote biodiversity.
With over 1.1 million visitors to the attraction on an annual basis, Night Safari is bursting at the seams and they have been receiving mixed reviews. I am a big fan of Trip Advisor and I find that most of decisions I have ever made based on their reviews have been fairly accurate. With over 8,300 reviews entered to date, the statistics show 38% excellent, 31% very good, 18% average, 7% poor and 4% terrible. The common complains across the board are overcrowding, long wait times, over-priced food and not being able to see the animals.
So, armed with this knowledge, we decided to go anyway. We had never done a night safari before so we thought we would bite the bullet. Well, I can say that most of the reviews are unfortunately true. However, because we were well prepared, we had an absolute ball and my 9 year old wants nothing more than to go back again! To help make your Night Safari experience a good one, here are some handy tips:
SINGAPORE NIGHT SAFARI TIP #1
Over Crowded. Yes, the Night Safari is seriously crowded. There is absolutely no way around this and if you hate crowds, then avoid at all cost! Pre-purchasing your ticket will make no difference as it doesn't give you priority access. It just means you don't have to queue to buy a ticket and then queue again to line up for the trams.
SINGAPORE NIGHT SAFARI TIP#2
Tram. A the time of writing, the trams costs SG$45 for an adult and SG$35 for a child between the ages of 3 to 12 years. Discounts are available if combined with the other attractions within the zoo. The tram is a 40-minute expedition on a guided English tour with tickets to be purchased for the stipulated times of 7.15pm, 8.15pm, 9.15pm and 10.15pm.
We arrived at 6.15pm for a 7.15pm tram spot and it was already super busy. We got ourselves some ice cream and drinks and started lining up at 6.30pm and this queue is just to get into the tram queueing area. At 6.55pm they opened the gates, by which time when I turned around there was a sea of people behind us. We were led through into a more organised queueing area to wait for the trams. We managed to get on the 3rd tram.
The trams were very comfortable and they take 4 people to a row of which you can see the enclosures on both the left and right side throughout the excursion so it doesn't really matter where you sit.
When booking for the tram, you can see how many seats are left within each time slot. The later the tram, the less the people so if you have older children or kids who can really stay up late, I would opt for the later tram. The 7.15pm tram is by far the most crowded.
SINGAPORE NIGHT SAFARI TIP #3
Creatures of the Night Show. No Night Safari excursion would be complete without the 20-minute Creatures of the Night Show. Performed in the big outdoor amphitheatre amidst the rainforest, this show is weather permitting and is performed at 7.30pm, 8.30pm, 9.30pm and 10.30pm. My little one thoroughly enjoyed the show as the otter, civet, hyena and binturong thrilled her. She found the show humorous, entertaining, and interactive.
At the completion of the guided tram tour, we got off and lined up for the 8.30pm show, which was of course also very crowded as it has all the people from the first tram. I now wished that I had gotten the 07.30pm show first as I didn't see many people walk towards the show as they were too busy scrambling for the 7.15pm tram. And then catch the 8.15pm tram. I am wondering if that would have been a better strategy instead of following the masses. I guess I'll just have to go back and do it again one day! LOL!
I will also make mention of the Thumbuakar Performance which we only caught the tail end. This is the fire show at the entrance courtyard which is performed at 07.00pm, 8.00pm, 9.00pm and 10.00pm.
SINGAPORE NIGHT SAFARI TIP #4
Heat. The heat in Singapore is stifling and it was extremely hot when we were queuing up. I suggest that you prepare for this by obviously dressing in something cool, have cold beverages readily available (especially if you're not willing to pay the exorbitant prices at the Night Safari itself) and most importantly, invest in a hand held fan. Luckily my mother had some in her bag because that really made a difference. Because not only is it hot, the air doesn't move so it gets stale.
By the time we got on the tram however, it was so nice and cool with a constant breeze from being in an open tram. This made the tour all the more enjoyable. The open amphitheatre at 8.30pm also provided for cooler weather. Which is also another advantage of catching later trams and shows. If you did have to queue you would at least be doing it when it's not so hot.
SINGAPORE NIGHT SAFARI TIP #5
Alleviate Boredom. There is nothing worse than kids having to queue for long periods of time and coupled with the heat, it really is quite unbearable. Make sure you have something for them to occupy themselves with for at least an hour. If you are an electronics or device family, do make sure your batteries are well charged. I would also bring along that portable wifi device or let them hot spot your smartphone. I wouldn't bother with books as it gets too dark to read.
For us, we decided to eat. I got some food from the various outlets on the ground and we had our dinner whilst waiting. We topped it off with ice cream, which was delicious and a great respite from the heat.
SINGAPORE NIGHT SAFARI TIP #6
Photography. Seeing that it's a night safari, I honestly wouldn't bother with bringing your camera. One less thing to carry. You can take a few happy snaps with your phone and that should suffice. The entire excursion is in perpetual darkness until you reach the enclosures which has lights so you can see the animals. But as flash photography is not permitted, you'll find you won't be able to take many amazing pictures. So just sit back and enjoy the tour with your kids.
SINGAPORE NIGHT SAFARI TIP #7
Service. I have seen few reviews about terrible customer service and that they are unable to control the overcrowding issue. I found that to be on the contrary when I was there. The staff were all very well organised, constantly directing people where to go and where to queue and when I did ask for help they were very friendly. In fact, I thought it was quite a well-oiled machine.
When we were queuing for the tram (we were next in line), there was a family of 5, 2 lines behind us with a screaming toddler. The poor thing had obviously had enough with the heat making the situation even more unbearable. I could see the distress on the parent's faces as it was a predicament of whether to abandon the queue for the sake of the toddler with the risk of disappointing the 2 older kids. Night Safari customer service noticed (and heard!) the family of which they then opened up the bollards and invited them to come up front to sit in an open area for further queuing. The relief and surprise on the parent's faces was priceless and the toddler eventually calmed down. And the people queuing around them also got a little reprieve as they would have had a screaming toddler for at least another 30 minutes. I thought this was very well done Night Safari!
SINGAPORE NIGHT SAFARI TIP #8
Walking Trails. If you wanted to experience the enclosures with less crowds, you may prefer to go on the walking trails instead. There are 4 trails you can go on, namely the Fishing Cat Trail, the East Coast Lodge Trail, Leopard Trail and the new Wallaby Trail. The walks are well lit and easy to navigate and I did see parents with kids in prams. This way you don't have to be herded like cattle and you can enjoy seeing the animals at your leisure.
SINGAPORE NIGHT SAFARI TIP #9
Unique Experiences. This nocturnal wildlife park also offers 4 very unique experiences which you might like to check out for something very special to do with your family. You can spend an evening in the wild with dinner, tours and a cosy night in a tent, more like a rainforest glamping experience! You can watch the Lion and Malayan tiger feeding times and watch them devour their dinners. There is also 5 course dinner option on a moving tram or you can get a private guide to take you around the wildlife park without the hassle of queuing for the guided trams. The next time I go I reckon I'd love to give one of these experiences a go!
SINGAPORE NIGHT SAFARI TIP #10
Rain. Be prepared for the rain as the guided trams will continue to operate. You can also still go on the walking trails so pack yourself a poncho, which is so much easier to carry around than an umbrella or you can purchase them from the gift shops at the wildlife park itself.
SINGAPORE NIGHT SAFARI TIP #11
Insect Repellent. This is a must. Especially in such a tropical climate, in a rainforest surrounded by animals. The shops at the Night Safari had a lot on sale so don't fret if you did forget to bring some. I carried my roll on and patches and re-applied on numerous occasions on the night as Hannah is prone to bites. And we came away unscathed. Thank goodness!
SINGAPORE NIGHT SAFARI TIP #12
Taxi. Take a taxi home and forget about public transport. After combatting the crowds and heat, the last thing you want to do when the kids are tired is queue for a bus. The taxi line was bliss and we got one straight away and went home in air-conditioning comfort.
All in all, I had a great night and my daughter LOVED it. She says that she would like to do it all again and was willing to go through all the queuing! Do remember that this is perhaps the most popular family attraction in Singapore and with that knowledge there is an expectation that it's going to be crazy busy. I thought it was worth it but I did go in well prepared. Just take it with a grain of salt and have yourself a good time!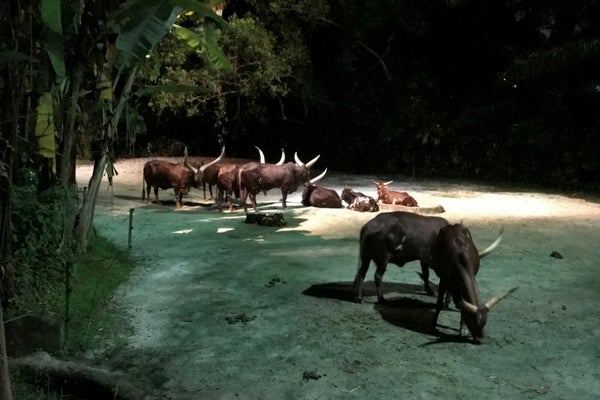 Calling all HuffPost superfans!
Sign up for membership to become a founding member and help shape HuffPost's next chapter
This post was published on the now-closed HuffPost Contributor platform. Contributors control their own work and posted freely to our site. If you need to flag this entry as abusive,
send us an email
.