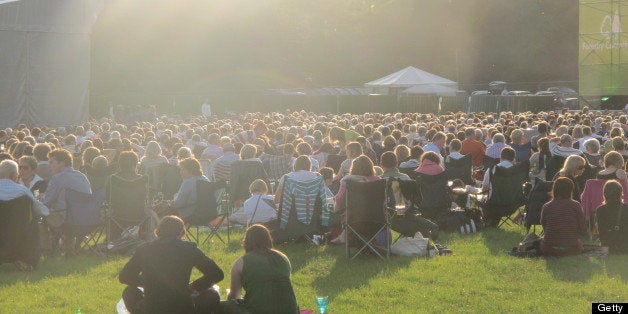 Summertime means hours and hours of your outdoor fun. Festivals with your favorite type of music can be found across the globe. And just because you've become a parent doesn't mean you have to forgo one of life's great pleasures. Many festival organizers know that a love for live music doesn't end with late night feedings and dirty diapers. Instead they have opened their arms and invited us to continue to join in the fun, kids and all. Still there are "best practices" to attending a large venue event with children in tow. I endeavored to find the answers from a group of seasoned experts; the event organizers and attendees of the Montreal Jazz Festival.
Here are the top 12 tips.
1. First and foremost check out the festivals you are interested in attending to ensure they are kid friendly. Here at the Montreal Jazz Festival there are a ton of activities for children. Twice a day there is a youth jazz concert, La Petite École Du Jazz, which introduces children of all ages to the appreciation of jazz. There is a popular kids play park with slides, ball pits, an oversized piano keyboard which plays notes when jumped on, and kids can make their own instruments. In the center of the venue there are lots of bubble fountains for the kids to play in and get wet. A perennial crowd favorite are the 15 year veteran face painters who create elaborate designs. And the festival mascot is a life sized blue cat who makes special appearances at La Petite École as well as the afternoon battle of the bands.
2. "Parents should purchase CD's prior to attending the event so their children can familiarize themselves with the music they'll be hearing," suggested Victor Menard and James Gelfand, the organizers of La Petite École Du Jazz. They went on to say that the key is to make jazz accessible. If that means learning an instrument yourself or playing the music at home for your children all the time, do it!
3. I met a family of four who drove in from Ottowa to attend the 11 day Festival. "There are lots of things for kids to do at the festival, but for an extended stay it's also a good idea to find other things to keep the kids busy as well. We stay at a hotel with a pool," said dad.
4. Rose has been coming to the event since she was a little girl. Her suggestion for families is to carefully map out a family Festival plan. "Choose the right concerts for your kids at the right time," she suggested. Check the performance schedule and map of the venue online to familiarize yourself as to where and at what hour your favorite acts will be performing. That way if a nap or meal schedule needs to be adapted you can plan accordingly.
5. Camille and Rebecca who were manning a souvenir booth in the child's play area told me that it is important for parents to be patient and take the time to do each activity. "Explain to your child why are we doing this and describe what a festival is," they suggested. With young ones it's all a new experiment and an opportunity for them to get a taste of good music and discover what they like.
6. Just about every person I spoke with recommended bringing water. It's important for the whole family to be well hydrated and full-bellied. Pack water or juice in a Hydroflask. It keeps your water cold up to 24 hours no matter what the weather. Protein bars, nuts or trail mix, dried fruit, and whole fresh fruit are great snacks. Bring a blanket to relax on the grassy areas where you can eat and enjoy the performances. Here in Montreal there are lots of relaxing spots with table and chairs with umbrella's as well.
7. Festivals are normally very spread out so you need to be highly mobile. A classic little red wagon is great for this. You can load all your stuff up in the wagon and the kids can walk beside it. If it has brakes, it can make a mobile bench, as well. With younger families backpack-style baby carriers are great because it lets the kid see what's going on, even if they're in a crowd of people. Rent an "off-road" stroller to handle the rough, grassy terrain that makes up lots of festival sites. The Montreal Jazz Fest organizers provide a free stroller loan service noon to midnight with lots of stroller parking zones.
8. Music at festivals can be very loud, even far away from the stage. Protect your young one's hearing with ear plugs or earmuffs. I saw one baby napping in a stroller wearing cool set of lime green headphones. Smart mama.
9. Caroline Johnson, the Director of Programming for the Montreal Jazz Festival and mom of a 17-month-old boy and 5-year-old girl, told me she brings her children to the concerts all the time. Her best recommendation is to be fully all-weather ready. "Especially here in Montreal you never know what the weather is going to be and the activities for children run from noon till 11 pm. I bring sweaters, hats, (hair ties), sunscreen, raincoats and bathing suits. We have water fountains that the kids love to play in so they get all wet!" she told me. I'm guessing a towel and change of clothes are also in Caroline's mommy bag.
10. One of the many security attendants encouraged parents to always keep an eye on your child and stay with them at all times. "Seems obvious," she said, "but with loud music and lots of people, things happen." Get one of those rubber bracelets and write your child's name, your name and cell phone number in case you get separated. Or you can buy ones already made at kidssafetybands.
11. Always know what your kids are wearing. If you need help remembering, in the morning snap a picture of your child with your cell phone camera or digital camera. That way, if your kid ends up missing you won't have to remember under pressure and you'll have an accurate visual to show festival personnel.
12. As soon as you arrive at the festival, spend a few minutes showing your kid what to do if they get lost. Often, festival staff wears a specific color t-shirt, point one of them out to your child and let them know they are safe people to turn to in an emergency. Vendor booths can be a good and easy-to-find place for kids to go, as well, as they often have direct contact info for a festival staffer. Lastly, when in doubt, kids should just find "another mommy," who will likely be glad to help your kid reconnect with you.

Finally, my own personal suggestion is not to skimp on the unusual and fun. Festival's bring out artists of all kinds and it's important to treat yourself to the sights and sounds you don't normally experience. So, If you see a mango flower buy one!