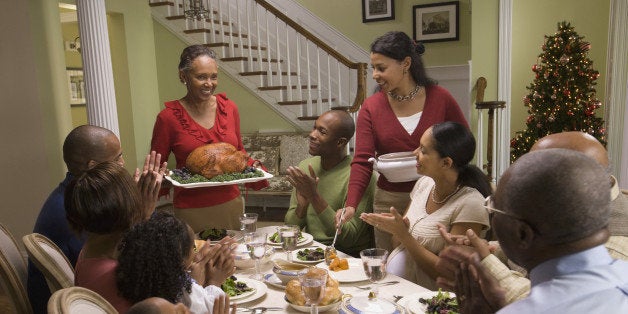 Holiday season is now upon us. Maybe this week you are packing your bags to hit the road to attend a family dinner or perfecting your shopping list as host of the perfect event. Maybe you've worked hard planning your holiday menu, taking into account guest food allergies and vegetarian preferences.
You think a lot about your guest's experience, I challenge you to consider your guest's surroundings, specifically of the sensory variety.

What is Sensory Processing?

Sensory Processing Disorder (SPD) is a condition where sensory signals don't get organized into appropriate responses. SPD affects the way a child processes messages sent to his or her brain from any of the five main senses - sight, hearing, taste, smell and touch. He or she often cannot handle sensory stimulation and often fixates on a single event or activity as a coping mechanism for SPD.
SPD is more common than you might expect. A 2009 study suggests that as many as 1 in every 6 children experience sensory processing symptoms that impact everyday life functions (Ben-Sasson, Carter, Briggs-Gowen, 2009). Chances are you have at least one child, if not more, attending your holiday festivities who are struggling with sensory challenges or SPD.
For these parents, family members and caregivers, the stress is magnified even greater during the holiday season where friends, family members and work colleagues host holiday receptions, dinners and get-togethers. These events are held outside their family homes. Their location and environment are unknowns, often creating anxiety not only for the child but also for the caregivers who will also be attending the gathering.
Below ten parents and medical experts weigh in to help you prepare your home and your holiday gathering for those with sensory processing challenges not just SPD.
Get an understanding of what the individual's sensory difficulties are before the party begins and keep environmental triggers to a minimum if possible. This might mean keeping music at a low volume, adjusting the brightness of the lights, not over-decorating, and/or not using any kind of noisemaking party favors (i.e., noisemakers for New Year's). Everyone has different needs so it's important to find out what they are and minimize those triggers accordingly.
-Tom Flis, Sr. Behavior Specialists with Sheppard Pratt Health System.
2. Don't Forget Food Sensitivity.
Some children cannot handle certain textures or food touching. Don't push food on the child. Allow the parent or child to select and plate their own food if possible.
-Julie and Tony Bombacino of Real Food Blends.
3. Provide a Rough Schedule of Events for Your Guests.
Have an idea of how the party will progress. Are there scheduled activities? Might they be over-stimulating? Let the guest know beforehand and have them decide whether or not they'd like to participate.
-Aviva Weiss, CEO and Founder of Fun and Function.
4. Outdoor Activities Offer a Great Break.
Utilize the outdoors: nature is very calming to many kids with sensory issues. Is there are park or playground nearby your home where family could take a break? Let them know...even on a cold December day, bundling up and taking a 15-minute walk can be helpful.
-Gabrielle Kaplan-Mayer, Mom & Editor of The New Normal.
5. Create an Activity Area for Arts, Crafts and Other Sensory Activities.
Provide options for your guests. A craft or activity table is a great way to provide children a break from the busy holiday activities. Include a variety of craft options like coloring, pipe cleaners and paper cutting.
-Lamarque Polvado, CEO and Founder of CareStarter.
6. Use Paper Plates to Limit Distracting Glassware Noises.
For people with hearing disorders, paper plates and plastic cups are much better than normal tableware, even though holiday hosts love showing off their fancy china and cutlery. Clinking dishware and clinking ice are actively painful for those with hyperacusis, which is a sensitivity to everyday sounds, usually caused by a noise injury/acoustic trauma.
-Submitter asked to remain anonymous.
7. Practice How to Socialize with ALL Guests.
Communication brings everyone closer together. Your child with autism and you can practice how to give gifts, express gratitude, and spread cheer--all while having fun socializing this holiday season!
-Karen Kabaki-Sisto, Speech Pathologist and owner of iCanForAutism.com.
8. Set Expectations for You and Your Guests.
Be clear about expectations. Many children with special needs have a harder time with changes in routine. Making sure that kids know what to expect and when will help to minimize the anxiety.
-Dr. Lajonchere, Chief Science Officer of Cognoa.
9. Balance Your Activities to Include Traditional and Nontraditional.
Not all traditions are fun for children, but this does not mean we cannot start to condition them as fun. Follow non-preferred activities with preferred activities ... kind of like Grandma does with dinner: After you eat the turkey, you get the pumpkin pie (or like a behaviorist would do, follow large group activities with some time with the TV or tablet).
-Kathleen Bailey Stengel, Vice President of Developmental Services for Clarity Service Group.
10. Include Music and Dance into Your Holiday Festivities.
Singing along with or dancing to favorite holiday music can be a great way to foster that intergenerational connection that everyone is looking for at parties and get togethers. Shared musical experiences are enjoyable for all ages and abilities, including those with sensory challenges, who may find interacting with others through music to be calming, especially in a party environment where they are being bombarded by numerous, competing sensory stimuli.
-Meredith Hamons, Founder and Director of North Austin Music Therapy.
11. Prepare and Stage a Quiet Room or Area for Guests.
Prepare a Quiet Room in your house with sensory manipulatives. Give your guest a tour of the room upon arrival, and invite your guest to visit the room as often as desired during their stay. Load the room with scarves, a hair brush, foam blocks, and other tactile objects.
-Kate Fulton, Music Therapist at MusicThereapyEd.com.
12. A Little Brevity and Understanding Can Go a Long Way.
Do not get offended if we, as parents, need to leave early, or take a break and come back to a party or event. Sometimes crowds, noises and unfamiliar smells and surroundings cause meltdowns, and sensory breaks are required.
Related