I'm not going to lie and say that Costa Rica is a cheap country because it isn't. As far as Central America goes it is the most expensive country to travel. That being said, it is possible to travel in Costa Rica on a budget without skimping on fab vibes! I've been traveling in Costa Rica for a year now and have been able to see amazing things in this country while maintaining a tight budget.
1. Don't Book Day Tours Ahead Of Time
Yeap, this is probably completely contradictory of everything you've ever heard. Usually, if you book ahead of time it's cheaper right? We'll, not in Costa Rica. See all the big tour companies that you find on the internet have the money to set up websites and try to hook tourists. We have had much better luck asking at our hotel if they know anybody who offers similar tours. Usually, these local tour companies will partner with hotels and you will get a cheaper rate.
2. Skip The Tours Altogether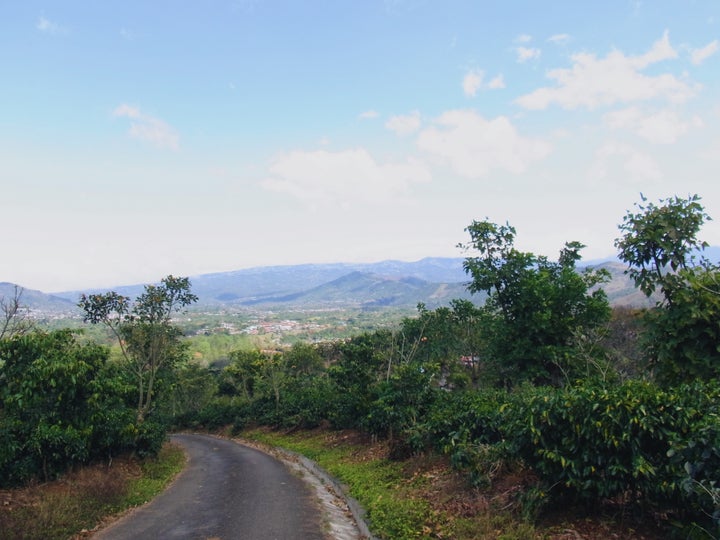 If you are planning on renting a car it is almost always possible to experience the same activities as the day tours you will come across online but on your own. For example, a popular travel tour company offers a day trip from San Jose to La Fortuna for volcano viewing and relaxing at a fancy hot spring. This tour also includes lunch and dinner for $130.
First off, I would never take a day trip to La Fortuna. It is much too far of a drive and there are so many things in the area to see. Second, if you have a rental car you can drive to La Fortuna yourself, visit a lot less touristy hot spring for $12 and find lunch and dinner at small local places for about $10 per meal. That is $32.
Now obviously that doesn't include the cost of renting a car or gas. Plus with a tour you get the ease of not having to plan anything, but if you are looking to travel Costa Rica on a budget, doing things on your own is a much better option.
This doesn't always work with big tour companies, but if you want to do a day tour with a small company you can always ask if they have a discount. This especially works if you are traveling with a large group. The worst they can do is say no, right? We do suggest not being overly pushy about it if the decline a discount. Costa Ricans don't like confrontation and it will make them uncomfortable. If they say no, just accept the price or say you will go with another company. If they offer to lower the price after you say you will take your business elsewhere, then we suggest accepting their offer.
At all the national parks you will be greeted by locals offering to be your guide. We have paid for a guide before at Manuel Antonio National Park and although I don't regret it, it was also not necessary. The guides are great at spotting wildlife you might not otherwise see and most do carry quality scopes for up close viewing, but they don't run cheap. I believe we paid $20 or more per person for a guide last time we were in Manuel Antonio. If you want to save some money skip the guide and just pay attention what other people in the park are looking at.
5. Travel at Off-Peak Times
Everything gets cheaper in Costa Rica during the rainy season. That means that traveling between the middle of May and the beginning of December is the best time to get cheaper hotel rates and discounted tours. You also won't have to deal with crazy crowds. The only downside to traveling at this time is you will be forced to combat the rain. Depending on where you go, you won't deal with completely washed out days (usually) but in the early afternoon the rain will begin and may continue for several hours or into the night.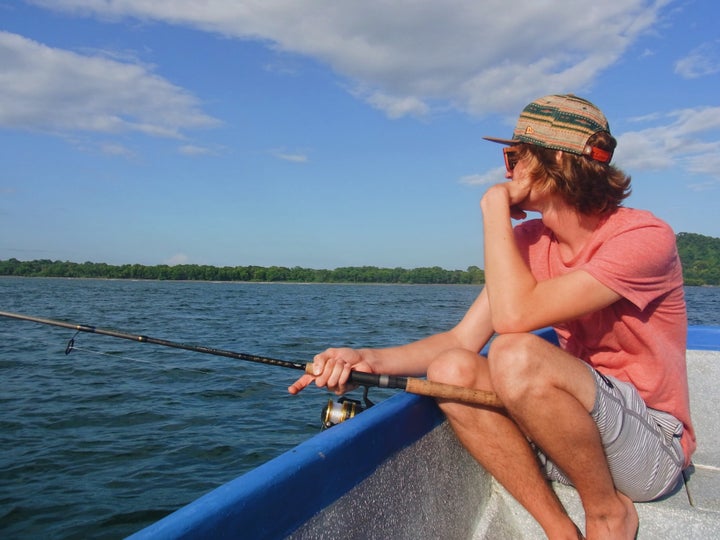 My boyfriend Thomas pretty much lives for fishing. Sometimes he just wants to get out on a boat for some fishing without the intensity and cost of setting up a tour with a deep sea fishing company. Twice he has asked locals if they know of anybody who can take him out on their boat. Both times he was successful in finding someone who would take him out for a fraction of the cost it would be for a deep sea fishing company. People are generally eager to make some extra cash and will help you out with this kind of thing.
Soda is the name given to small local food spots. They usually don't look like much, but the food is usually really good and cheap. You can expect to get rice, beans, salad, a piece of meat, and some fried plantains for about $5. Plus, we love the authenticity of eating at sodas.
8. Don't Buy Bottled Water
In most parts of the country, you will be completely fine drinking water from the sink. Just make sure to ask your hotel ahead of time to make sure the water in your hotel room is actually drinkable. I'm a water addict and I must say the water quality here is pretty great. We always bring a reusable water bottle while traveling and just fill it up as we need. If you are in a really rural area I would suggest buying water just in case.
9. Bring Your Own Alcohol
Did you know you can bring up to 5 liters of alcohol per person into Costa Rica? Yeap! It's true. Alcohol is not that cheap here. If you plan on doing some drinking it may be best to bring your own (as long as you don't mind lugging around alcohol bottles in your suitcase). You can buy alcohol from a duty-free shop in the airport at your departure location for some added savings. If you do buy alcohol in Costa Rica we suggest buying it at any of the mini markets you come across. As strange as it is, the hard at these mini markets is usually cheaper than in the supermarket. Also, if you like rum it is probably cheaper to buy it here than in your home country.
One of the best parts of staying at budget hotels in Costa Rica is many of these accommodations have a kitchen that guests can use. Some even have kitchenettes in the hotel rooms. If you are looking to save a little money this is a great option. We have cooked our own meals at several hotels and while we love to explore new restaurants sometimes while traveling it is actually really nice to have a home-cooked meal.
11. Stick to Cheap Activities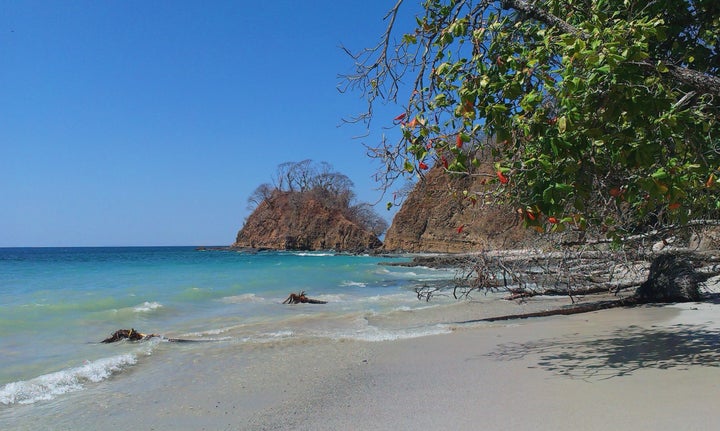 A lot of the adventure activities in Costa Rica are expensive, but if you want a more local and cheap experience, just be really selective about the things you want to spend money on. One really nice thing about Costa Rica is that by law all the beaches need to have public access. This means every beach is free!!!!! Yeay for lots of beach days! If you need some activity ideas check out our list of favorite activities including many things for the budget savvy traveler in mind.
Most souvenir shops are pricey. When we have visitors they seem to always want to bring back is coffee. I think that is the perfect gift to bring back to family and friends. You don't need to buy nice coffee in a fancy gift shop. The same exact coffee is sold in the supermarkets here at a lot lower price.
Need more tips on budget travel within Costa Rica? Head on over to my blog Costa Rica Vibes.