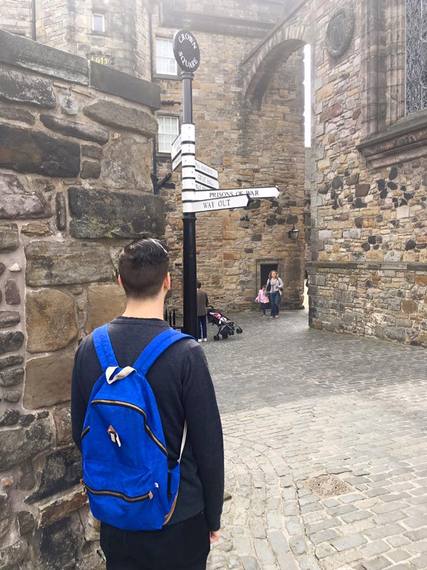 Here are twelve easy tips for making your journey more smooth and memorable, saving you some precious holiday time that you can use on your travels!
Don't rely on outlets always being readily available.

Most of us travelers will fall victim to this plague this summer, expecting everyplace we encounter along our travels to have power-ports, charging stations, or just a normal outlet at our disposal. However, many places often fall short of our expectations, and our devices are left uncharged. In a day and age where we are so connected to our phones, laptops, and tablets, who really wants to disconnect themselves from their electronic devices for an extended period of time? Instead opt to buy a portable charger, to keep the charge on your device going. You'll be surprised how easy it is to get a good deal on these devices, and purchase one for cheap. This will come especially in handy if you use your phone to take pictures, which often leads to your battery dying a lot faster.
Extra Travel Tip: Remember if you are traveling aboard to look into the type of electricity that country uses, and if you need a converter. You can purchase a universal adapter that has every kind of electricity type in one, for just a few dollars at the store. This will make it easy for you to travel anywhere, with just one converter.
Follow the airports you plan on flying out of on social media.
You'll receive up to the minute details on flight delays, cancellations, and weather moving through the area. This can help you plan ahead, sometimes giving you some extra time in your favorite city.
Extra Travel Tip: some airports even have an app you can download that feature everything from maps of the airport terminals, to dining and restaurants, to shopping guides. The Miami International Airport is a great example of an airport app that's designed with passengers' convenience in mind!
Traveling abroad? Download the U.S. Mobile Passport App to ease your way through immigrations and customs when your return home to the United States.
Bring an empty water bottle with you.
While most countries do not allow liquids of more than three or so ounces to pass successfully through the security check, no rules against bringing an empty water bottle through exist. After you clear security and are in the main airport terminal, head to a restroom area that has a water fountain, and fill up your bottle for free. Forgot to bring an empty bottle? This will help you save a ton of money from having to purchase a water bottle at the airport last-minute for an exuberant price. Remember to stay healthy and hydrated, as you lose more water from your bottle just by simply being at an elevated cabin pressure.
Buy a cheap guide-book.
Either buy one ahead of time online, at a bookstore, or at the Hudson News shop at the airport when you arrive. This will help highlight each cities main attractions, and give you an idea of what you should visit, do, or see. These guidebooks usually include lots of tourist-friendly maps to help you navigate the city, and usually have basic pleasantries and greetings translated into that countries native tongue.

Extra Travel Tip: try learning just a few words in that country's language just as backup. Most locals really appreciate when you try to speak their language, even if it is something as simple as a greeting. People of some countries won't even acknowledge you unless you greet them in their native tongue. I.E., the French people are particularly known for this. But when you add a "Bon soir, ça va?" to your repertoire, it makes them much more inclined to help you.
Inform your credit card company/ bank you're traveling abroad.
Most companies have anti-theft security features in place, and it looks kind of strange when your credit card is used one day in New York, and the next day in New Delhi. As a method of fraud protection, credit card companies will freeze your card, until they can verify that it is actually you trying to make that purchase. Save yourself the hassle by calling them ahead of time and letting them in on your itinerary.
Keep pictures of your checked bag receipt and a copy of your passport.
Whether you quickly snap a picture of your passport with your phone or bring an actual hardcopy with you, make sure that you do. Nothing is worse than the nightmare stories I've heard of being stuck overseas with no copy of your foreign passport. Snap a picture of your checked bag ticket in case you lose it or the company misplaces your bag and you need proof.
Research the exchange rate before you travel.
While some countries offer you amazing exchange rates, such as Vietnam averaging 22,000 Dong to the U.S. Dollar, or Cambodia simply making your life easy and officially using the USD, research ahead of time so you know the value of your currency, and on average how much you can expect to pay for things. This will help allow you to budget how much spending money you will need per day, and will give you a great idea of how much things cost there, compared to the city you live in.
Travel Tip: if your bank doesn't charge you an exuberant amount in fees to use an ATM abroad, sometimes that is the best way to exchange money. For example, my bank only charges me $2 to use any ATM that's not theirs, no matter where it is located in the world. Often times currency conversion shops and banks charge fees, high commission charges, and give you a low market rate to exchange your money. I usually just wait until I land in a particular country and use the first ATM I see at the airport. Aside from the $2 fee I pay, I pay nothing on top of that, and get the daily market conversion rate. This has proven to save me a ton of money. 7/11's ATMs have proved trustworthy in over thirty countries for me, and I've never had any type of fraud of theft from using them.
Brainstorm fun/different activity ideas before you leave.
It's fun to be spontaneous, but some activities require you to make reservations for them weeks in advance. For example: want to swim with the sharks in Sydney, Australia? During peak season, the first available appointment can be up to two weeks away, making it quite hard for you to enjoy this activity if you are staying for less than that time. Look into cooking classes, outdoor rainforest hikes, safaris, boat rides, or anything that city offers that you think you'll want to try ahead of time.
Extra Travel Tip: Look into tour companies that specialize in making your holiday unique such as Urban Adventures. I recently discovered this company while trying to book a tour in Vietnam! Some companies such as this one also allow you to search for adventures on their website based on the physicality level, culture shock, and duration giving you a good idea of what to expect from the tour.
Try to bring just a carry-on.
I know this sounds extremely difficult, especially to Americans, but imagine the concept of not having to check a bag. Not having to worry about big bulky bags, that often are over packed with items you won't even use. You'll even save money from not checking a bag, and you'll save time not having to check it at the airport. Always remember that each country you travel too also believes in laundromats, and you can always find someplace to wash your clothes if they are all dirty.
Pack smart but light. Remember that the weather can change at any minute, and you may need to rethink your plans and outfits. Always bring a bathing suit and flip-flops with you, you never know when a beach or pool day can occur.

Extra Travel Tip: Are you a backpacker? Staying at hostels along the way? Remember to bring a towel and toiletries such as soaps and shampoos as many hostels do not offer these amenities, which is how you got such a great deal on your bed. Remembering to pack a towel could save you the money from having to rent one from the hostel, or having to just buy one yourself.
Keep hand sanitizer and a small pack of tissues with you at all times.
This may sound like a no-brainer, but you'd be surprised at how often even I forget this, and at the worst of times. There are many countries especially those in Southeast Asia, in which toilet paper and hand soap are not common amenities in public restrooms. To avoid having to wipe yourself with your sock, throw some tissues and a hand sanitizer in your bag and keep it readily available.
Traveling in a rush?
Consider printing out your boarding card ahead of time, especially if you have no baggage to check.
Opt to wear slip-on sneakers to ease and expedite your way through security.
Take lots of pictures!
You'll want to share these experiences with your friends and family back home, and what better way to show them then through pictures? Make sure to capture all those unique moments, and you'll have a blast looking back at them as well.
Travel Tip: Don't rush to post all of your pictures to your social media. Wait till you get back home to maximize your time, and use popular trending hashtags such as "#latergram" on Instagram.
Hope these travel tips help improve your holiday and I can't wait to hear all about your adventures. Until next time, XoXo
https://thenycwanderer.com/2016/05/11/12-trendy-travel-tips-for-summer-16/