While the new Showtime series Years of Living Dangerously and recent International Panel on Climate Change report spotlight the troubling impacts of climate change -- there is hope!
Right here, in our own backyard, carbon-cutting is alive and well -- thanks to a thriving clean energy scene. The span of leading efforts might surprise you. Chicago was recently named the 2014 Earth Hour Capital of the United States. A global panel selected the Windy City in a yearlong competition among 60 cities for efforts in promoting renewable energy and preparing for climate change impact. Wondering what made Chicago rise to the top? It helps that Crawford and Fisk, two of the dirtiest coal power plants in the country, have been closed and the city now purchases a coal-free electricity mix. Mayor Rahm Emmanuel, committed to making Chicago "the greenest city in the world," has made progress on the ambitious goals set in Sustainable Chicago 2015. This comprehensive action plan has accelerated many eco-strides. Other regional factors have also come into play.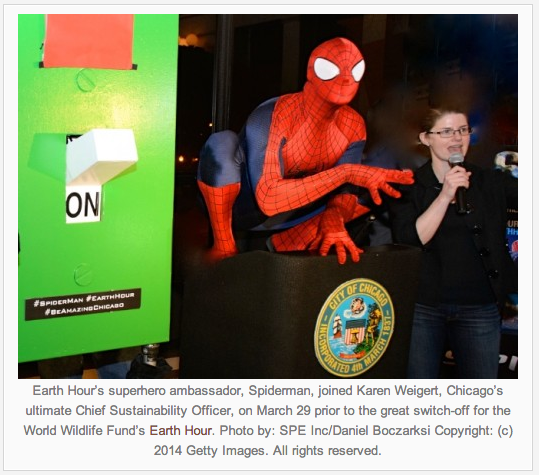 12 clean milestones show our region is not only moving in the right direction, but often leading the way to disrupt dirty energy. In this 2-part series, here are the first 6:
1. Epic Clean Energy Ecosystem
The Chicago region has become a prominent cleantech hub. A world-class research cluster includes Argonne National Laboratory, Northwestern University, the University of Chicago, the University of Illinois at Chicago & Urbana-Champaign, and IIT's Galvin Center for Electricity Innovation. Greater Chicago is also home to many large and international cleantech businesses, and a flourishing entrepreneurial and start up community. When it comes to clean energy venture capital investment and total patents granted, Illinois is a "top 10" state. The Clean Energy Trust is working to accelerate clean energy innovations and start-ups. Their Clean Energy Challenge awards up to $500,000 in grants to the most promising Midwestern entrepreneurs, researchers and students. The new co-working space in the Loop, Coalition, is dedicated to clean energy companies and organizations. It's home to the Energy Foundry, a $22.5 million nonprofit impact venture fund that backs gamechanging grid and clean energy start-ups.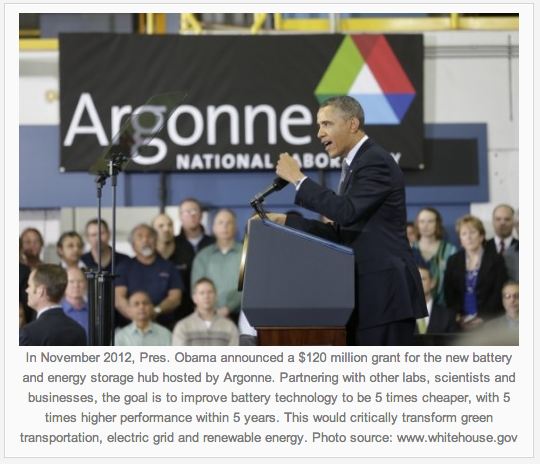 It's no coincidence that the Chicago region is home to 12 headquarters of major wind power companies. Or that IKEA just bought a wind farm 100 miles south of Chicago. Illinois is a leader in wind energy capacity and manufacturing that supports up to 4,000 jobs in the state. With over 2,195 turbines at 46 wind projects, the American Wind Energy Association ranks Illinois 4th in the country for total megawatts installed. This wind power will avoid 5,550,000 metric tons of carbon dioxide emissions annually, the equivalent of taking 980,000 cars off the road. In 2012, about 4 percent of Illinois' electricity was provided by secure, clean, affordable wind. Illinois renewable portfolio standards (RPS) law requires that a certain percentage of our power come from renewable sources, ramping up to 25 percent renewable power by 2025.
Yes, you can power up with Illinois sunlight! In fact, innovative installations can be found on residences to big box businesses to industrial brownfields throughout our area. Some notable projects include Testa Produce, Shedd Aquarium, Oak Park Parking Garage, Kohl Children's Museum and the upcoming University of Illinois solar farm. Photovoltaic (PV) power has been steadily rising as the price of panels has plummeted. Illinois rebates and Chicago's one-day residential permit turnaround have also sweetened the deal. More than 87 solar companies exist throughout the value chain in Illinois, employing 1,700 people. Nearly 250 schools with solar panels throughout the state are learning firsthand how sunlight is converted to electricity, and numerous universities have formidable teams competing in the Solar Decathlon home design and The American Solar Challenge solar powered car design challenges.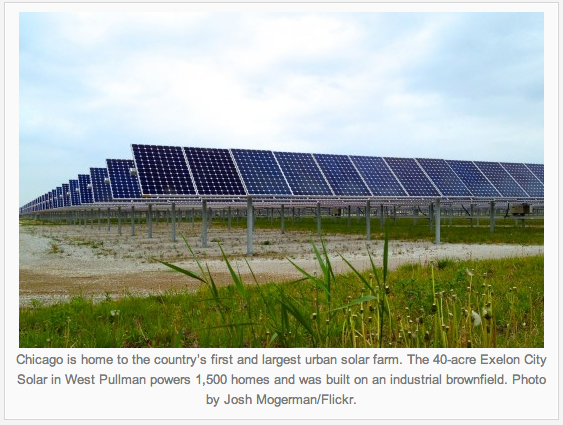 4. Green Building LEEDership at #1
Currently, Chicago has the most LEED-certified buildings in the world. This voluntary certification program by the U.S. Green Building Council requires buildings to meet exceptionally high green building performance standards, especially with regard to energy use. While many extraordinary buildings dot the city and suburbs, some exciting new projects are in the works. Method, the world's largest green cleaning company, is aiming to build a LEED Platinum manufacturing facility in Pullman with solar panels, wind turbines and a sprawling green roof. The highly anticipated Vosge's "chocolate temple" is seeking LEED Gold status to house its corporate headquarters, manufacturing plant and tasting café. The Academy for Global Citizenship, a green public school near Midway, is planning to build the first net positive, urban farm campus in the country designed by Living Building Challenge standards.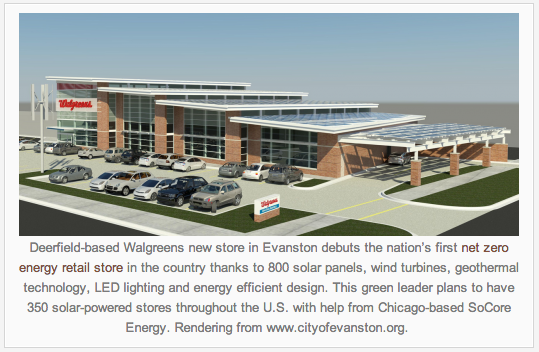 5. Sexy, Skinny, Smart Energy Efficiency
Energy efficiency usually doesn't get the recognition it deserves. It's the cleanest, cheapest energy source we can invest in. Fortunately, Illinois ranks in the nation's top 10 energy efficiency, thanks to energy efficient building codes, smart grid modernization efforts and energy efficiency standards. Electric and natural gas utilities are required to reduce demand by 2 percent each year by offering various programs to encourage energy consumers to do more with less. They offer consumers a range of incentives, such as rebates on lighting and HVAC upgrades, retrofit loans, and energy audit services. Chicago now requires large buildings to disclose their energy performance, and is targeting energy reductions in residential zones, large commercial businesses and municipal buildings. Retrofit Chicago's Commercial Buildings Initiative now has 32 large existing commercial buildings pledged to cut energy by 20 percent over five years, equivalent to 28 million square feet of space. Considering all of these efforts, it's not surprising that 62 percent of Illinois clean energy businesses primarily focus on energy efficiency.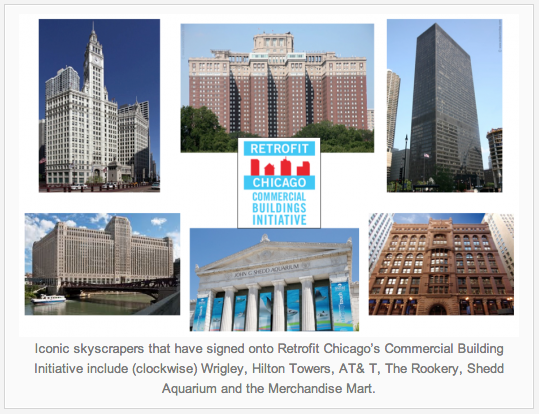 6. Nearly 100,000 Green Workers Strong
The clean energy industry is a significant employer and an economic engine in Illinois with huge potential for continued growth. In 2010, Chicago was ranked the third-largest center for clean economy jobs in the nation. As highlighted in the newly released Clean Jobs Illinois report, Illinois' clean energy industry is putting an astounding 96,875 people to work. This prospering workforce related to energy efficiency, renewable energy, green transportation and greenhouse gas management work is expected to grow by 9 percent in 2014. Although a relatively new sector, it is now larger than the real estate and accounting industries combined. Importantly, many of these good jobs are in demand and cannot be outsourced.
Stay tuned for 6 More Ways Chicagoland is Greener & Cleaner Than You Think (Part II).
Calling all HuffPost superfans!
Sign up for membership to become a founding member and help shape HuffPost's next chapter