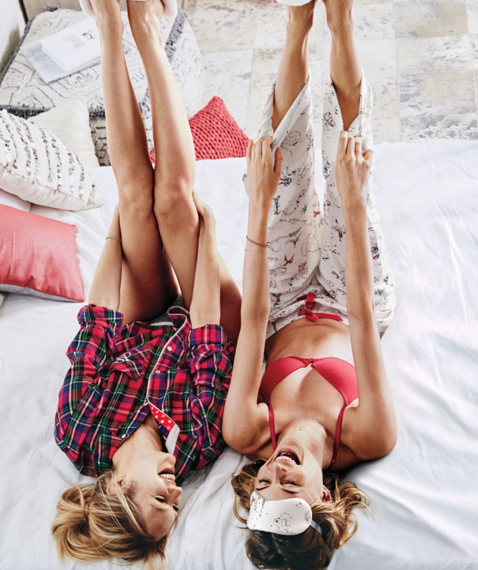 Even when your family is amazing and you don't have that crazy relative who always gets out of control (who are we kidding, we all have that relative), the holidays can be stressful.
A time that should be festive, peaceful and full of love, becomes about fighting traffic, long lines, bad moods, and overall stress. Seeing family isn't always easy either, when many have unresolved issues and it's harder than ever to fake the "togetherness" the holidays pressure us to feel.
Here are 12 ways to cope with the stress of the holidays, that can also apply to your life post festivities.
Thanks to Hallmark, Pinterest, and Instagram, we have unrealistic expectations of what the holidays should be like. We picture ourselves being just darling, holding a cup of hot cocoa while wearing plaid matching pajamas, laughing in unison while The Proposal plays on the screen and sugar cookies bake in the oven.
It hurts when in reality your holiday cookies turned out gross, the matching pajamas you ordered from China were three sizes too small, everyone argued during the best scene of Elf, and your totes adorbs Instagram pic only got 9 likes.
To lessen the stress - lower the expectation. If your family tends to bicker, don't expect a Christmas miracle and everyone merrily getting along. By accepting what you can't change, you lower the tension in your body and mind -- and subsequently, the disappointment and depression post holidays.
2. Be honest with what you can offer, and know your limits
It's important to know your limits during the holidays. You can't be three places at the same time, and everything will take longer than usual due to traffic. Remember this when you are committing to Christmas parties and family get-togethers, and try to actually under-commit -- chances are you will be right on target.
3. Learn to say no

Repeat after me: "No" is a complete sentence. Of course there are things we have to do. But the holidays are a perfect time to practice using the word "no." You will feel compelled to accept every invitation, agree to bring extra food, get pushed into a corner to travel across the country (again), or even to host the party when you don't want to. Stand up for yourself and your family and say "We would love to see you, but we have decided to [insert the thing you actually want to do here] this year."
Whether you are an introvert or an extrovert, spending time alone is beneficial to anybody. Being by yourself with no distractions gives you the chance to clear your mind, problem-solve, and to rest our mind from being "on."
If you are going to be around family 24/7, make an excuse to run to the grocery store, do the morning coffee run, or take a morning walk by yourself for a chance to decompress and do a little self-care during the holidays.