A coffee table is many things: a place to set your drink, a footrest, somewhere to stash the remote and — of course — a beautiful decorative addition to your living room. Or, at least, it has the potential to be all of these things. Your coffee table can also become a cluttered mess if you aren't careful, or a drab disappointment if you're scared to get a little creative. To help you achieve style success, I've put together some helpful guidelines with specific situations so you can master the art of decorating a coffee table.
The Rule of 3
As in so many other areas of design, three is a powerful number for styling your coffee table. For any size or shape of table, a collection of three items is pretty much foolproof.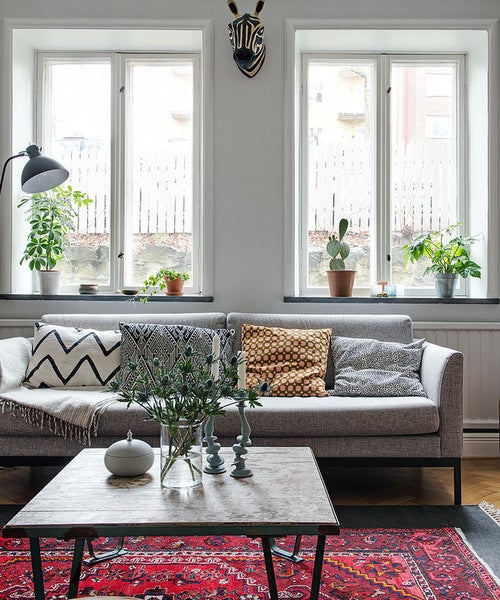 Keep in mind that this "rule" of three is really just a guide, not a strict policy. And sometimes what makes up those three items can be more complicated than it would seem to be.
In the example shown here, the vase is one item, the small covered dish another, and the pair of candlesticks can be considered the third. You could easily count this collection as four pieces (or more if you consider every blossom), but the items still feel like a grouping of three, and add up to an elegant look.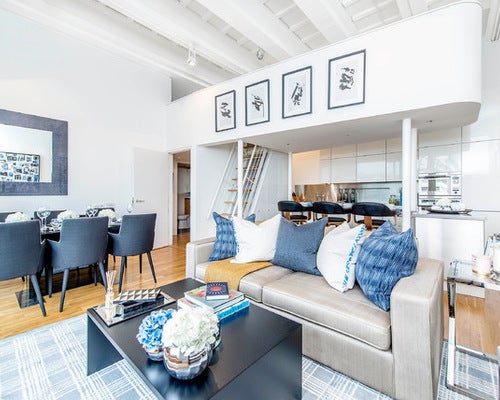 Here, three small clusters of items are spread over a medium-size table. Even though it is technically more than three items, the small groups are spaced out enough to be clear and distinct. This gives the overall table that magic touch: The look is not perfectly symmetrical but not too busy either.
How do you know what items to choose? Here are some great go-to items and tips that can help in any situation.
How to Incorporate the Rule of 3
1. Use books as a base. There are diverse items on this artfully styled coffee table, but the look is still neat and orderly. That's because the items are given a sense of structure from their placement on stacks of books, once again creating that distinction between three individual groups.
Beautiful books (or other flat items like serving trays or even stylish magazines) are a great base for layering. For the easiest approach, start with three books of roughly the same size, and stack smaller and smaller items on each. You can even use the rule of three again in each subgrouping for more of that design magic.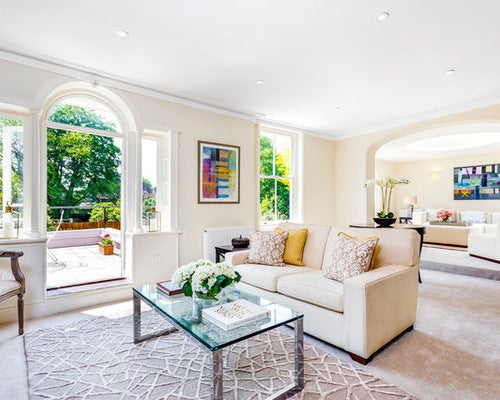 2. Circles and squares. Books add smart structure, but if every piece is rectangular, the look can feel a little stuffy. This is where the circle comes in. Playing elegant curves against crisp rectangular corners mixes up the look for a classic combination. Try a circular vase, bowl, candle or paperweight either on or between squarer items to break up the lines and add visual interest.
3. Play with heights. Another way to add energy to your coffee table look is by playing with the heights of items. The rule of three can apply here as well. Try to achieve three different heights, using items of different sizes or by stacking them higher.
Putting the tallest piece in the middle can create a pleasing symmetry, but as we saw previously, sometimes a little intentional asymmetry can be captivating as well. As long as you add some height, the whole grouping will feel more dynamic and interesting.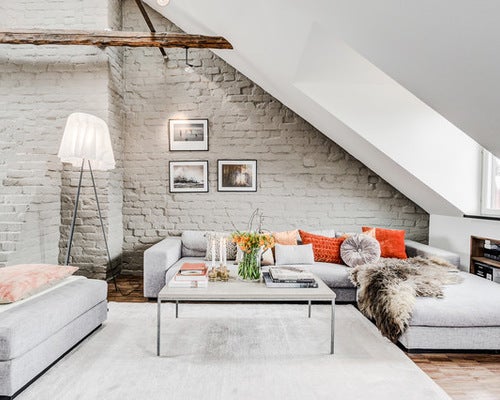 4. Candles and flowers. Flowers and taper candles are two design standbys that will help your coffee table style reach new heights. Additionally, flowers add a pop of color, while candlesticks can add a flash of glam metal, so they're even better together.
If you have multiple candlesticks, try slicing an inch or two off the bottom of one candle to vary the heights, adding even more interest.
5. Easy being green. Plant life also adds energy, introducing organic lines that contrast manufactured pieces.
For a simple 1-2-3 formula, use a plant (flowers, a leafy planter or even an exotic cactus), a simple book (take off the jacket if it's too busy) and a sleek metal or glass bauble.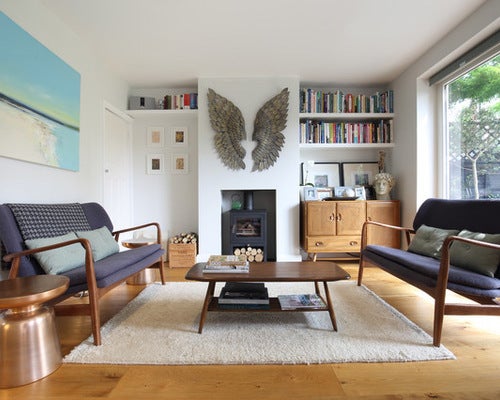 6. Simple asymmetry. It's worth noting at this point that these styling suggestions so far are just one approach. If all of these rules and formulas seem overwhelming, try the easiest approach of all: one item (or stack) placed asymmetrically almost all the way to one end. This is very useful on long tables that would be hard to fill. Use that extra room to put up your feet.
An asymmetrical approach is also very effective if your table is beautiful in and of itself. Place items off to one side or in a corner and let the table surface do most of the talking.
This look works on round tables too. Use one item or stack of items pushed off-center to create negative space like a true design expert.
7. Square tables. For a perfectly square table, you may be tempted to use four matching pieces for a perfectly symmetrical look. However, you can get a more intriguing look by using two pieces or groups, one in each corner. Try a tall vase or lantern in one corner with a stack of two or three books in the other (and an airy sculptural accent on top).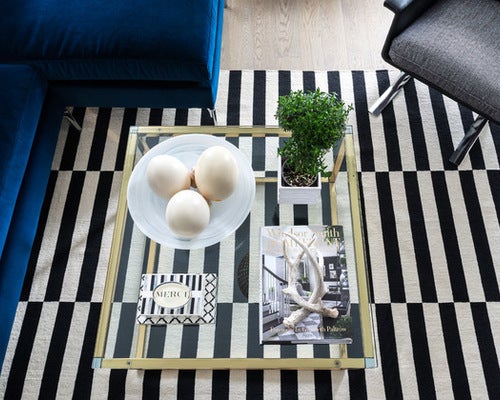 8. Glass tables. Don't forget when styling a glass coffee table that it's not just about what goes on top, but also what goes below. A see-through table practically demands a graphic rug. Try a black-and-white rug and use similarly stark accents in differing shapes, or leave the top completely undressed and let the rug be the star of the show.
9. Two-shelf tables. If your coffee table has a lower shelf, you don't have to fill both levels, but if you choose to, try lining up the items on each tier. Use two pairs instead of threes, and don't forget to play with heights. A lidded storage box or small basket can help keep the bottom level looking sharp while giving you a place to stash items like remote controls.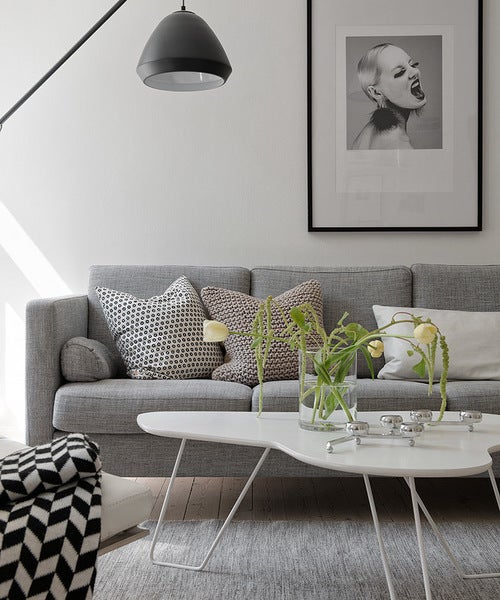 10. Unusually shaped tables. Plants are even more friendly when the table is an unusual curvy shape. Gently drooping blossoms like tulips are especially great, as the organic forms will work together with the table shape and you won't need much other added drama.
11. Upholstered tables. If you use flat items (again, such as books) as a base, you can style an upholstered ottoman coffee table just like any other, using the previous tips. However, for a simpler approach, use one serving tray topped with a glass vase or dish, and drape a throw across the top to finish the look. It's the casual no-fuss elegance that a tufted ottoman was meant for.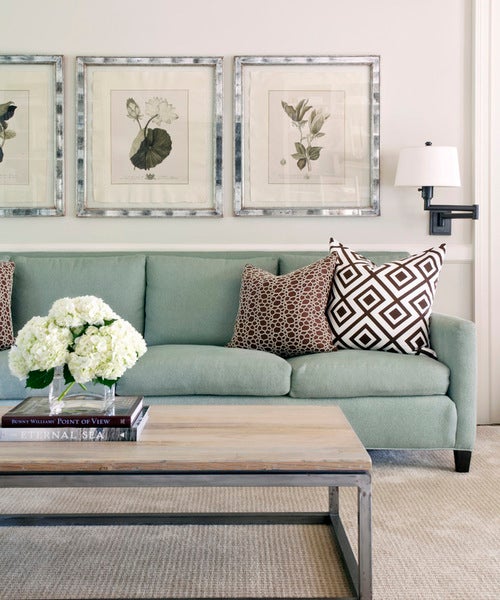 12. The no-brainer. Finally, for the ultimate no-fail coffee table solution, use two books (one slightly smaller and slimmer than the other) with a round glass vase. (The bottom book should be about one-third to two-thirds the width of the table.)
The vase can then be filled with inexpensive white blossoms, colorful tulips, a votive candle or nothing at all, for a look that is truly effortless.