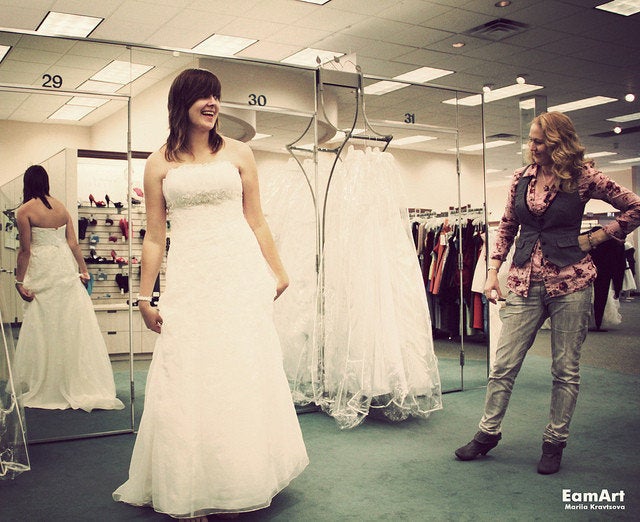 Seems like back when our mothers got married, shopping for a wedding dress was so much simpler. They went with their moms to one shop where they picked their gown, or they had a family friend who made the dress, and that was that. It was like the opposite of today's "Say Yes"-fueled marathon try-outs involving dozens of designer dresses. Forget about "Running of the Brides," huge sample sales at Kleinfelds, or weekly trunk shows. Those are conventions we 21st century brides-to-be have exclusive rights to -- for better or worse.
Thankfully, I was able to find The Dress -- with my mom and my soon-to-be mother-in-law and other VIP ladies' input via iPhone! -- without enduring too much of the complete crazy you might witness on reality TV shows. But I certainly learned quite a few lessons along the way. Here, 12 of 'em I hope will help brides be better able to say they found their perfect gown ...
1. Your mother-in-law-to-be may not be your first pick for a shopping buddy, but if you can include her somehow -- even if you take her on one trip -- you could make her entire year. Being that mine never had sisters or daughters, it may have been a once-in-a-lifetime experience for her to be involved in my dress search.
2. Some bridal salespeople listen ... Others don't, assuming you probably don't know what's best for you. I can't tell you how many times I heard that brides come in all the time asking for mermaid, lace, no beading and walk out the door having signed up for a frou-frou ball gown. Oookay. But many brides do know what they want (or don't). And if you know right away that the dress realllly isn't for you, speak up, and take it off. Playing along just to "be nice" is a frustrating time-suck.
3. At the same time, it never hurts to be open-minded and try something that you'd never choose for yourself. That's what ended up happening with my dress. I thought I wanted a defined A-line, but ended up finding out (thanks to an awesome sales associate) that a slim "modified" A-line did my curves more justice. If the people helping you are good at what they do, they may have a better eye for what works on you than you do.
4. Although plenty of bridal salons are strict about how many dresses you can try and snapping pics of your faves, there are those that don't mind either. For me, being able to take pics was a must, being that my mom and bridesmaids were all out of town. Thankfully, most of the stores I went to were more accommodating than not.
5. Once you get into your third or fourth trips out, you may want to fib about how, err, "experienced" you are. Assuming you're high maintenance, salespeople might show you fewer gowns and attempt to steer you to "the one" faster than they would otherwise.
6. Similarly, if you already think you may have fallen in love but want to do some comparison shopping (which is totally fair!), don't let on. That's when they'll steer you toward whatever it is you probably already know you want in an attempt to close the deal faster.
7. Do your best not to be swayed/pressured by a trunk show that's going on the day you hit the shop. The reps may make it seem like it's your last opportunity to get an awesome deal, but you may be able to get just as good a deal in other ways (at a different shop willing to negotiate or thanks to another type of offer).
8. Don't feel pressured into buying anything the same day, no matter how much blather they go into about your last chance! to order. Yes, it can take six to eight months for some gowns to come in, but as long as you get shopping early enough, you should be in fine shape!
9. Speaking of "shape," don't get freaked out about your size prior to trying on teeny tiny sample-size dresses (which don't reflect "street sizes" at all). As a weight-watching bride myself, I was surprised by the variety of sizes I encountered at various shops. Sure, they may have a dress you adore in an itsy-bitsy size, but there may still be ways to try it on (using stretchy bands and clips) so you can get the general idea. And while that kind of thing may seem embarrassing or demoralizing, I get the impression that most professional salespeople do what they can to "make it work" in a private dressing room and are completely accustomed to working with women of all shapes and sizes.
10. Do try to involve your bridesmaids/VIPs who live both near and far via texted photos. It's not the same as having them there in person -- but who wants too many cooks in the kitchen anyway?
11. Remember the dress can/will look very different once altered/accessorized. You can always get rid of the sash it comes with (hey, it may even look better without it!), add sleeves, amp up the "wow!" with extra bling, etc.
12. Second-guessing your dress is completely normal, especially given the HUGE amounts of pressure brides are under when it comes to finding the most hyped piece of clothing ever. And second-guessing doesn't necessarily mean it's not The Dress. You might just need to try it on twice (or, err, three!) times before you figure it out and everyone stops and stares and says, "OMG, this is your dress!" and then, you cry. Like I did. Oh, and once that happens, you HAVE to stop looking, cause otherwise, you'll probably drive yourself insane.
What's a lesson you learned that you'd share with other brides about dress shopping?
Related