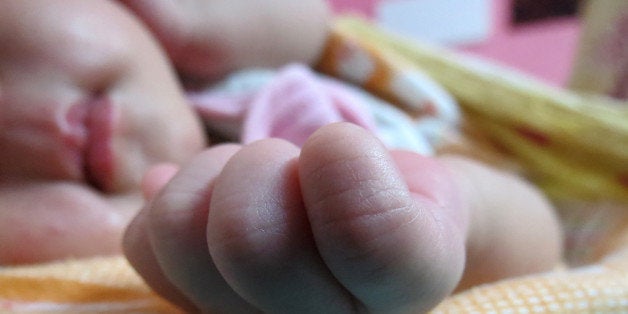 Seven days is what remains of my maternity leave. My last moments at home full-time with my toddler and my last baby.
My youngest baby is 11 weeks old now. She's holding her head up. When her eyes focus on mine, she immediately smiles. Yes, she knows just who her mommy is. She hasn't rolled over just yet, but it is only a matter of days. We are getting pretty good at this nursing thing, but yet some days we still struggle. I know her cues pretty well now, and she's truthfully a very well-mannered baby. Not much upsets her, just a wet nappy and if she awakes with an empty tummy. She's healthy, and for that I'm extremely happy and fortunate.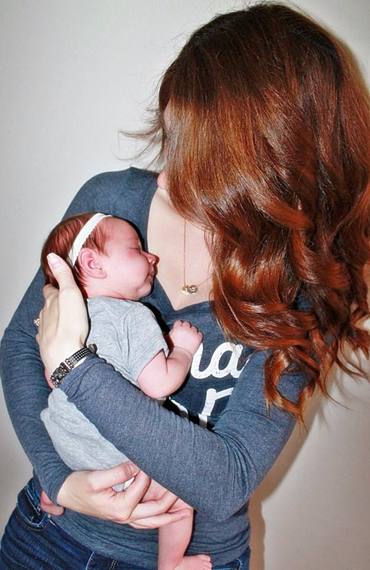 She even recognizes her brother and her daddy, although she gets much less time with them. You see, this baby girl, I've dreamed my whole life of when we would meet. I don't mean to give short change to my son, he is absolutely my pride and joy, but I've always dreamed of having a daughter.
You see, I had a unique and unfortunate relationship with my own mother. Her illness robbed her of her motherhood. She couldn't do the simplest tasks, like braid my hair or teach me to bake cookies. I knew from a young age that I wanted to have a daughter, one that I could spoil with the everyday happenings between a mother and a daughter that I wasn't able to share with my own. And when my daughter arrived, well, my dream simply came true.
These last 11 weeks of getting to know her have been absolutely breathtaking for me. I've enjoyed every moment. Even when she would awake in the middle of the night and I would be exhausted, I'd smile knowing that I could give her what she needed. She was here and I was her mother. I could pick her up from her bassinet and soothe her, I could walk her around the house to get her back to sleep. I could kneel to bathe her. I could carry both her and her older brother down the steps each morning, then nurse her while I fixed his breakfast. I could carry her around the backyard as her brother chased the dog. We could all take walks together after lunch to get some fresh air.
These moments are everything to me. Midway through my maternity leave, my daughter was asleep in her bouncer as my son and I laid on our backs on our trampoline, looking up through the leaves into the sky. I remember thinking at that moment how many times my own mother must have sat in this very backyard and watched my brother and me play, taking a break to catch her breath because walking the length of our small backyard had worn her out, a symptom of her MS. I thought about the thoughts running through her head back then, likely wondering how she would ever be enough for her children knowing her illness would take her able body from her. But yet she was happy because she was home watching her children grow and explore and experience life while they were just little. These would be the memories she would keep in her heart when she struggled. She may not have been able to do everything for us, but she was there. She was home and if there was nothing else she could give us, she at least could give us her time.
I think a lot about time and how as a child I always felt the sand escaping from my mother's hourglass. I could physically feel the time I had with her slipping away with each passing day. It always weighed heavy on my heart because I knew one day that time would expire and I'd only have our memories.
I feel this hourglass again as I watch my own children grow. My son isn't yet two, and I've missed so much of his short two years on this Earth. I've had to hear second hand what his entire day consisted of, what new word he said, what new antic he learned from his cousins. I have missed most of his life already because I've had to be an employee first and a mother second.
This has been excruciating for me as I've felt like my own hourglass with him was being depleted. For the longest time, when my son needed comforting, he'd run to his father or grandmother before he'd run to me. Not because he didn't love me but because I wasn't there. He spent most of his time in their care as I was working or commuting.
But for the last 11 weeks I've gotten to be a mother first. He now runs to me first, every time. I have gotten to experience every second of his day. His memories are now my memories. And my daughter hasn't been separated from me for more than just a few minutes--just how I've wanted it. I've wanted all of this time. This maternity leave was my opportunity to be their mother first, to slow down the hourglass.
But next week, I will return to the fast-paced rat race where I am an employee first. I will pass off my babies to someone else to care for while I go back to work to provide for our family.
I love my work. But I love these babies and my time with them more.
The birth of my daughter was so desperately needed. God knew that. It was needed to get my focus on my family and so that I could show myself what kind of mother I truly am. He knew I needed to slow down, to relight the fire in my heart to enjoy every precious second I have with my children and to truly enjoy the small moments, like breakfast and bath time.
He gave me this little girl, I know, to find the relationship I always wanted to have with my mother. He gave me the chance to create the memories I missed out on as a child, but now from the other side. He gave me 12 full weeks of uninterrupted motherhood.
And I couldn't be more thankful for this time.
Popular in the Community