Two women lock eyes and smile plainly. They're embracing, showing their kinship openly and emotionally. It's the sort of exchange you'd expect between close friends -- the only indication that they might ever have been enemies is that one of them daintily grips an olive branch. It's a centuries-old etching titled "Allegory for Peace," and it's as cryptic as it is alluring.
In the mid-1700s, which is around the time the work was created, women weren't typically the ones solving diplomatic troubles (unless said women were the warring Goddesses of Greek mythology). But the female creator of this etching, Marie Anne Papillon, imagined a different sort of approach to peace-making.
According to the New York Public Library, which arranged a display of works like this one, there's not a lot of historical information about Marie Anne Papillon. Unlike most women able to pursue the craft of designing prints, she wasn't an aristocrat. But, her husband did write the first how-to book on engraving.
In fact, many of the women in the NYPL's exhibit "Printing Women" were related in some way to fello, male printers, who might have enjoyed more of the spotlight during their lives. Even Queen Victoria, an amateur etcher, was introduced to the craft by her husband, Prince Albert. See her work and the work of other female etchers below, to learn about some of the historically overlooked artists who paved the way for printers today.
All images and captions provided by the NYPL.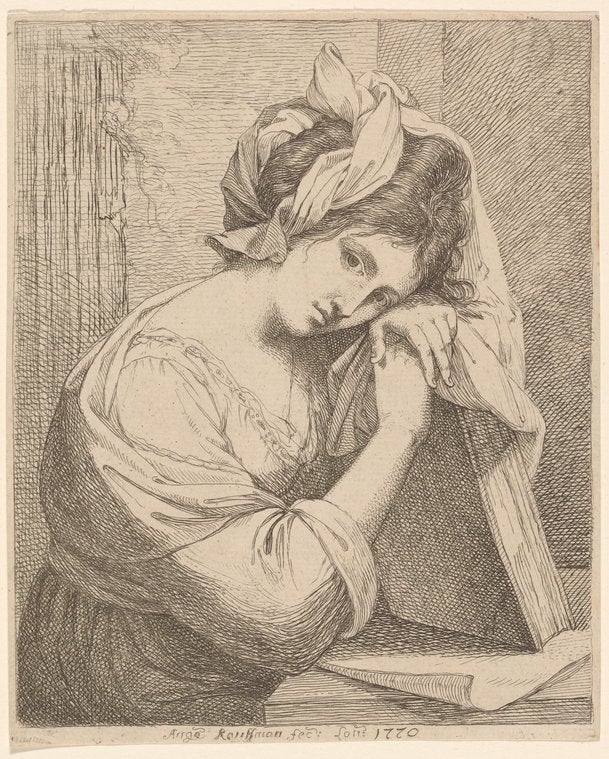 Angelica Kauffman cleverly used the medium of print to promote herself. This etching does not reproduce a painting, but is a complete work in its own right. Offering a surprisingly disheveled picture of Angelica, who in paintings usually appears calm and immaculate, the print conveys ideas about the source of her intellect. With her hair wrapped in an elaborate scarf, leaning her head on a book, she presents herself both as a sort of sibyl and as a figure subject to melancholy humors, considered the source of artistic genius.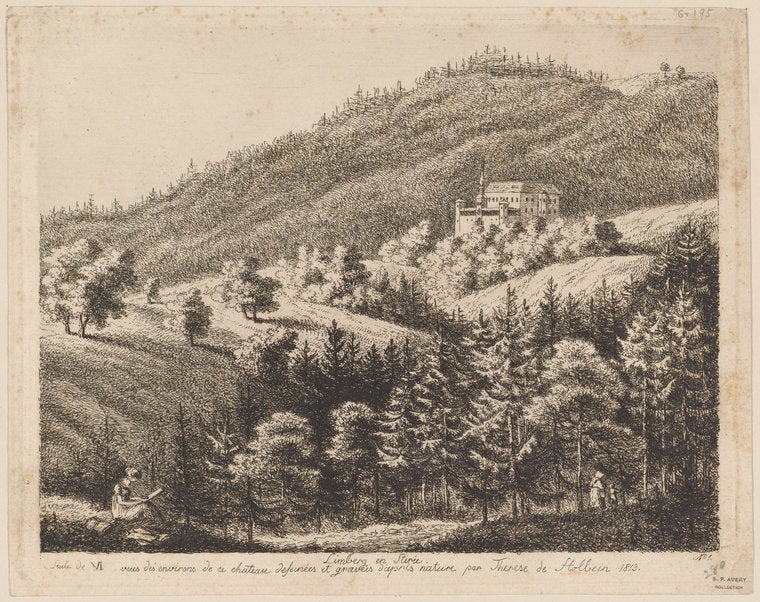 A descendant of the illustrious 16th-century court painter Hans Holbein, Thérèse Holbein painted and etched with great accomplishment. She was German but lived in Graz, Austria, where she produced a small number of etchings, mostly landscapes, very few of which ever circulated. Though many of her compositions are inspired by the work of other well-known artists, including Rembrandt, this view of the castle at Limburg, from a suite of six, shows the artist sketching en plein air.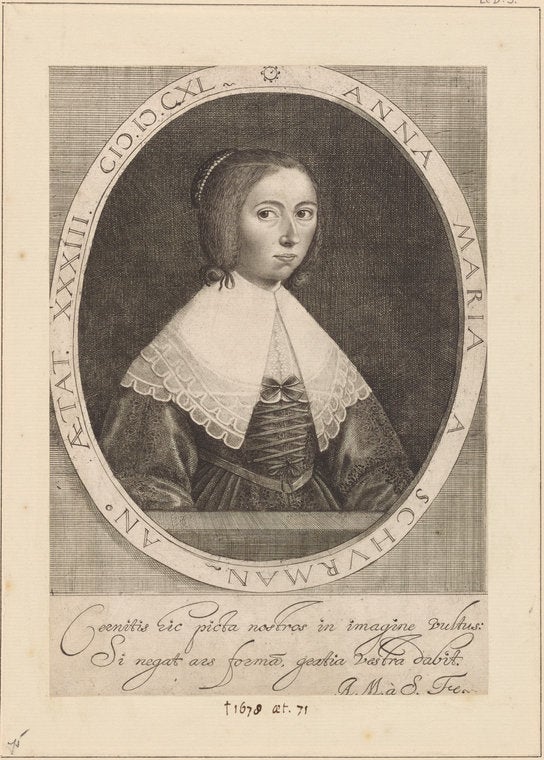 The first female student at the University of Utrecht, Anna Maria van Schurman was a well-known 17th-century scholar and visual artist. Among her many accomplishments, she published an essay in which she stated that women should be educated in all matters, so long as their studies did not interfere with their domestic duties. A master of self-presentation, van Schurman made several self-portraits throughout her life. Here she appears in an austere dress ornamented with lace. Executed when she was 33 years old, the print's inscription reads, "See my likeness portrayed in this portrait / May your favor perfect the work where art has failed."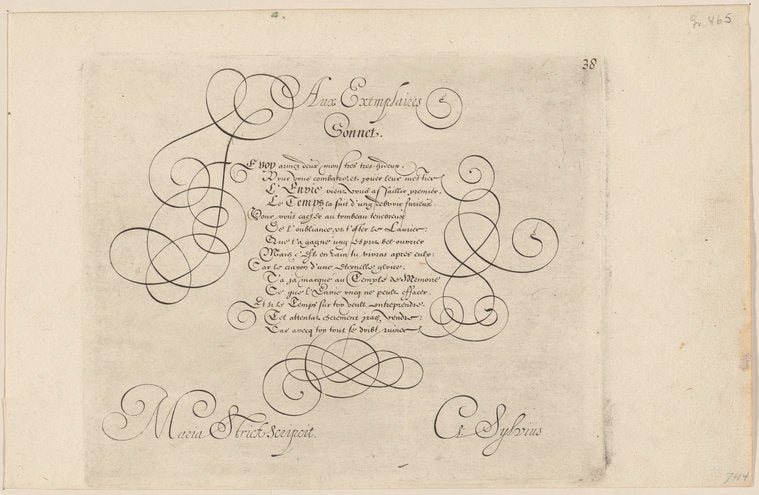 The art of calligraphy flourished in the Netherlands from the late 16th to the mid-17th century, resulting in the production of a large number of superb works of penmanship and printed copybooks. Maria Strick was the only Dutch woman to work in the genre, though it was widely practiced by women in other countries, including Esther Inglis in Britain and Susanna Maria von Sandrart in Germany, both of whom have works shown nearby. Active in Delft and Rotterdam between 1593 and about 1630, Strick created four books of calligraphy. Her husband, a shoemaker, learned to engrave precisely so that he could render his wife's designs in print.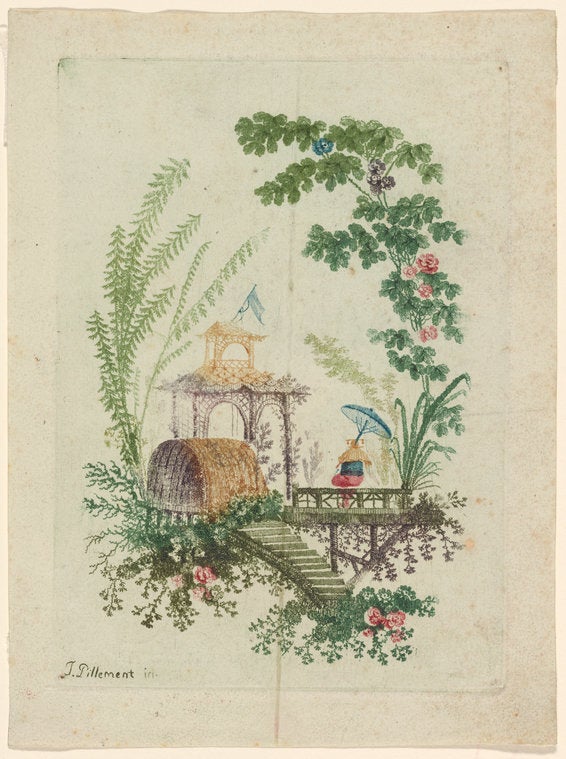 Anne Allen
As a painter and decorative artist, Jean Baptiste Pillement beautified a broad range of objects, including ceramics, textiles and other household ornaments, and he employed a number of printmakers to disseminate his designs. It was Anne Allen, however, who most captivated the artist and became his primary printmaker beginning in the 1770s. These etchings were printed à la poupée, a method in which multiple colors are daubed onto the plate one by one with a fabric-covered stick. An instance of the French Rococo appreciation for whimsy and artifice, Pillement's set, as its title indicates, was also influenced by Chinese woodblock prints.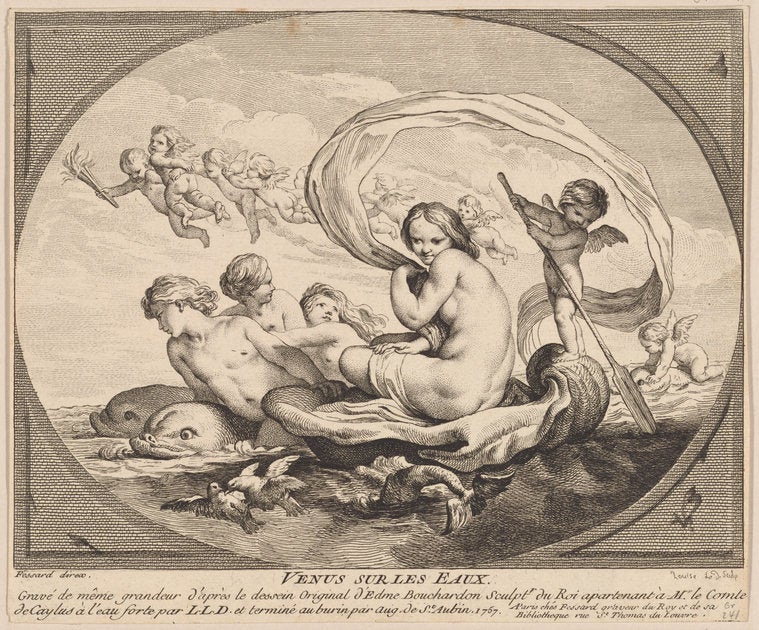 Louise de Montigny Le Daulceur
Sister of the geographer Étienne Mignot de Montigny, Louise Le Daulceur was an amateur printmaker who specialized in the so-called ex libris, a type of bookplate used to indicate the ownership or source of a book. She worked closely with artists like Edme Bouchardon to produce ornamental and decorative prints. This etching, however, reproduces a work in the collection of the famous antiquary Anne Claude, comte de Caylus, and was finished in engraving by Augustin de Saint-Aubin, suggesting that it, too, was destined for a wider market.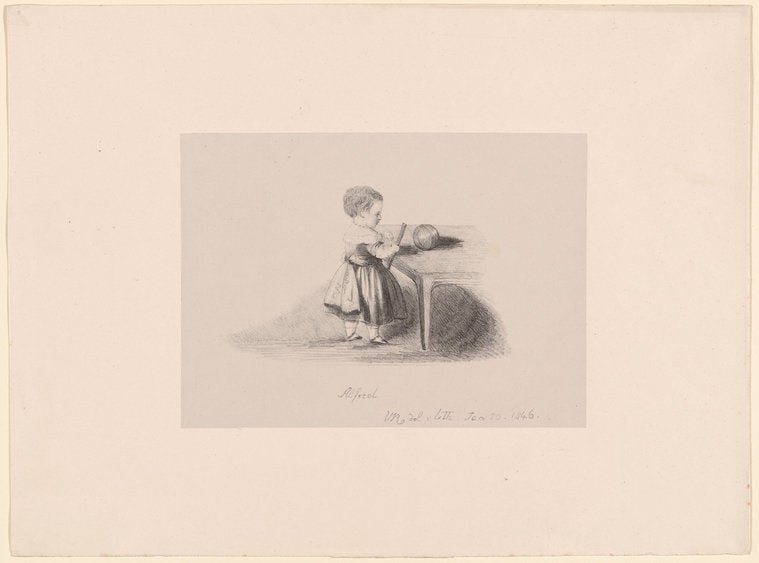 Queen Victoria
Queen Victoria's husband, Prince Albert, introduced her to etching soon after their marriage on Feb. 10, 1840, and over the next four years she created around 60 examples of her own. Her charming views offered intimate glimpses into her and Albert's domestic life, and she recognized their usefulness as gifts for friends and family. This print shows Victoria as a young princess dressed in the same costume that her aunt Princess Charlotte wore in a famous portrait by Benjamin West in 1778.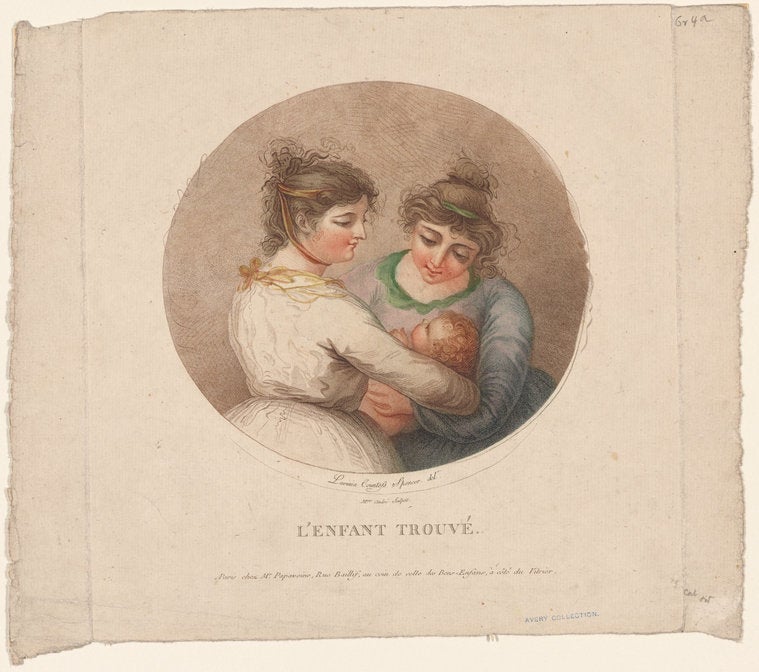 Daughter of Lord and Lady Lucan, Lavinia Spencer became a countess after marrying the second Earl Spencer in 1781. Her sisters-in-law, the Duchess of Devonshire and the Viscountess of Duncannon, were, like her, amateurs. Though the countess created a few of her own etchings, this one was executed by a printmaker who signed herself "Madame André," and about whom nothing further is known. Published with a French title, the work was likely produced in France.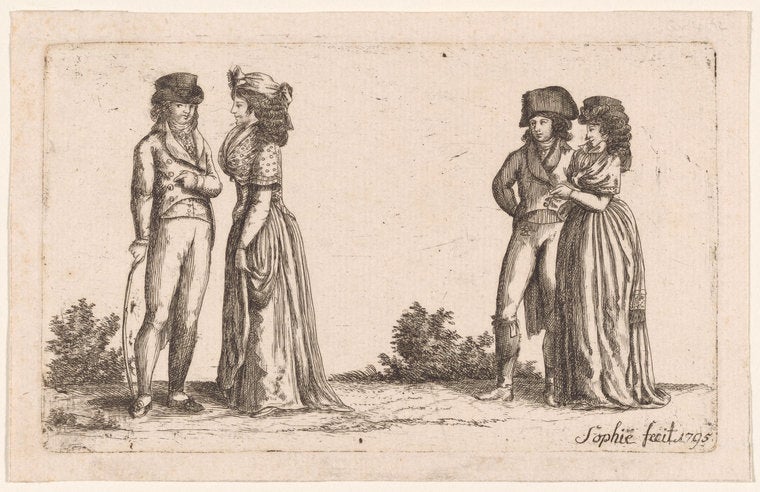 Princess Sophie of Saxe-Coburg-Saalfeld
Aunt of Queen Victoria, Princess Sophie of Saxe-Coburg-Saalfeld created these charming but inexpert etchings at the age of 17. Reading like a sort of printed sampler, the first etching shows the fledgling artist struggling to write in reverse but managing to compose her name, the beginning of the alphabet, the words "la jeune maman" (the young mother), and a monogram. These scribbles appear next to compositions showing a full-length figure of a young woman as well as several heads of young men and fashionable women. Ideas of love and courtship, and possibly even childbearing, seem central to its design.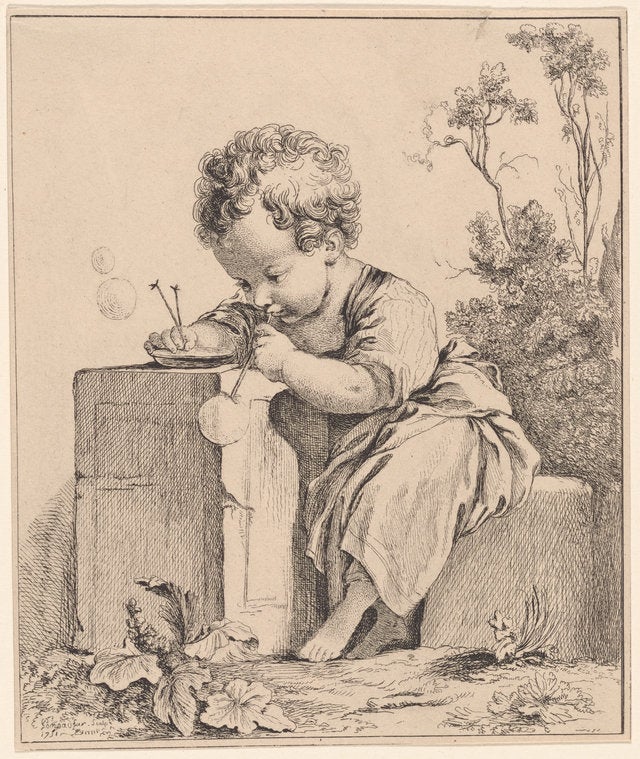 Jeanne Antoinette Poisson, Madame de Pompadour
The marquise Jeanne Antoinette Poisson, better known as Madame de Pompadour, was the official chief mistress of King Louis XV from 1745 to her death in 1764. An intelligent and refined woman who counted Voltaire among her close friends, she received instruction in art from the court painter François Boucher and produced around 80 etchings. Her example led many other women of her class to try their own hand at making prints. Part of a suite of three prints after drawings by Boucher, this etching shows a seated child blowing bubbles, a common vanitas or "vanity" subject and a comment on the fleeting nature of earthly delights.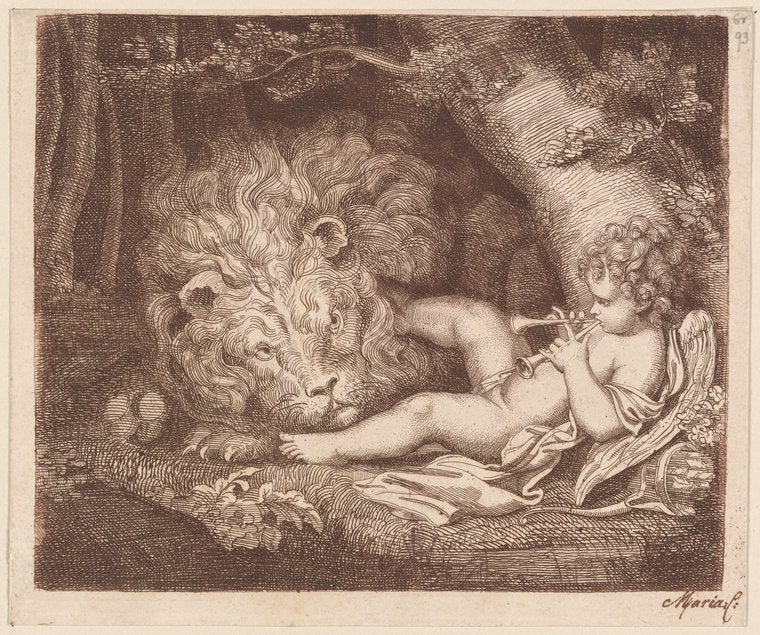 Maria Louisa Catherine Cecilia Cosway
Maria Cosway was not only a painter and printmaker but also a composer of music. Here, she reproduced a design by her husband, Richard Cosway, to illustrate the cover of her Songs and Duets. The image of Cupid fondling a lion made a suggestive gift to Thomas Jefferson, with whom she had developed an intimate relationship while the American diplomat was in Europe. A love letter Jefferson wrote to Maria in 1788 may, in fact, riff on this very work.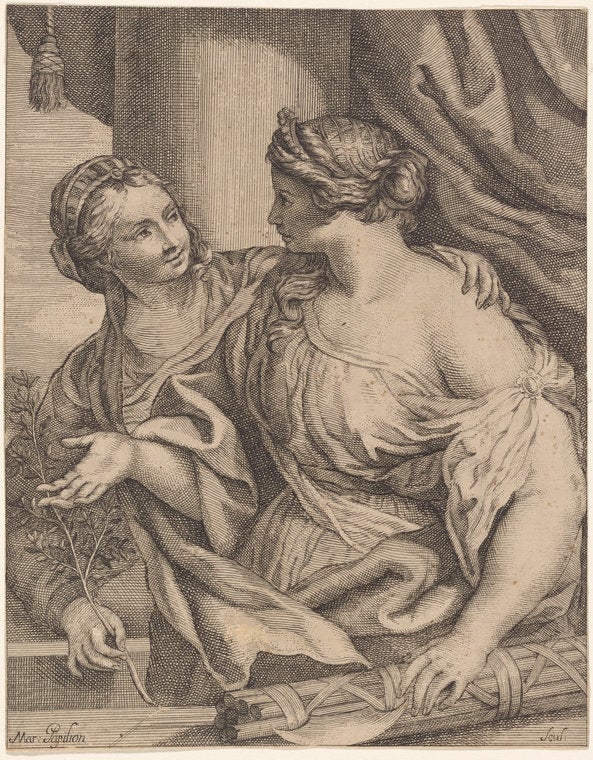 Little is known about Marie Anne Papillon, second wife of the wood engraver Jean-Michel Papillon, who is best known for writing, in 1766, the first how-to book on wood cutting and engraving. Marie Anne herself helped illustrate the treatise. Both her proficiency as an etcher and her powers of invention are astonishing, for the present design appears to be an original.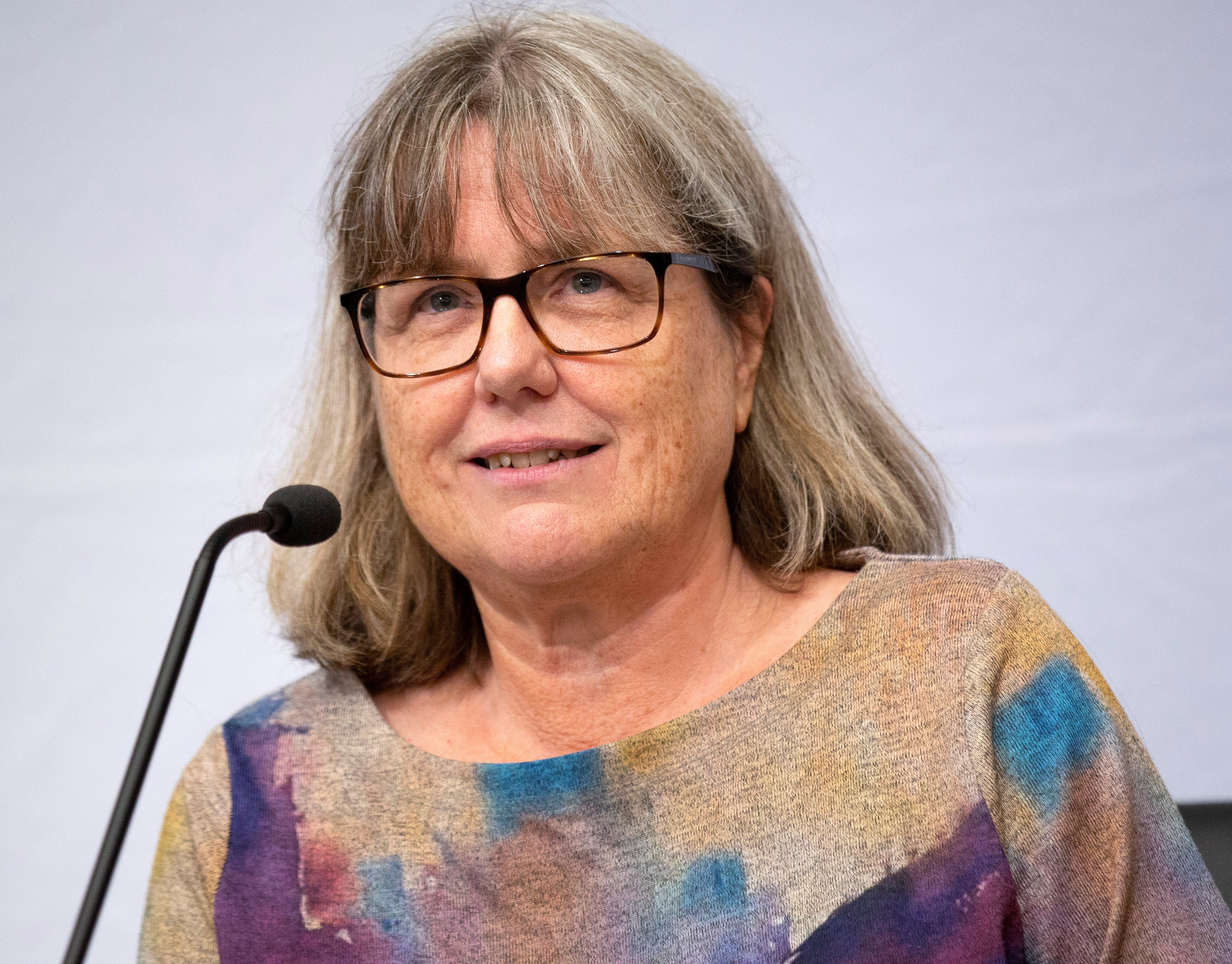 Women Who Have Won A Nobel Prize
Related
Popular in the Community