In the past five years, a new U.S. renewable energy policy has quietly grown more popular, enabling enough solar power (1.21 gigawatts!) to send Michael J. Fox Back to the Future. CLEAN programs -- Clean Local Energy Accessible Now -- have been adopted in 14 states and can significantly increase the deployment of local solar power.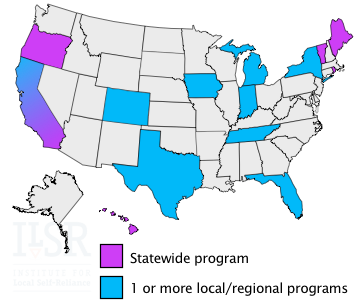 CLEAN programs provide long-term contracts with utility companies that have prices set to guarantee a modest return for investors. They have long been used in Europe (as "feed-in tariffs") to spur renewable energy development, often with remarkable success. In Germany, for example, CLEAN contracts have been credited with developing more than 50,000 megawatts of wind and solar power and with driving the price solar below the retail cost of electricity.
The 1.21 gigawatts of distributed solar power planned under CLEAN programs comes from some of the nation's largest municipal utilities, including Los Angeles and Long Island Power Authority. It also represents one of the largest expansions of solar power in the country, but without a focus on the largest scale projects. CLEAN programs encourage rooftop and commercial-scale solar power located near where electricity is used, so that new local clean energy also creates greater opportunity for local jobs and economic development.
The following table -- taken from a new report from the Institute for Local Self-Reliance (ILSR) -- summarizes the state of CLEAN programs in the U.S. Program contract prices assume the use of tax incentives by participants. Without that assumption, the prices would have to be much higher. Prices have been normalized for solar insolation, contract length, and currency. Prices in bold are for programs supporting residential solar, and otherwise reflect the price for the smallest solar supported under the program.
Summary of CLEAN Programs in the United States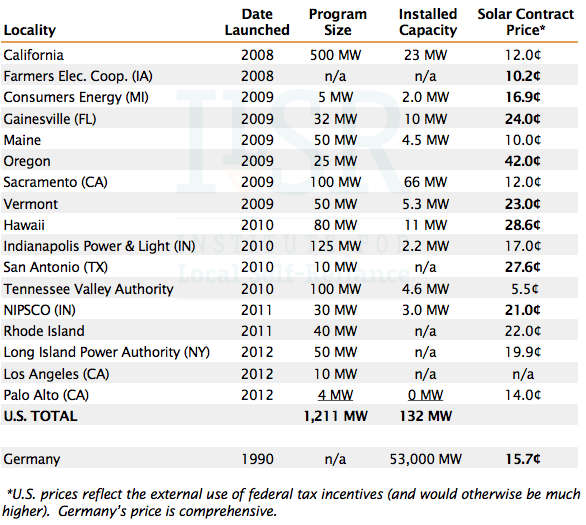 The table illustrates one key comparison. The complexity of U.S. renewable energy incentives makes it more costly than a unified approach like Germany. In comparison, the German feed-in tariff, shown at the bottom of the table, is an all-in price that doesn't require the use of extraordinary tax incentives for investors to earn a return. Yet the German feed-in tariff is lower than all comparable U.S. CLEAN programs. That is a testament to the length, dynamism and success of the German program. As the renewable energy industry has increased, its price has decreased. In the past two years alone, the German feed-in tariff price has fallen by 45 percent.
The recent surge in popularity of CLEAN programs coincides with three realizations. First the volatility of American energy policy increases risks that undermine investor confidence and increase prices. The vagaries of Congress promise a future with more on-again, off-again federal tax incentives and state renewable energy credit markets are also increasing in volatility. These issues are addressed by the consistency and transparency of CLEAN programs, which evidence has shown can offer lower prices.
Second, the rapidly falling price of solar energy means that incentive policies will have to be flexible, able to accommodate regions where solar is cheaper that retail electricity without incentives as well as those where solar is still more expensive. CLEAN programs have a record of being locally tailored.
CLEAN programs also provide a simple tool for encouraging local development and ownership of clean energy, a crucial intersection of self-interest and environmental aims that corporate-targeted clean energy incentives overlook. By returning more of a community's energy dollar back into the community, CLEAN programs will continue to expand far beyond the 1.21 gigawatts in the pipeline.