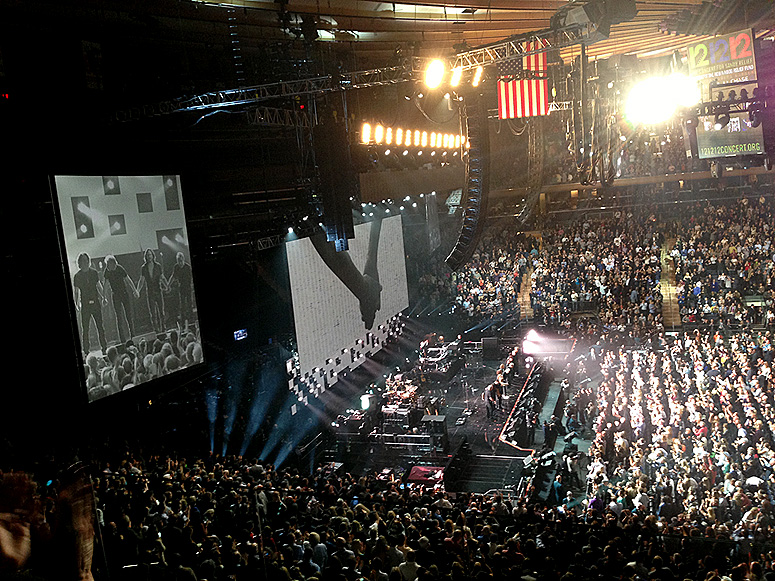 Photo by Lauren Drell; Eddie Vedder and Roger Waters clasp hands after performing "Comfortably Numb."
A star-studded line-up produced a dazzling and magical night of music at 12-12-12: The Concert for Sandy Relief on Dec. 12 at New York City's Madison Square Garden. The roster of guest artists read like a most exclusive red carpet event and included a rare chance for fans to see famed musicians like Roger Waters, The Who, Eric Clapton, Billy Joel, Bruce Springsteen and the E Street Band, Paul McCartney, the Rolling Stones, Jon Bon Jovi and Kanye West performing their respective sets under one roof.
"All of the artists immediately volunteered to join us," says David Saltzman executive director of the Robin Hood Foundation, the nonprofit organization providing funds and supplies to the tri-state area whose residents have been left in the wake of devastation caused by Hurricane Sandy. "It's an extraordinary thing to see the greatest artists in the world coming together in one giant community of caring."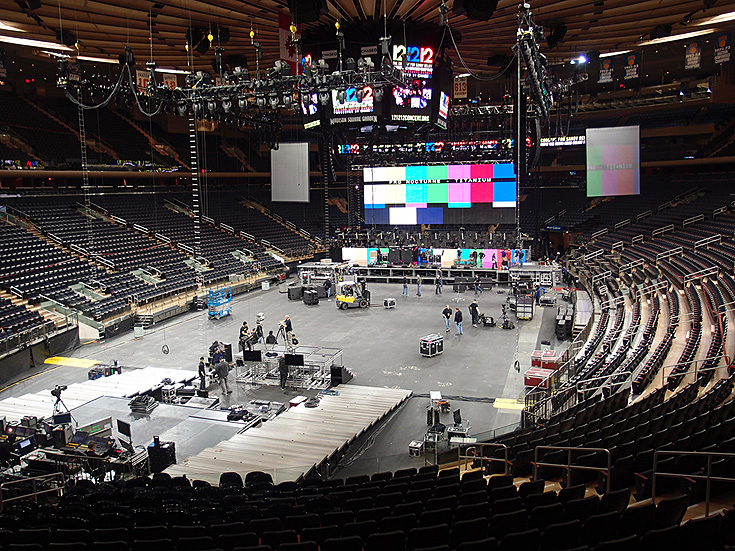 Photo by Lauren Drell; Crews set up Madison Square Garden on 12-11-12 to prepare for the big event on 12-12-12.
The hugely in-demand, sold-out show, where ticket prices ranged from $150-$2,500 (climbing far higher on Stub Hub that angered the show's producers) was broadcast live on a slew of different national and international television channels, streamed online, played on SiriusXM and local radio stations and projected in theatres throughout the country, where producers estimated it reached as many as 2 billion people.
Springsteen kicked off the show, blazing through "Land of Hope and Dreams," "Wrecking Ball, "My City of Ruins," and a very special "Born to Run," where the Boss was joined onstage by fellow Jersey resident Jon Bon Jovi, and the two rock greats both known for their political activism, closed out what seemed to be a perfect set for the night's cause.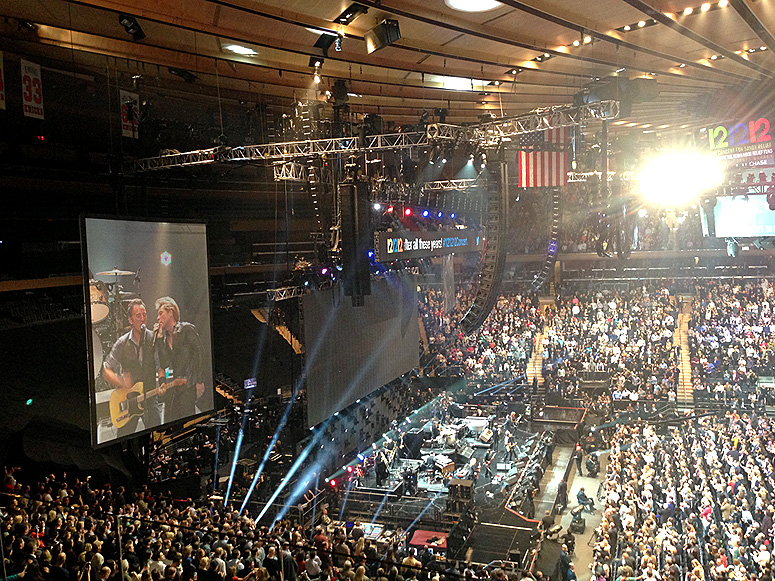 Photo by Lauren Drell; Photo caption: Jon Bon Jovi joins Bruce Springsteen and the E Street Band on stage for "Born to Run."
Like Springsteen, most artists on the gala's bill performed at least a four-song set, with the exception of the Rolling Stones, who concluded their set after just two (the Stones had a show booked the next evening in Jersey to commemorate the band's 50th anniversary.) But, nonetheless, the energy came roaring throughout both, "You Got Me Rocking" and "Jumpin' Jack Flash." "This has got to be the largest collection of old English musicians ever in Madison Square Garden," Mick Jagger announced.
The Who, fresh off the grueling Quadrophenia tour, swapped lyrics "Teenage Wasteland" for "Sandy Wasteland" when the band performed "Baba O'Riley," part of their six-song set that also included, "Love Reign O'er Me." Behind Roger Daltrey, who wore an unbuttoned button-down shirt and Pete Townshend, who let a four-letter word slip perhaps more than once, a montage of vignettes played, some borrowed from their recent tour. Clapton, on the other hand, kicked off his three-song set with the old blues number, "Nobody Knows You When You're Down And Out."
But it wasn't just maturing English musicians who flooded the stage. Kanye worked the crowd at MSG moving back and forth with his swagger to a medley of his hits from "Clique" to "Gold Digger" sporting, well, a Givenchy leather kilt and matching man leggings, which seemed to be the real story trending on social media that evening when it came to his set.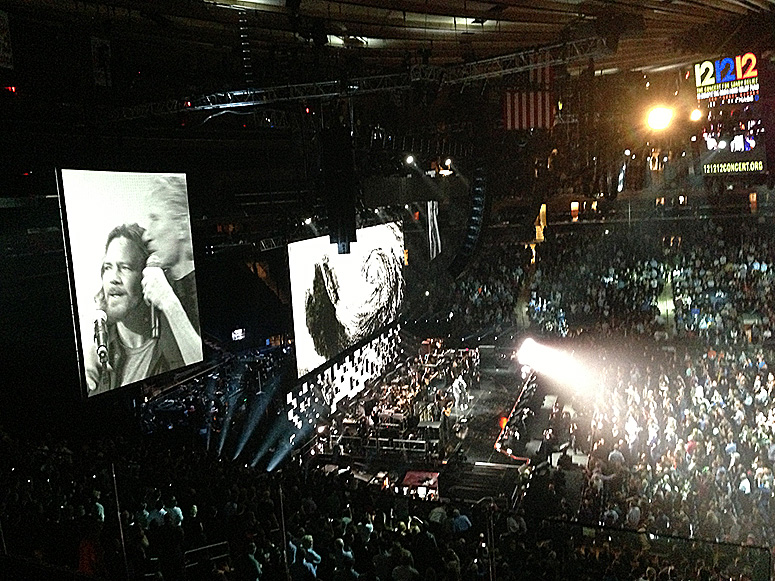 Photo by Lauren Drell; Eddie Vedder joins Roger Waters on stage for a beautiful rendition of "Comfortably Numb."
Aside from Billy Joel taking the night by storm with the emotional "New York State of Mind" (and his entire six-sing set, really, that also included, "Movin' Out"), and Paul McCartney joined by Diana Krall for "My Valentine," a few of the most unforgettable highlights of the six-hour concert was Eddie Vedder joining Roger Waters on stage for a beautiful rendition of "Comfortably Numb," a surprise guest appearance by Michael Stipe who came out of retirement to join Chris Martin on stage for "Losing My Religion" and, of course, the night's biggest surprise--or--maybe not so much so--if you believed the rumors, heard the whispers and followed the twitterverse hours before the show even began--that a Nirvana reunion came to fruition--with Dave Grohl, Krist Novoselic and Pat Smear and the unlikely vocals of Paul McCartney stepping into Kurt Cobain's shoes for the new, "Cut Me Some Slack," that the foursome recently recorded together.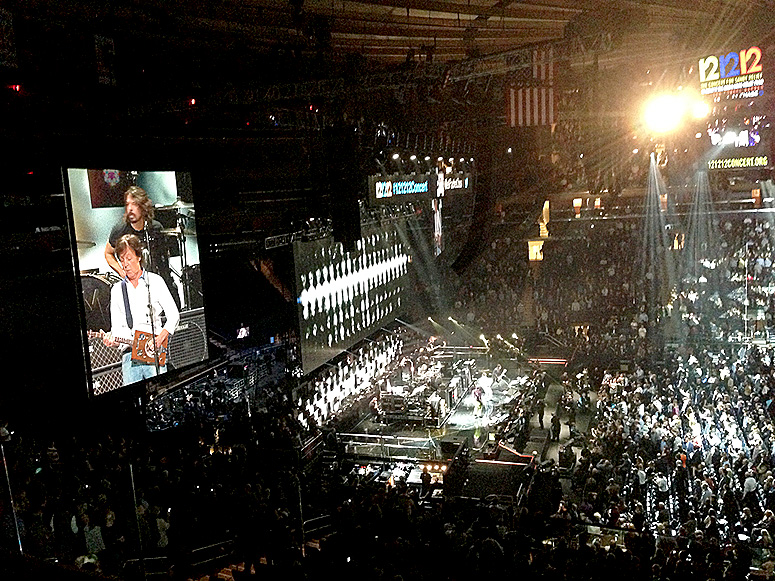 Photo by Lauren Drell; Paul McCartney jams with Nirvana members Dave Grohl, Krist Novoselic and Pat Smear for the foursome's recently recorded, "Cut Me Some Slack."
In between music acts, there was an intermix of video clips, stories of victims and heartbreaking images of the devastation left by Hurricane Sandy; with appearances by Adam Sandler, who performed a parody of Leonard Cohen's "Hallelujah," Billy Crystal, Chris Rock, John Stewart, Stephen Colbert and Jimmy Fallon to offer some comedic relief to lighten the mood. Guest appearances on stage also included Susan Sarandon, Quentin Tarantino, Kristen Stewart, Jake Gyllenhaal, Steve Buscemi, P. Diddy, Chelsea Clinton and Seth Meyers, who ushered out SNL's Bobby Moynihan's 'Drunk Uncle' for an odd bit where he spoke about his ex-wife "Sandy."
By the time the clock struck 1-something in the morning, Alicia Keys was back on stage (she had preciously sang "Brand New Me" and "No One" and requested of the crowd; "Put your cell phones in the air" and poof! thousands of iPhones dramatically lit up the venue) singing the evening's encore, "Empire State of Mind," as the first responders -- firefighters, police officers and others joined the singer onstage for a finale that would be as touching as the stories told and the images shown and a superstar line-up that will be hard to soon forget. With the first $50 million of initial proceeds now being distributed by the Robin Hood Foundation, neither will Hurricane Sandy's victims; some of whom lost everything.
You can bid on exclusive memorabilia and contribute to the victims of Hurricane Sandy through the 12-12-12 Website. The 12-12-12: Concert for Sandy Relief album is now available for purchase on iTunes. Proceeds benefit the Robin Hood Relief Fund.
Popular in the Community