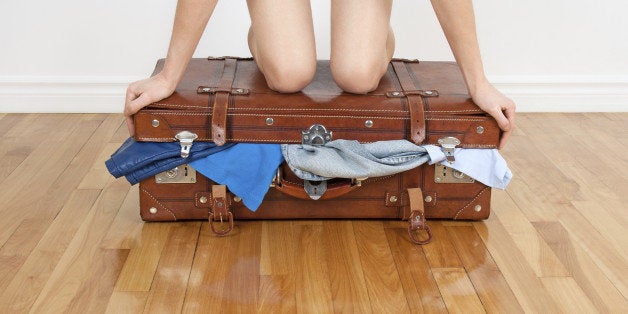 Embarking on a long-term trip is both exciting and daunting. It takes a lot of planning ahead, calculating things like budgets and the money you have in various currencies, and pushing the boundaries of your suitcase (and own willpower), in order to have everything sorted for a year-long journey around the world.
Leading up to our departure, we obviously had to get rid of, *ahem, throw away and sell* a lot of our stuff, as we bought one-way tickets and had no idea when we'd be back. When crossing borders, every last gram is precious. With a baggage allowance of 30kg each, and hand luggage allowance of 7kg each, we were faced with quite a feat - how to compress and diminish our entire lives into 74kg. That's like one person. An average height, average weight human that needed to eat all our belongings, and hop on-board with us.
For those of you who know us well, I (meaning Chanel) was a little bit of a clothing collector... ok ok, clothing hoarder. I own(ed) seven watches, multiple pairs of boots, tons of dresses, and all the scarves. Well, not everything I held dear to me made it with us on our trip (note: I said held). And to be honest, when we unpacked for the first time, we stared blankly at the empty suitcase wondering how on Earth we had more stuff to begin with. How did we live in a house full of stuff, we clearly didn't need, and will certainly not miss?
In the end, our bags were stuffed predominantly with clothing for all seasons, and camera gear.
We learned a few things whilst packing for this trip, and when you decide to sell your stuff and head off on sabbatical, you might want to keep these 10 pointers in mind (note: I said when):
1. Piles. (Of stuff... gosh, what were you thinking?)
These help hugely when you're struggling to decide what to leave behind. Create a must-take-even-if-I-need-to-swallow-it pile -- these are your can't-live-withouts; a would-be-cool-to-have-when pile -- the slightly more patterned clothing that can only be worn with one or two other garments, or the 10th lens you can't really fit into your camera bag, but would-be-cool-to-have-when you're standing atop Hohenwerfen, or flying in a helicopter; and the I'll-miss-you-but-not-really pile - these are the items you hardly ever wore in your normal life, and probably forgot you even owned. Piles (of stuff) are good.
Your clothes that is. It's a sure way to save space and squeeze lots more into your suitcase and backpack.
3. Leave the toiletries behind.
They're heavy and no matter where you end up, deodorant and body lotion will be available. I, for example, have traded my South African Nivea roll-on for the local Austrian brand of raspberry and lemongrass deo. Needless to say, I'm smelling good.
4. A tip from Steve -- Get your girlfriend to do a mock-pack.
After creating my piles (see point 1 above), I did a mock-pack a few weeks before we actually had to pack. This gave us a good indication of what we needed to leave behind, and those were the clothes we ended up wearing on our last few days (donating them on departure day).
5. Check your airline's baggage allowance before embarking on the pack.
Some airlines are slightly more stingy with space, so you'll always need to keep track of your suitcase's weight, which leads me onto the next point...
6. Invest in a suitcase scale.
Analogue, digital -- it doesn't matter, as long as it works and is small enough to sneak into your hand luggage. Most travel shops sell these for next to nothing.
7. Prepare to be uncomfortable at check-in.
You'll want to wear as many layers of clothes on you as possible, so strap on those suspenders, squeeze the stocking-covered legs through your thickest pair of jeans, and prepare to stomp through the airport in your heavy wellingtons #truestory -- it's a wonderful thing that they don't weigh you at the airport, so make sure to wear your bulkiest stuff, no matter how hot you might be.
8. Scan important documents.
Stuff happens, right? You might be the unlucky bugger who ends up getting his suitcase or backpack stolen or misplaced, and chances are, your important stuff might have been in there. To avoid drama, and to be prepped for unforeseen circumstances, make sure you have digital copies of all the important stuff, stored on your phone (which is password-secured, of course), on your email (in case you need to pop into an Internet cafe -- do those still exist?), and somewhere in the cloud (#safekeeping).
9. For the photographers out there -- Bring both tripods.
If you're tossing up between taking your serious-mecca-of-all-tripods, or the little pocket tripod, bring both. Find a way to squeeze them in (or do what we did and strap it to the outside of your suitcase at one of those plastic-wrapping-kiosks at the airport, as airlines will view this as one item -- just don't forget to consider the weight and weigh prior to plastic wrapping -- see point 6 above), because depending on your day trips, you'll want to have access to both.
10. And finally, add a little color.
To your hair, so it's easy to spot each other in the airports, but also to your suitcase. Make it harder for the stuff to happen to you (see point 8 above) - with clear markings, it's less likely your black suitcase will be taken by someone else. Or get a bright yellow suitcase instead.
Check out below the full spectrum of what we brought with us, and how we embarked on a "living with less" journey.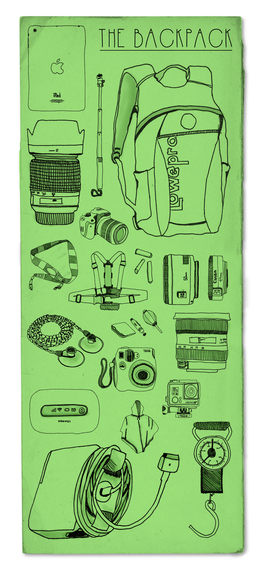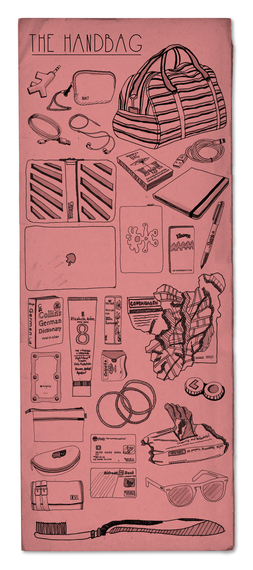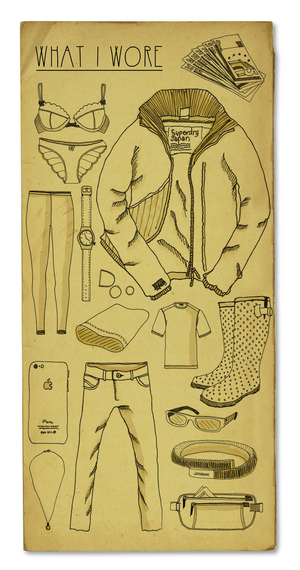 As a side note -- for those looking for some (more) inspiration to live with less, I highly recommend giving James Wallman's Stuffocation a read. Not only did it inspire me to save money (money we are now using to see the world), but it gave me a new perspective on life. Screw society's materialism dictatorship. It's very 20th Century. And silly.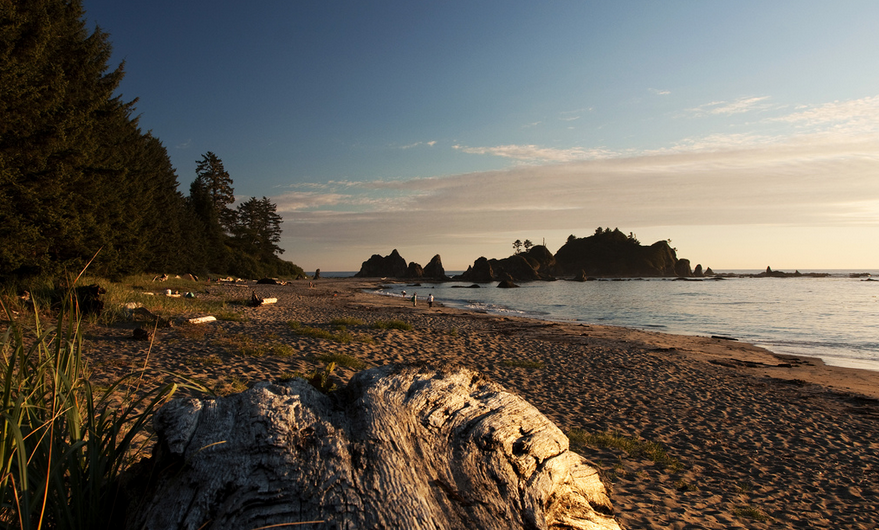 Travel Zen: National Parks