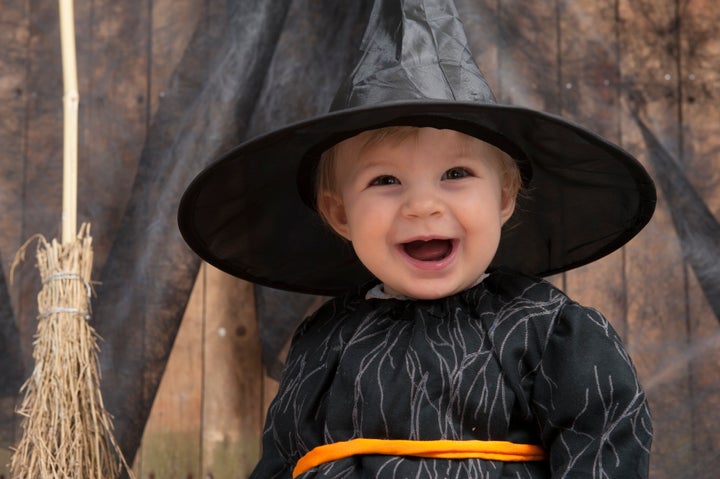 One of the most recognizable images of Halloween is that of a witch riding her broomstick across a full moon, which explains why trick-or-treat expeditions have long featured little girls garbed in black with tall pointy hats and maybe a few warts and moles.
But pop culture has given us a variety of witches, some of which are nice and comical and even beautiful. So if you're looking for a baby name that subtly references the holiday, here's a mix of witch-inspired names beyond the expected Samantha and Sabrina.
Aja
A witch who led her own coven on the hit TV show "The Vampire Diaries." Could Aja join similar names like Ava, Ada, Ana and Aya? Aja was long associated with the title of a classic Steely Dan album
Desdemona
Desdemona is a powerful main character in the second season of "Every Witch Way." Her name, shunned for centuries because of the tragic Shakespearean character is now being considered by adventurous parents, having cracked the Namberry Top 1000 this year.
Dreama
The "Sabrina the Teenage Witch" character Dreama is a (clumsy) high school student sent for Sabrina to mentor in witchery. If you're not a fan of word names, this is nice way of feminizing Dream. A real life bearer is actress Dreama Walker, seen in "Gossip Girl" and "The Good Wife."
Edwina
In the Japanese manga series, "Maria the Virgin Witch," Edwina is a shy witch who helps and then rescues Maria. Other character names in the series include Lolotte, Viv and Artemis. Edwina is a charming vintage name not yet rediscovered, with a choice of cute nicknames.
Izetta
Another example from a Japanese anime series (they do have some of the best names!) is "Izetta the Last Witch." The eponymous character's magical powers include transforming ordinary objects into weapons. This could provide an extremely unusual path to the nickname Izzie.
Keziah
The H.P. Lovecraft horror short story "The Dreams in the Witch House," published in 1922, features Keziah Mason, a witch with a history that dates back to the Salem witch trials. A lovely and rarely used name borne by the biblical Keziah, who was a daughter of Job in the Old Testament.
Lavender
Limiting myself to only one gorgeously named Harry Potter witch, I'm going for the lovely Lavender. One of several attractive purple-hued color names, with an aura of nostalgic charm, Lavender is now number 325 on Nameberry.
Maple
In the classic video game series The Legend of Zelda, first released in 1986, Maple is an apprentice witch to her grandmother Syrup (makes sense!). Sweet Maple is a recent addition to the nature category, already used by two celebs and newly ranked in the Namberry Top 1000.
Marigold
A witch matriarch in the 90s TV show, "Sabrina the Teenage Witch," Marigold Wiccan was featured in the "A Halloween Story" episode. Marigold is one of the sunniest and most charming of the new floral choices, popular in children's books and on Nameberry.
Orwen
Orwen is one of three O-starting named witches in the 1985 Disney film "The Black Cauldron," based on a Lloyd Alexander novel. An unusual Welsh name, Orwen is a cross between Arwen and Olwen.
Petulia
Terry Pratchett's Discworld novels involve characters based on witches in old British folklore, one of the youngest of whom is the kind and considerate Petulia Gristle. Petulia is a variation of Petula ― itself an invention created for the British singer Petula Clark by her father. Has a nice Petal-y feel.
Thais
In the fantasy novel series Balefire by Cate Tiernan, Thais Allard is a primary character, the 17-year-old twin sister of Clio, who learns witchcraft from her grandmother, as many young witches appear to have done. The Greek name Thais, pronounced THAI-ees, has been a Top 100 name in France for several years.
Thessaly
An ancient Greek witch (who wears very modern big specs), Thessaly first appeared in Neil Gaiman's Sandman comics series and then later starred in her own adventures. This delicate Greek place name, an aural cousin of Cecily, also boasts the currently popular Th beginning.