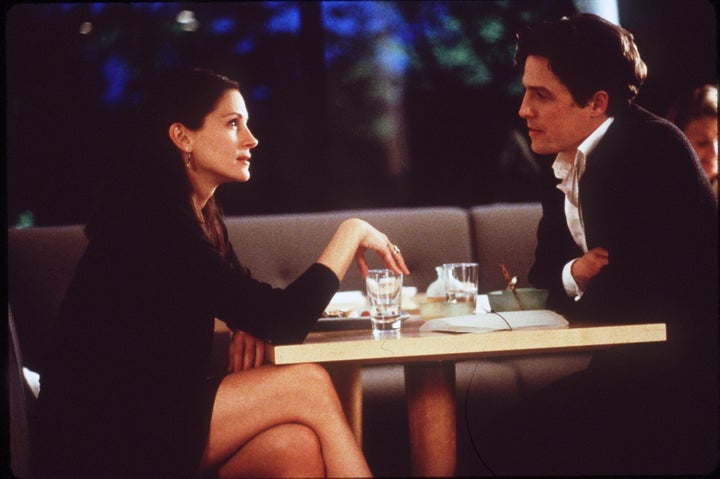 Romantic Comedies are the great equalizer in relationships. With equal parts romance and comedy, these films should appease both members of a relationship, whether you're a gushy romantic or a cynical realist. But that sad truth is that most Rom-Coms are really unfunny two-hour comedies with some very ham-fisted romance jammed in.
This awkward attempt at creating profound statements of love has created some of the most iconic lines of all time, forever inked in the pages of many teenagers' composition notebooks. Truthfully, the "romance" in some Rom-Coms is as much romantic as it is insane, desperate and completely unrealistic, and these traits melt together to create the perfect storm of in-authenticity known as "cheesy."
Below we have compiled a list of some of the cheesiest lines from romantic comedies ever, ranging from depressingly desperate to painfully sweet. You probably don't want to try these lines out on your Valentine (unless he or she is extremely sappy or extremely ironic) but go ahead and have a laugh at the classic lines in celebration of the cheesiest holiday there is.
"Kevin, this is possibly the most adorable creature I've ever been in contact with, and if she turns out to be as good looking as a mailbox... I would be crazy enough to turn my life upside down and marry her. " - Joe Fox (Tom Hanks) in "You've Got Mail"
"I'll just be hanging around the mistletoe, hoping to be kissed." - Mia (Heike Makatsch) in "Love Actually"
"If you find somebody you can love, you can't let that get away." - Sammy (Allen Covert) in "The Wedding Singer"
"You said you couldn't be with someone who didn't believe in you. Well I believed in you. I just didn't believe in me. I love you... always. " - Blane (Andrew McCarthy) in "Pretty In Pink"
"To some people, love doesn't exist unless you acknowledge it in front of other people." - Alphonso (George Lopez) in "Valentine's Day"
"After all... I'm just a girl, standing in front of a boy, asking him to love her." - Anna Scott (Julia Roberts) in "Notting Hill"
"Margaret, will you marry me? Because I'd like to date you." - Andrew Paxton (Ryan Reynolds) in "The Proposal"
"I think I'd miss you even if we'd never met." - Nick Mercer (Dermot Mulroney) in "The Wedding Date"
"Life is not the amount of breaths you take, it's the moments that take your breath away." - Hitch (Will Smith) in "Hitch"
"You're the first boy I ever kissed, Jake, and I want you to be the last." - Melanie Carmichael (Reese Witherspoon) in "Sweet Home Alabama"
"Is it still raining? I hadn't noticed." - Carrie (Andie MacDowell) in "Four Weddings and a Funeral"
"Shut up, just shut up. You had me at 'hello'." - Dorothy (Renee Zellweger) in "Jerry Maguire"
"You don't have to understand. You just have to have faith.. ("Faith in what?" - John Cusack) "Destiny." - Sara Thomas (Kate Beckinsale) in "Serendipity"
Popular in the Community