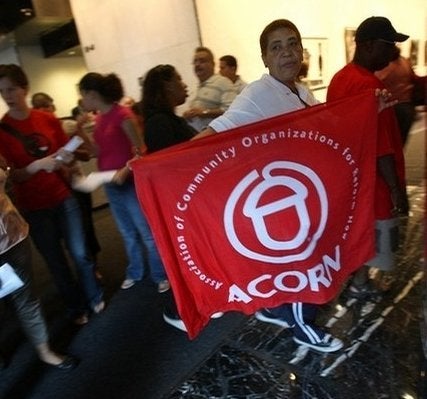 Any questions? If so, first see this and then this, and then read the following list of ACORN facts before getting back to me with any of your questions, as I'm happy to help straighten you -- or any of the clueless and lazy media folks who have fallen for the GOP's "voter fraud" fraud -- out, as needed.
The following fact list is from a recent press release from ACORN, pointing out their success in registering hundreds of thousands of low-income voters who few others care to go out and register, and the fact that in almost every instance where there have been concerns about registrations turned in by the group (by law, they must turn in all registration forms they collect, problematic ones or not) it has been ACORN themselves who have first notified officials about the potentially fraudulent or incomplete applications.
The following facts need to be read by everybody (apparently), even those who believe they are progressives, yet have fallen for the GOP's Dixie-Chicking of ACORN...
Fact: ACORN has implemented the most sophisticated quality-control system in the voter engagement field but in almost every state we are required to turn in ALL completed applications, even the ones we know to be problematic.

Fact: ACORN flags in writing incomplete, problem, or suspicious cards when we turn them in,. Unfortunately, some of these same officials then come back weeks or months later and accuse us of deliberately turning in phony cards. In many cases, we can actually prove that these are the same cards we called to their attention.

Fact: Our canvassers are paid by the hour, not by the card . ACORN has a zero-tolerance policy for deliberately falsifying registrations, and in the cases where our internal quality controls have identified this happening we have fired the workers involved and turned them in to election officials and law-enforcement.

Fact: No criminal charges related to voter registration have ever been brought against ACORN or partner organizations. Convictions against individual former ACORN workers have been accomplished with our full cooperation, using the evidence obtained through our quality control and verification processes - evidence which in most cases WE called to the attention of authorities

Fact: Most election officials have recognized ACORN's good work and praised our quality control systems. Even in the cities where election officials have complained about ACORN, the applications in question represent less than 1% of the thousands and thousands of registrations ACORN has collected.

Fact: Our accusers not only fail to provide any evidence, they fail to suggest a motive: there is virtually no chance anyone would be able to vote fraudulently, so there is no reason to deliberately submit phony registrations. ACORN is committed to ensuring that the greatest possible numbers of people are registered

ACORN will not be intimidated, we will not be provoked, and in this important moment in history we will not allow anyone to distract us from these vital efforts to empower our constituencies and our communities to speak for themselves.
Calling all HuffPost superfans!
Sign up for membership to become a founding member and help shape HuffPost's next chapter