As a traveler, it can be hard to feel like you've really seen and experienced all a new-to-you country has to offer on a visit, but with Ireland's small size, it's easy to cover a lot of ground in a weeklong visit. Here are some places we've dubbed essentially Irish and must-visits on any trip. Plan your own adventure with one of the deals from our Featured Destination Ireland page.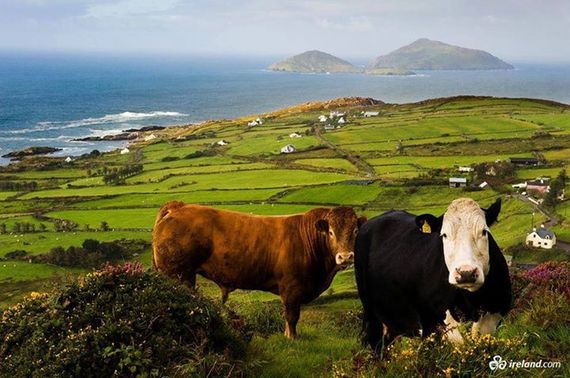 Killarney & Ring of Kerry is the southwest is a drive of about 110 miles around some of the most unspoiled land in the country and should be at the top of anyone's list for those looking for a seaside escape. Dotting the drive are churches dating back centuries, lovingly restored B&Bs, small villages, pristine beaches and heritage centers welcoming visitors all year round. Killarney is a busier spot in a relatively quiet region: in the summer tour buses take over the wide sidewalks so visitors can take in the bucolic charm of the town, and because of it, prices are at their most expensive. Savvy travelers will arrive in spring or fall to see its national park carpeted with moss and overrun with wildflowers. Other big draws are the Knockreer and Muckross estates. Take your time when driving and stop in one of the villages that you'll drive through. The roads are very narrow and are two lanes so relax and don't rush it.
Blarney Castle and its famed stone, often dismissed as a tourist trap, is a fiercely defended must-stop location according to our deal experts. But for those who schedule a visit first thing in the morning or a visit after the tour buses have left in the evening will find beautiful gardens surrounding the castle and few people queued up to kiss the stone. Take note: it's not as easy as it looks to kiss the stone. Visitors must lean over the edge of the castle while being supported by the waist by an employee.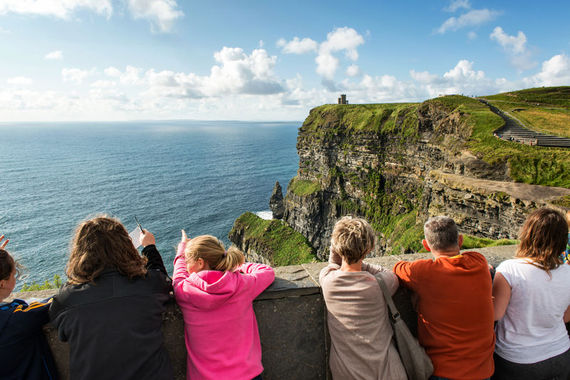 Photo © Christopher Hill Photographic 2014, Tourism Ireland
Cliffs of Moher is among the most cinematic sights in a country full of them: the cliffs pierce down into the Atlantic and the waves provide a lovely serene soundtrack. In recent years, the spot has become more and more popular with an addition of a visitors center, and along with it admission fees have risen. But we still find it one of the most stunning scenes and well worth the trek. Bring comfortable shoes and a windbreaker.
Glenveagh National Park in the northwest corner of the country and is the second largest national park. Offering free admission, on its grown are the famous gardens home to many exotic plants given the area's high rainfall and acidic soil. Guides say the best times of year to visit are May and June to view the rhododendrons. The walled garden is said to be its most colorful in August. Also on-site are several walking trails, an outdoor learning center, fishing pond and a 19th-century castle offering frequent tours.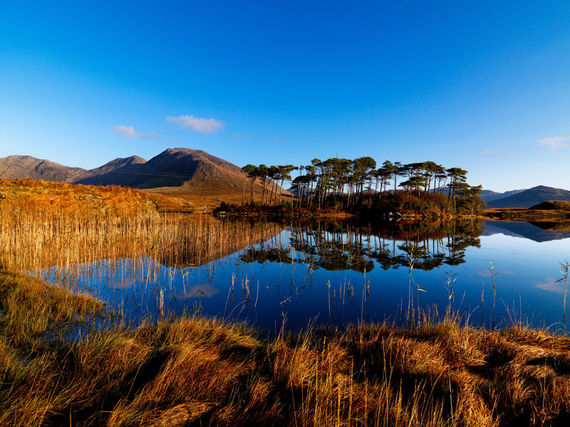 Photo © Chris Hill Photographic, Tourism Ireland
"Connemara is a savage beauty," wrote Oscar Wilde. Connemara is a stark and barren region that many locals consider two individual places: the south characterized by low-lying rocky coasts and a thick moorland and the north known for its rough terrain, most notably the Twelve Bens (or Twelve Pins) mountain range.
The perfect day trip from Dublin is the bright village of Kilkenny. Known best for its striking castle, the town is full of craft shops and pottery stores with local wares as well as postcard-worthy castles and cathedrals. This truly is a stop for those with an artistic bent: shops also sell woodworkings, jewelry, paintings and other folk art pieces. In the offseason, it's a sleepy spot largely abandoned by tourists.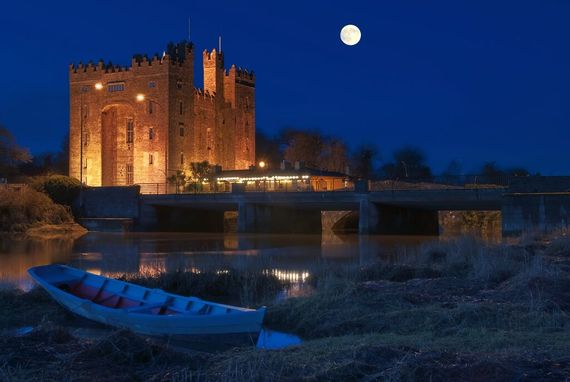 Travelers should make sure they budget in enough time to properly view the Bunratty Castle and Folk Park. The castle dates back to the 15th century, and the heritage foundation that owns it now has traced the lands' origins back to a Viking trading camp in 970. About 50 years ago the castle was restored and is now home to 15th century homewares and art, giving a glimpse into life in those days. On the site medieval banquets are now served, complete with a show good for families.
According to legend, Croagh Patrick is the mountain from which St. Patrick banished all the snakes from Ireland. A harrowing hike to the top is rewarded with one of the most beautiful views in the country, including a chapel built by Patrick himself. Note: This is a moderate hike that can get very windy.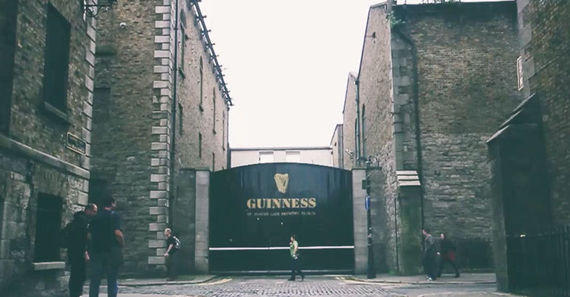 Guinness Storehouse is seven stories dedicated to Ireland's signature brew, this museum teaches visitors about everything from the brewing process to the company's history - and how to pour the perfect pint. The tour ends with a pint of the black stuff at the top-floor bar, which offers 360-degree views of the city below.
National Museum of Ireland is composed of a free network of museums with four locations throughout the city, each dedicated to a different subject. One favorite is Archeology, which is home to medieval swords, ancient Egyptian jewelry and "bog bodies" that were preserved underground for thousands of years.
11. County Antrim, Northern Ireland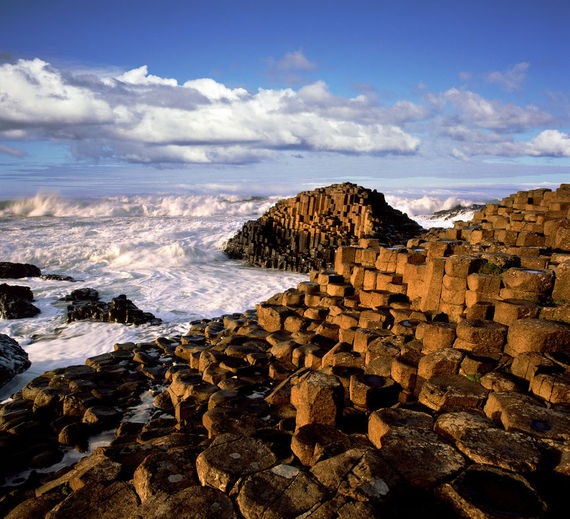 County Antrim is chock-full of take-your-breath-away scenery including one the most recognizable UNESCO World Heritage Sites in western Europe: the Giant's Causeway. The Causeway was created by millions of years of volcanic and geologic activity. Or, if you prefer, by mythical giant Fionn mac Cumhaill as a series of steps to transport him to Scotland.
12. Belfast City, Northern Ireland
When we visited we booked a black cab tour. The fleet of cabs will take you and your group on a 1.5 hour guided tour of the city, specifically the Belfast political murals. It was an incredibly thought-provoking journey and provided great un-biased color commentary along the way.
13. County Londonderry, Northern Ireland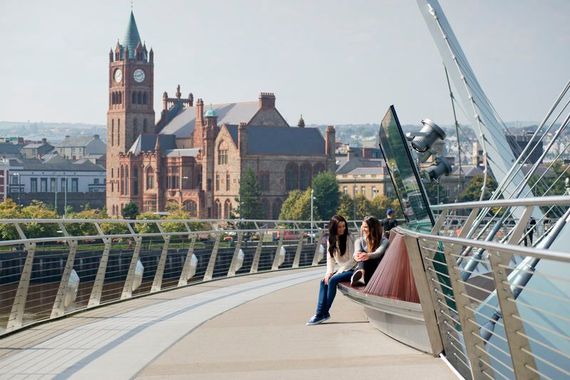 Photo by Tony Pleavin, © Tourism Ireland
If the walls of Derry-Londonderry could talk, they would have 400 years of tales to tell. It's worth a walk around the periphery to soak in the history.
Hilary Solan is an editor at Travelzoo and based in Chicago. Travelzoo has 250 deal experts from around the world who rigorously research, evaluate and test thousands of deals to find those with true value.
Related