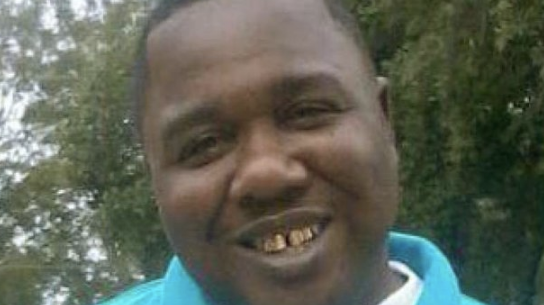 A black man lost his life in a police killing on last June. His name was Alton Sterling.
Sterling joins the extensive list of black men and women who have died at the hands of cops. The aftermath of each tragedy is emotionally draining as we mourn the loss of a life violently taken by the police, and as we reflect on how painfully familiar each killing becomes.
But we can't let slain names on a list become just names, we must remember each individual's legacy in order to demand that black lives do matter.
Here's what we should all know about Alton Sterling:
1. Alton Sterling didn't deserve to die.
Alton Sterling was shoved, pushed and manhandled to the ground before officers brandished their weapons and shot him to death. While exact facts about the case are still being clarified, one thing is immediately clear: Sterling didn't deserve this fate.
"I really wanna know more about what happened, about the whole situation, because my brother didn't deserve it," Sterling's sister, Mignon Chambers told WABF-TV. "He didn't deserve it at all."
2. Alton Sterling was the father of five children.
Sterling was a son, a brother and a father of five adorable children. "The individuals involved in his murder took away a man with children who depended upon their daddy on a daily basis," Quinyetta McMillan, the mother of one of Sterling's children, told reporters on Wednesday.
3. Alton Sterling lived in a shelter home and he loved to cook.
Sterling had been living in a shelter for a few months by Living Waters Outreach Ministries in Baton Rouge. According to Calvin Wilson, one of the shelter's residents, Sterling loved to cook and "whatever he cooked, he cooked enough for everybody," Wilson told The Advocate.
4. Alton Sterling sold CDs outside of the same store for years.
Sterling had stood outside of the convenience store selling CDs for years, the store owner Abdullah Muflahi told The Advocate. Sterling had even adopted the nickname "CD man."
5. Alton Sterling "would have never fought the police."
Sharida Sterling, Sterling's cousin who said he was more like a brother to her, told The Advocate about her strong skepticism over claims that Sterling took action against the cops. "He would have never fought the police, he wouldn't have pulled a gun, he would have been too scared," she said.
6. Alton Sterling was the 558th person to be shot and killed by a police officer in 2016.
Sterling was the 558th person police killed in America in 2016, according to The Counted. The Counted is a project launched by The Guardian that tracks police killings in America.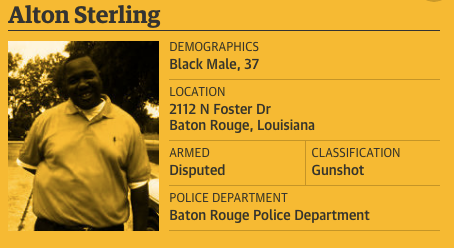 7. Alton Sterling's death was caught on camera by a witness who captured what police body cameras likely didn't.
A graphic video captured the harrowing moments that led up to Sterling's death. A witness, who sat in a parked car directly adjacent to where Sterling stood, recorded Sterling being slammed to the ground by two police officers. The video also captured the sound of gunshots and screams. The police chief said both of the officers' body cameras fell off as they manhandled Sterling to the ground and video footage from the store has not yet been released.
8. Alton Sterling allegedly carried a gun for protection.
Muflahi, the convenience store owner, said Sterling had been selling CDs outside of his shop and throughout the neighboring area for years. In one video interview with The Advocate's Maya Lau, Muflahi said Sterling started to carry a gun only in the last few days after a friend, who also sold CDs, was robbed. Louisiana is an open-carry state.
9. Protesters will not ignore the horrific mistreatment of another black life.
Sterling's death prompted pain and anger among protesters who flooded the streets following his death to demand "no justice, no peace." They declared that black lives matter and Sterling's did, too. Enough is enough.
10. We can't expect Alton Sterling's killing to lead to a conviction.
As we've seen time and again, police officers are often not held accountable for the killings they commit. In fact, cops rarely face charges in on-duty killings, and if history is to be used as a marker, a similar outcome can be expected in this case. And that is a maddening reality.
11. Alton Sterling's history will be used in heinous attempts to vilify him and justify his death.
Sterling had a past criminal record and that information will likely be used against him in conversations -- as if his life didn't matter because of his less-than-perfect past. As if previous wrongdoings justifies him being killed.
12. Alton Sterling's death is tragically similar to Eric Garner's.
And Tamir Rice's, and Sandra Bland's, and Freddie Gray's, and Michael Brown's, and all other black men and women who have died at the hands of cops. However, Sterling's death seems most similar to Garner, who died in 2014 after being placed in a chokehold by officers for selling loose cigarettes outside of a store in Staten Island, New York. Both Sterling and Garner were black men who were manhandled by police outside of a convenience store and whose last moments were captured on camera.
13. Alton Sterling was a black man in America.
Sterling was a black man who lived in an America that consistently devalues, disrespects and destroys black lives. Police disproportionately target black men and 6 out of 10 black men say they have been treated unfairly by cops because of their race, according a 2015 study. Now is not the time to stay silent about these injustices. Black men and women have raised their voices to declare that black lives matter and to say the names of those who have died unjustly.
Alton Sterling, father of five. May he rest in peace.
Popular in the Community