This week, Colorado mom Alisha Hernandez gave birth to a 13 pound, 13 ounce baby girl, Denver's 9NEWS reports.
According to the local news station, Hernandez's doctor told her she was expecting a 7-pound baby and had scheduled her for a C-section on December 4. But, after unexpectedly going into labor on Monday night, the mom delivered her daughter via C-section in San Luis Valley, Colorado.
The baby girl's name is Mia Yasmin Garcia, and she joins four older sisters -- Britney Gonzalez, Ximena Hernandez, and Yulissa and Yuliana Hernandez. Her father is Francisco Garcia.
Measured at 22 inches long, baby Mia was flown to Aurora Children's Hospital to be treated for respiratory difficulty and low glucose levels, a cousin of the mother told 9NEWS. The family member added that Mia is now stable.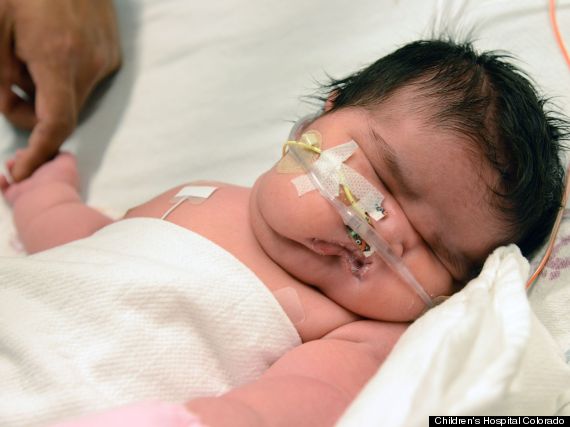 Hospital officials told The Denver Channel that she is the biggest newborn they have ever treated, but across the country, scale-tipping babies are becoming less of an anomaly as birth weights are on the rise. A 2013 study showed that there's been a 15 percent to 25 percent increase in babies with fetal macrosomia -- defined as weighing 8 pounds, 13 ounces or more -- over the past two to three decades in developed countries."
After a 12-pound preemie baby was born in 2012, Dr. Shieva Ghofrany, an OBGYN with Stamford Hospital told The Huffington Post that in recent years, "babies have definitely been coming out bigger," and this increase in fetal macrosomia is a cause for concern. The trend is dangerous because bigger babies are harder to deliver and high birth weights could indicate other medical issues for the mom and baby, she explained. While fetal macrosomia is usually attributed to maternal obesity and diabetes, Ghofrany said, there could be other factors.
According to the Guinness Book of World Records, the heaviest baby ever born was Anna Bates' 23-pound newborn back in 1879. While birth weights have been increasing in modern times, no babies have surpassed that record.