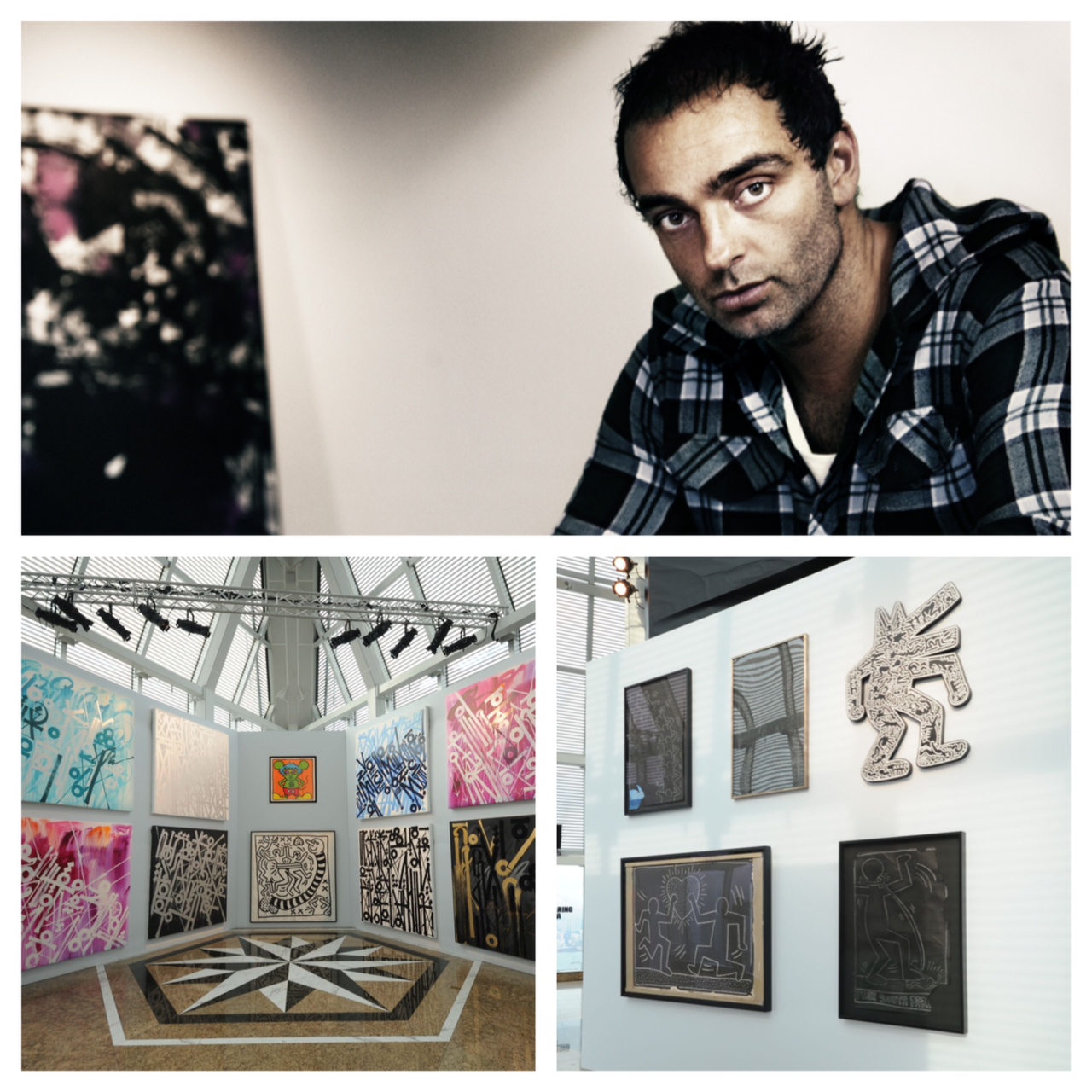 Andy Valmorbida - Art Entrepreneur and Visionary
On the heels of his most recent show during Hong Kong Basel (Keith Haring -- RETNA) -- I caught up with the modern architect and reigning King of the Pop-Up Art Gallery, Mr. Andy Valmorbida.
Over the past few years since his meteoric rise in the art world, the illusive Mr. Valmorbida hasn't really granted many interviews. Therefore over the course of his travels I made a brave attempt. This attempt included an extremely poor Skype connection from Sri Lanka, a few dropped mobile calls, several email attempts during his monk-like focus while in Hong-Kong, but I finally caught up with him via carrier pigeon and now proudly present 13 Questions with Andy Valmorbida:
1. Many people, including yours truly, thought this concept of the pop-up art gallery as a business model would be a passing fad, but after mounting 25 plus tremendously successful and well received shows, how does this make you feel?
AV: Feels good... The art world are taking serious notice of them now whereas in the past when I first started they were all criticizing the model. Everyone's doing them now so the model is obviously working.
2. Have you encountered much resistance within the staid art world based on your forward approach to selling and marketing art as well as artists?
AV: Not much resistance, we have a lot of impulse buying at our shows and also selling to major patrons in the art world which is giving my business and model much credibility. The new era of art marketing is super important for emerging artists and we have a formula that seems hard for our competitors to replicate.
3. I know this may be like asking a parent to choose their favorite child, but which of your pop-up shows has been your favorite to date?
AV: I enjoy all shows especially shows when you enter a new city for the first time. It's always a challenge and exciting although the New York Richard Hambleton show I did with my friend Vladimir Restoin-Roitfeld and Giorgio Armani at Phillips de Pury on Park Ave to me was the most exciting. We had around 4,000 people turn up on opening night, the art was to me one of the most interesting contemporary exhibits I had ever been to and doing large shows in NY is always exciting.
4. I may be wrong, but it appears you have a very strong affinity towards graffiti and street artists. If this is true, why?
AV: I believe graffiti artists who were able to make the transition to become fine contemporary artists is the next major movement in the Pop Art movement. I had this vision 6 years ago and today its official its a major movement with a Basquiat selling for $49 million a few weeks ago at Christies and brands collaborating such as Giorgio Armani and Louis Vuitton with graffiti/street artists like Richard Hambleton and Retna.
5. You also seem to often collaborate with the legendary, if not mythical, artist and curator Nemo Librizzi. How did you two form such a strong professional alliance and personal bond.
AV: Nemo has the most street credit in the art world in NY period, he was bought up with Andy Warhol, Basquiat, Haring, Schnabel and a hundred other major artists and has knowledge of the art world like I have ever seen before. I met Nemo through his father Rick and are both very nice genuine people.
6. I've always wondered how you choose such unique venues for your pop-up shows -- what your team's process in selecting the perfect venue?
AV: We basically source and deploy location scouts 12 months in advance of the show and I came in 4 months to the city prior to each show and chose a venue after looking at around 40 different options.
7. If you could mount a solo show for an artist living or dead -- who would it be and why?
AV: Gauguin -- Gauguin is my all-time favorite artist.
8. Are there any curators you would like to work with and why?
AV: Hans-Ulrich Obrist is my favorite curator. And i would have Hans Ulrich curate my Gauguin show.
9. How do you feel philanthropy plays into your current business model? Or does it.
AV: As a dealer building markets for artists and giving them a career to work towards, philanthropy pretty much is the time and money we invest in building artists careers, most of the time we are a charity for the artists.
10. Personally I've always wanted to see artists, curators, collectors and galleries do much more as relates to philanthropy. What's your opinion on this aspect?
AV: Leonardo DiCaprio just did an amazing art benefit auction with Christie's that was a great result and if you look at all Museums they are built on philanthropic efforts -- so I think there's a lot being done already in that area.
11. If you we're not doing this work, what do you think would be doing?
AV: If I wasn't doing art who knows, I was originally in finance... I couldn't really think of doing any other job than working with art.
12. What would you say is the secret to your success?
AV: Secret to my success if you say I'm successful then thank you, although what made me achieve what I have built and created today is just by simply having my own vision and running with it.
13. Final question -- wine or spirits?
all photos courtesy of @NadineJohnsonPR
REAL LIFE. REAL NEWS. REAL VOICES.
Help us tell more of the stories that matter from voices that too often remain unheard.