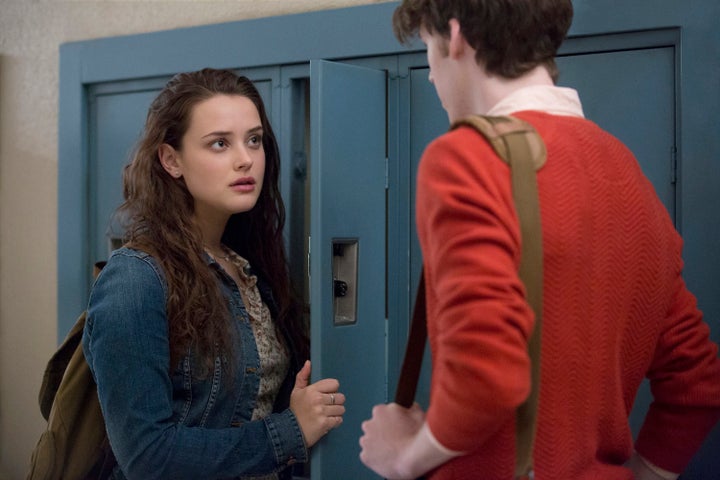 A year after the first season of Netflix's "13 Reasons Why" sparked a debate over its unsettling depiction of teenage suicide, showrunner Brian Yorkey has unfurled a new, increasingly graphic batch of episodes.
One in particular, however, has people talking. And it features not one but two significant events that, when taken together, equate to a highly disturbing finale.
(Warning: The below description may be unsettling to some readers.) 
The scene occurs midway through Episode 13, dubbed "Bye." Tyler (Devin Druid), who recently returned to school following a stint in behavioral rehab after he was caught vandalizing the baseball field, is confronted in a bathroom by Monty (Timothy Granaderos) and two other student-athletes. Monty, a close friend of villainous jock Bryce (Justin Prentice) ― who has somehow gotten away with raping both Hannah and Jessica (Alisha Boe) ― is still reeling over the fact that Tyler ruined Liberty's baseball season. When Monty sees that Tyler's back at school, he plans to make him suffer. 
So Monty and his friends initiate a sequence of male-on-male violence rarely seen on-screen. First, they smash Tyler's head against a mirror and sink. Then they shove his head in a toilet, pinning him down. Monty proceeds to sodomize Tyler with a mop handle, aggressively pushing it deeper into Tyler's rectum as the teen cries out in agony. When the heinous act is completed, the young men leave Tyler there, petrified, bleeding and bruised.
It's a stomach-churning two minutes worth of storyline, which Druid ― along with fellow cast members Boe, Dylan Minnette, Ross Butler and Christian Navarro ― discussed in an interview with HuffPost on Tuesday.
It was incredibly intimidating because you're suddenly given this responsibility to portray this horrific thing that unfortunately happens to many people around the world, and to a lot of young people these days.

Devin Druid
"When it did come time to get to the final episode and [showrunner] Brian [Yorkey] was walking me through this idea of what would happen to Tyler, it was incredibly intimidating," he told me during a Build Series segment in New York City. "Because you're suddenly given this responsibility to portray this horrific thing that unfortunately happens to many people around the world, and to a lot of young people these days."
"But then you think about what you're doing and the greater impact that it will hopefully have on people's lives," he added, "and it does kind of fill you with a sense of bringing justice to something and saying, hopefully, this is helping someone and that will make me feel much better about what we're doing here." 
The "horrific thing" Druid mentioned, "that unfortunately happens to many people," is a reference to the sexual assault his character was forced to endure. But it could also refer to the violence Tyler almost enacts on his peers: Shortly after the assault scene, "13 Reasons Why" has Tyler attempting to seek revenge on his classmates by showing up to a school dance with an automatic weapon.
This is how the season ends. With a panicked Clay (Minnette), rifle pointed at his chest, pleading with Tyler outside the school to reconsider his next move as sirens blare in the background. "I don't want you to die," Clay tells him, tears streaming down his face. Tyler appears to be questioning his motives as Clay lowers the gun. "We'll figure it out, I swear," he tells Tyler. That's when Tony (Navarro) pulls up in his car and screams at Tyler to get in, leaving Clay, weapon in hand, alone as the cops approach.
"I was aware that there were some warning precautions, but the [assault] scene was very vulgar and unnecessarily uncomfortable ― not for the sexuality part but for how much emotion and intensity it had," Kendal Wiley, a 19-year-old fan of the show from Burleson, Texas, told HuffPost. 
Yorkey himself defended the scene to Vulture:
We're committed on this show to telling truthful stories about things that young people go through in as unflinching a way as we can ... the fact is that, as intense as that scene is, and as strong as our reactions to it may be, it doesn't even come close to the pain experienced by the people who actually go through these things.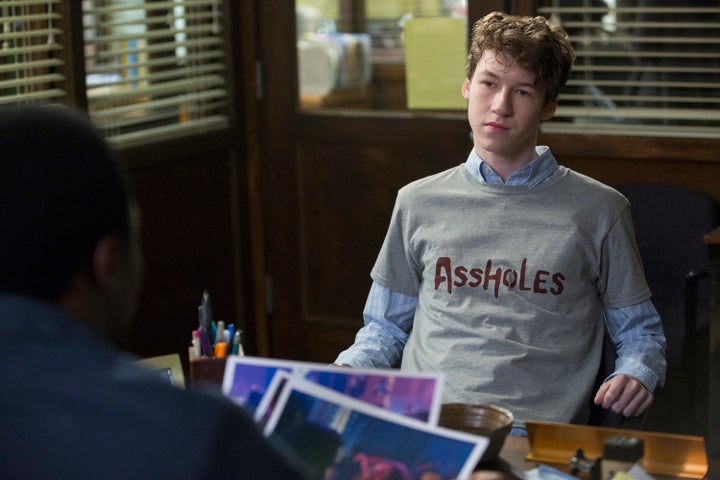 "We all take this very seriously and I think it's a big responsibility for each of us, but it's a privilege, as well," Navarro emphasized to HuffPost, noting that, as actors on "13 Reasons Why," the cast is often expected to speak to the series' controversial subject matter.
"I don't think any of us imagined we would be on a show with this level of importance," he said. "The impact that it's had here in the States and than globally took us for a surprise, so we're still dealing with that every day."
The show, Navarro said, was written and produced before the various instances of violence on school properties in 2018. "But [school shootings are] prevalent and our show helps to spark a conversation," he added, "as it did last year with suicide and bullying and sexual assault. Hopefully the same conversation will be sparked this year with gun violence."
"That's our goal with the show," Minnette said, "to speak to teens, to speak to people any age, really, and just start conversations. Important ones."
Of course, public debates about gun violence existed before the second season of "13 Reasons Why" premiered. They existed before 2018, too, but ramped up in the wake of the Parkland, Florida, shooting. Moreover, the conversation that the show has started is not limited to school shootings. It entwines a brutal instance of sexual assault with a disturbing brush with gun violence, making it seem as though the former caused the latter.
The character of Tyler faced his fair share of mistreatment throughout the series, from Hannah's rejection of his apology for photographing her through her bedroom window to Clay's decision to share a private photo of him with the entire school. Those moments led bullies like Bryce and Monty to incessantly belittle Tyler, mooning and pantsing him in the hallways. By the end of Season 1, we watch as Tyler purchases guns; by the conclusion of Season 2, we see him ready to use them. 
To foreshadow his storyline is one thing. To cram Tyler's tragic rape scene and school-shooter narrative into the last 30 minutes of a finale episode is another. The juxtaposition of these moments is unsettling, prompting viewers to question the motives of the storytellers they're trusting to convey the lives of fictional teens. There was a sense that Tyler was happy and healthy after his time in treatment, a sensibility quickly muddled by Monty's unimaginable cruelty, leading Tyler to retaliate against not only his perpetrators but the entire Liberty community. Was this all too much to take in? And was it fair to unravel his breakdown in just a few short minutes?
Yes, "13 Reasons Why" does a fair job of presenting real-life teen issues to a loyal, interested audience. (According to Variety, the drama immediately took over the top spot among all U.S. digital original series following its release last Friday.) But it also fails to take full responsibility for those depictions, instead pointing viewers in the direction of a resource website, discussion guide and after-show with the cast. If more time had been spent on the emotional aftermath of Tyler's rape, his storyline could have made a greater impact.
Surely Netflix is using these new tools to try and make amends for the backlash that greeted the first season, but leaving their young fan base with even more unanswered questions about the correlation between extreme bullying and gun violence is not necessarily the way to go.
Watch our full interview with the "13 Reasons Why" cast below. 
Calling all HuffPost superfans!
Sign up for membership to become a founding member and help shape HuffPost's next chapter