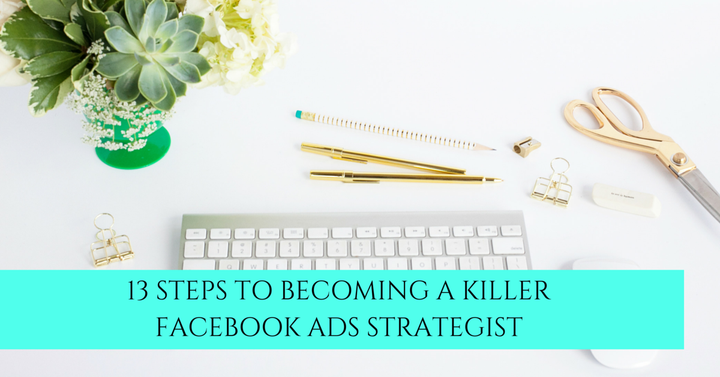 You already know that Facebook Ads are a game-changer for your business. You may have even tested the waters a time or two. But do you really know how to create ads that convert while saving time and money? How can you be sure your ads are working for you?
Let's take a dive into some useful steps that will leave no doubt that your ads are converting.
In this article, you will learn 13 steps that will make you a killer ads strategist. Are you ready? Let's go!
STEP 1: ADD THE FACEBOOK PIXEL ON YOUR WEBSITE
In order to make sure our Facebook Ads are working, we need to add the Facebook pixel on each page of our website that we want to track. Let's say you are running an ad to a specific blog post about designing a logo, and you want people to opt-in to your future posts. You'll need the pixel code on that particular page of your website. *You can find detailed information on this and all of these steps during the summer social blog series at Cannon Online Marketing running from June 9 -September 1.
STEP 2: ADD A MODIFIED PIXEL CODE TO A CONVERSION PAGE
Now that you have the pixel code added to the blog post page of your website, you'll want to track conversions with a modified pixel code on a 'Thank you' page.
Here's how the strategy works. First, we write an epic blog post and run an ad to it. People click on the ad (tracked with the base pixel), they read your post and like it so much, they enter their name and email to receive future posts. The page your subscribers land on next is where the modified pixel will go to track this conversion. Typically it is a 'thank you' page.
As a Killer Facebook Ads strategist, you'll not only track clicks, but also conversions to ensure you ads are working.
STEP 3: CREATE THE IMAGE FOR YOUR FACEBOOK AD
Facebook has a few rules when it comes to creating ad images. They have to be sized properly and not include more than 20% text (although rumor has it this rule is changing).
Designing an ad is easy with Canva. Built-in templates and $1 images make creating ads a breeze
STEP 4: CREATE THE OPT-IN WITH THIS 5-STEP FORMULA
Now it's time to create our opt-in with the 5-Step Opt-in Formula. Decide if you want to create a download like a checklist or a cheat sheet. Maybe you want to create a video series or email sequence with design tips. This opt-in formula will help you create the opt-in (freebie, giveaway, lead magnet) your readers want and eliminate what you 'think' they want.
Research - Trending topics and social shares will help you know what your potential readers want. Read favorite publications in your industry to find out how you can add to the story.
Solve a problem - How can you marry trending topics with your expertise to create something of value people just have to have?
Create the opt-in based on your research and expertise
Landing Page -Decide how the exchange of your freebie and the person's email will take place. Will it be with a landing page? Will you have people provide an email address in the comments of a post? Will it be in a Facebook Group?
Email Integration - Make the exchange of email and freebie automatic by integrating your email service provider with your landing page.
STEP 5: SET UP UTM/URL TRACKING CODES
In steps 1 and 2 we talked about pixel codes. These are strictly Facebook codes and are tracked through Facebook. In this step, we are talking about creating a unique url that we can track right inside of our google analytics dashboard.
First, we'll go to Google URL Builder, and create a unique URL that we place right inside our Facebook ad.
This allows us to track this specific link right back to our ads so that we know our money is well spent. If you send people from Facebook Groups, social media, email and LinkedIn to the same link you're using for your ads, you'll never know which source people converted from.
Once you've created your special link, create another one in a link shortener like bit.ly to track organic leads apart from your ads. Everyone will be landing on the same page, but now you'll be able to see which are coming from ads and which are coming from other sources.
We want people to 'opt-in' to our content in whatever form that comes in. Subscriptions, challenges, and newsletters are forms of content people love to opt into. But there needs to be a place to create this exchange. LeadPages is a great landing page platform that seamlessly gathers the emails and delivers the freebie automatically. They also provide a unique link you can use for your ads in case you don't have a website. This is great news!
STEP 7: CREATE A GOOGLE GOAL
I hope you are seeing a theme here for becoming a killer Facebook ads strategist. It's so important to track, track and track some more. I've wasted a lot of time and money on ads because I didn't track them.
Creating a Google Goal in your Analytics Dashboard is easy. Access it by going to your Google Analytics reports, then click 'admin' and then 'goals.' This will allow you to set up a goal and assign a dollar value to the goal to see if your ad is generating a profitable path for you.
In our example, we are placing an ad to a blog post where people can sign up for future blog posts. Let's say that once they sign up for your news, in a year's time that subscriber is likely to purchase $100 from you. You can assign this goal as having a value of $100.
If we've set everything up correctly using our pixels and goals, we can follow the path to purchase. If we have 1000 people landing on the 'thank you' page, that means they opted in and are now on your list receiving future epic blog posts. These posts become so popular, that people start to purchase your design ebooks. Over the course of a year, 200 people may have purchased $100 from you for a total of $20,000! Yay!
STEP 8: CONNECT WITH YOUR IDEAL CLIENT
Pheww! Now we are ready to start working on our ads. First, you need to know who your ideal client is. Is she a 40-something SAHM who likes to design graphics on the side from her farm in Indiana? Is he a 20-something who wants to establish a career as a graphic designer for the restaurant industry? Do you see how very different your ad and offering will resonate with each of these personas?
Develop a fictional character to base your ideal client off of. Your ad will be stronger doing this exercise.
STEP 9: CREATE KILLER COPY
Knowing your ideal client in the previous step will shape your copywriting skills. You'll be able to write copy for your ad that actually speaks to who you are trying to reach. Remember, it's always about connecting with your ideal customer. It's a little bit like dating.
STEP 10: TARGETING YOUR AD TO THE RIGHT PEOPLE
Who will resonate with your ad the most? You can target other Facebook pages with an audience similar to the people you are trying to reach. You can also create an audience out of people who have visited your website in the past using the Facebook Pixel. You can even upload an email list you already have and create a lookalike audience out of that.
This is where you'll spend a lot of time really shaping your ad for the ideal reader who will not only click, but follow the path to purchase.
STEP 11: SETTING UP YOUR AD
Setting up your ad will be easy for you at this point since you have put all the important pieces into place. The best way to create a compelling ad is to access Ads Manager and then Power Editor. Power Editor is more robust providing more options than Ads Manager and only works on Google Chrome.
You'll choose your objective, which in our case is 'Website Conversions' since we want people who click on our ad to opt-in to our future blog posts. You'll then set up your audience and budget. We suggest starting with $5 each day and incrementally adding money once you see the ad is working.
You'll already have your perfect image in place, your unique url you created earlier and you'll be off to the profit races!
Make sure to let your ad run for at least three days to get the best data out of the algorithm. You'll want to make sure you analyze your cost-per-click AND your cost per conversion. You may need to set up your own spreadsheet and calculate your conversion cost using the data from Facebook and your Google goal you set up earlier.
If people are clicking to read your blog post, but not opting into your future posts, you'll need to test the image, the audience, etc. to tweak your ad.
This stage is all about testing. Do not give up on your strategy. Determine how much you are willing to spend over the lifetime of the ad, and what type of conversion you would like to see. Your reports will help you make sure your ads are saving you money.
STEP 13: YOU ARE A KILLER FACEBOOK ADS STRATEGIST
Look at all you accomplished! You didn't just place a random ad and hope for the best. You were very strategic to make sure you saved money connecting with your ideal reader and future customer. Now all you have to do is continue to do what works, which will save you time in the long run. You've done all the up-front work and now you can watch your subscribers leap onto your email list and eventually buy from you.
Well done, strategist! Let me know if you have a strategy not mentioned here in the comments below.
P.S. If you'd like help with your social media presence, hop into the free resource vault at Cannon Online Marketing for images, downloads, videos and more.
Tammy Cannon is a social media stylist helping busy small business owners learn the techy side of social with ease in 90-minute online workshops. Her workshops embody the knowledge gained from serving 100 in-person clients. Follow her on Twitter @cannonsocial and Instagram @cannonsocialmedia
Related
Popular in the Community