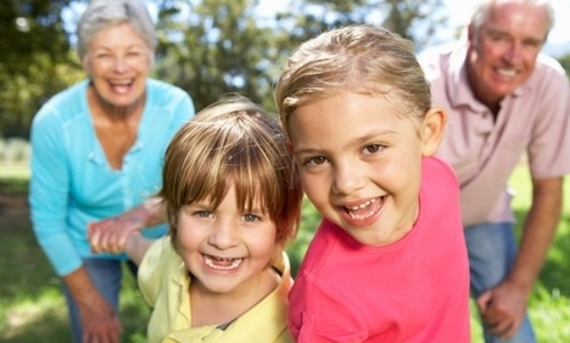 In Michigan City, IN, on Lake Michigan, there is a white-framed house with green shutters and a white picket fence. It is my grandmother and grandfather's family beach home. I have so many happy summer memories of that house. I think of my grandmother's laugh, seeing delicious fresh ears of corn simmering in the large pot on top of her stove, building sandcastles in the sand on the water's shore with my cousins, and waiting for my grandmother to come down to the beach with baskets of food for lunch. Our family stayed together because we spent time together. My grandmother loved being a grandmother. She was the glue that held our family together.
Isn't that true of so many families, darlings? How important it is for those of us who are grandmothers to remember that we are often the glue helping teach our children and grandchildren what it means to stick together through thick and thin. Isn't that what family is all about? On that note, I did some research and found these facts, via Grandparents.com, to share with you about being a grandparent.
Grandparents love being grandparents! So what else is new?! 90% of us talk about our grandchildren to just about everyone! 72% think being a grandparent is the single most important role in their life.
We are younger than before. 60% of us are baby boomer grandparents!
Grandparents are active. 43% exercise and play sports. 28% volunteer on a regular basis.
Grandparents are computer literate. 75% of us are online. 70% of us use search engines to find information. 63% shop online and 30% instant message!
Grandparents work! 60% have full time jobs and 23% of us have our own businesses.
WE ARE MODERN and yet... 86% of us bake cookies for our family! Because rather than being "old-fashioned," we believe in the value of traditions.
Many of us are in relationships and sexually active. 33 % of us have been married more than once. 38% of us have sex at least twice a week.
We're not necessarily sitting on a porch somewhere in a rocking chair! Some of us get inked! To be specific, 10% of grandparents surveyed have a tattoo. 17% have attended a rally and 15% have demonstrated. 7% have used recreational drugs and 2% have skydived!
We have money! We control 75% of the wealth in America. Our average net worth is over250,000. We spend2 trillion every year on consumer goods and services. 55% of us have no mortgage.
We are generous. We make 45% of the nation's cash contributions to nonprofits. Kudos!
Grandparents support their adult children and grandchildren. We spend 52 billion every year on our grandchildren! We spend 32 billion on education. 62% of us provided financial support to our adult children and grandchildren in the last year: 70% on cash for day-to-day expenses, 40% on housing (mortgage or rent), 23% on daycare, and 21% on education.
We enjoy life and have fun! We spend 100 billion on entertainment and 77 billion each year on travel!
WE LOVE TO SPEND TIME WITH OUR GRANDCHILDREN. 60% of us live near our grandchildren. 46% wish they could live even closer. 70% see their grandchildren at least once a week. 66% travel with their grandchildren. 81% have their grandkids for part or all of their summer vacation. 72% of us take care of our grandchildren on a regular basis and 13% are primary caregivers.
Many years have passed since I was that young child munching on my grandmother's delicious sweet summer corn in her charming beach home. I am now a grandmother myself with 22 grandchildren in my blended family. And yet, in many ways, the role of the grandmother has not changed...we continue bestowing love and values to our Grands. We are a very special group of women! Take a bow, darlings!
Calling all HuffPost superfans!
Sign up for membership to become a founding member and help shape HuffPost's next chapter