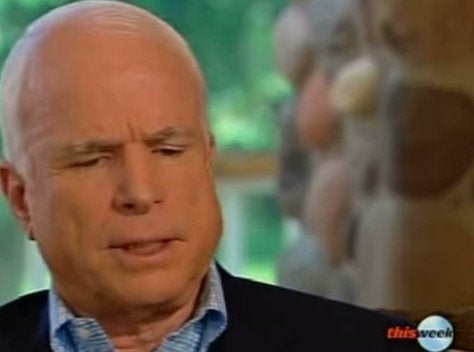 John McCain's third straight attack ad.
The latest Mac attack ad plays above. And here is the text:
Announcer: Barack Obama never held a single Senate hearing on Afghanistan.
He hadn't been to Iraq in years.
He voted against funding our troops.
And now, he made time to go to the gym, but cancelled a visit with wounded troops.
Seems the Pentagon wouldn't allow him to bring cameras.
John McCain is always there for our troops.
McCain. Country first.
John McCain: I'm John McCain and I approve this message.
Here are 13 things to know about this ad.
2. The reason the McCain campaign is so worried is that the Olympics start in less than two weeks. At the height of summer, most experts think that whomever has a steady lead going in will have a steady lead coming out. The next big event after the Olympics? The Democratic National Convention. At which Obama will accept the presidential nomination in a speech at Denver's football stadium before 80,000 screaming supporters.
3. This TV ad is media bait. There is no serious buy behind it. I've gone through this before with McCain's new campaign director, Steve Schmidt, when he was Arnold Schwarzenegger's campaign manager in 2006. The Schwarzenegger campaign rolled out a couple of TV ads early on, which I pointed out then were running in San Diego at midnight. In this case, think Denver, Harrisburg, and, naturally, Washington. The purpose of this ad is to further press commentary to continue a storyline. A major caveat. This does not mean that there is not a serious ad, and a serious new ad buy, coming.
4. In keeping with what I just wrote, this ad is the highest-rated YouTube video for McCain of the general election campaign. What that means is that the ad is being pushed out to create a frenzy amongst the conservative Republican base, whipped up by the right-wing talk show circuit and blogosphere. I think more people have seen it on YouTube than have seen it on their TV sets.
5. Obama is chairman of the Senate Foreign Relations subcommittee on Europe. Afghanistan, as it happens, is not in Europe. Afghanistan is covered by an entirely separate subcommittee. Thus the attack on Obama for failing to hold a hearing on Afghanistan is non-serious. This does not mean that he should not have done so, as an eager beaver presidential candidate. Surely, McCain would have been opportunistic enough to do so.
6. ... But it turns out that McCain has missed every hearing for the past two years of the Senate Armed Services Committee on Afghanistan. McCain is the ranking Republican member of this very powerful committee. It's only in the last week that McCain has endorsed Joe Biden's -- and Obama's -- plan to send more US brigades to Afghanistan.
7. It's true that Obama hadn't been to Iraq for two years. McCain has been there a lot. There was the time last year when he toured a Baghdad market, declaring everything to be copacetic. As it should have been, with him wearing a bullet-proof vest, accompanied by a company of paratroopers and a flight of helicopter gunships. As most shoppers undoubtedly were.
8. Obama voted for troop funding on all but one occasion. When he decided to try to force the Bush administration to set a timeline for US troop withdrawal.
9. Obama's visit to the US military hospital in Germany was never, despite the statement in this ad, on his media schedule. He actually visited the US military hospital in Baghdad a few days earlier, sans media. The former head of the military hospital in Germany has denounced the ad, noting that Obama visited the military hospital in Baghdad with no fanfare whasoever.
10. Obama pulled out of the German military hospital visit when the Pentagon informed his military advisor on the trip, retired Air Force General Scott Gration, that only Senate staff could accompany him. This happened after all the Senate staffers along for the Congressional delegation visit to the Middle East had been sent home. Which meant that General Gration, a highly decorated Air Force veteran who is not a member of Obama's Senate staff, was effectively disinvited from visiting the military hospital at the well-known Air Force base at Ramstein.
11. While the TV ad says that McCain is always there for the troops, he actually opposed the new GI Bill authored by Obama ally Jim Webb, the former Navy Secretary-turned-Virginia Senator. Webb, as it happens, is an old friend of McCain, who has called him "a legendary fighting man," as befits the most highly decorated Marine combat officer of the Vietnam War. McCain lost badly in the Senate on Webb's new GI bill, but he and President Bush later tried to take some credit for its passage.
12. And with regard to always being there for the troops, it is interesting to note that McCain actually voted against $360 million for armored tactical wheeled vehicles for units deployed in Iraq and Afghanistan. And that McCain just held a big ticket fundraiser at the home of one of the country's largest defense contractors, Ronald Perelman, whose MacAndrews & Forbes holding company owns AM General, manufacturer of the HumVee. The HumVee became known in the Iraq War as a "Purple Heart box."
Here is the actual scene from which Obama's purported German workout in lieu of visiting wounded troops is taken. Note that it is Obama visiting enthusiastic American soldiers in the Middle East.
13. The footage in the McCain attack ad which accompanies the text about Obama spending time at the gym rather than visiting wounded troops is not actually of Obama working out in Berlin.
Actually, it is, as you see above, footage of Obama visiting with the troops in Kuwait. Hitting a 3-point jump shot on the first try, to the screams of the enthusiastic American soldiers.
Oh, what a tangled web ... And all that stuff.
REAL LIFE. REAL NEWS. REAL VOICES.
Help us tell more of the stories that matter from voices that too often remain unheard.