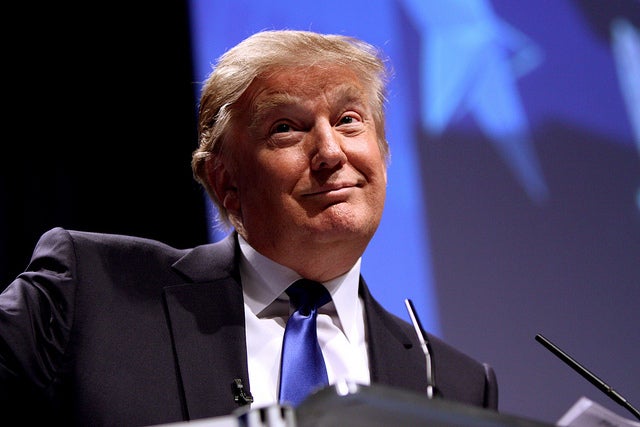 There has never been a candidate for any office that I am aware of that has given voters so many legitimate opportunities to drop their support. We can't consider what Trump says as mere gaffes anymore; it's just who he is. Time and time again he has provided reasons why nobody should support him, for anything, ever!
This vaudeville act stopped being funny a long time ago.
He isn't edgy, he isn't cute, he isn't clever. He's an insecure, juvenile bully who thinks he can become student body president by pulling his opponents underwear over their head. He's Biff Tannen from "Back to the Future 2". You know, the one where he is a casino owner? Well, folks, this isn't Biff's Pleasure Paradise, this is the Presidency of the United States, and Biff wants it.
It's not like he hasn't given people a way out, many of them. This isn't just about supporting someone else, although there are much better choices. We get it; you hate Hillary. Yet, you're willing to risk the future of America while sacrificing your own integrity on the altar of Trump?
I could write for days just about the lies and stupid, misinformed comments he has made in just the last 24 hours. For now, though I just want you to think about these as times you should have given up on this dude.
1. The day he announced. Trump said "When Mexico sends its people, they're not sending their best." he continued "They're sending people that have lots of problems, and they're bringing those problems with us. They're bringing drugs. They're bringing crime. They're rapists. And some, I assume, are good people." Not only was this one of the most incendiary statements ever made by a presidential candidate against an entire race of people, but it was also THE FIRST THING HE SAID!
5. The day he said John McCain was not a war hero. There is a lot of negative things one might say about McCain. You may not like his policy positions; you may not like the fact he's been in the Senate for so long. The one thing that is you can't deny is his military service and the sacrifice he has made for this country in war. The fact that Trump can motivate support by attacking his service tells me about the dark heart of a Trump supporter.
7. When he attacked the Cruz family. Take your pick of which one. Ted Cruz's wife Heidi or Rafael Cruz, his father. Trump had some pretty disgusting things to say about both of them. However to insinuate the elder Cruz was somehow involved in the JFK assassination may be the most insane of all the personal attacks to date.
8. That thing he said about Megan Kelly. Vile, disgusting and sophomoric. That is how you would describe it. As we have seen, however, it's a common theme of his. If you don't like what he says or question him to directly, he attacks you personally. It's also a tactic his most ardent supporters seem to favor.
9. When he attacked a gold star family. The Khan's son, a Muslim, paid the ultimate sacrifice. Trump has consistently questioned the patriotism of Muslims, and the motives of Islamic immigrants that are coming to this country. The Kahn's spoke out about this at the DNC. He responded like you would expect someone who wants to be the leader of the free world. He threw a fit and said they picked on him; he then attacked them. One of his lead henchmen Roger Stone even went as far as to insinuate Mr. Khan and his son were connected to terrorism.
11. When he said we should go after the families of terrorists. Terrorists suck, we all know that. I have no problem with exterminating them. However to say that we should bomb entire cities and kill the families of terrorists is beyond the pale. I don't know what country Trump grew up in, but that is not how America should operate. To be fair here, Ted Cruz made similar statements, and I found those just as disgusting.
12. When he said he didn't know anything about white supremacists. Instead of disavowing former Klan leader David Duke's endorsement, Trump just sidestepped the issue. His weak response was, "I don't know anything about him or white supremacists." WTF does that even mean? Hey, Donald, WHITE SUPREMACISTS are bad in every setting. Except in your campaign apparently.
That, my friends, is just 13 of the hundreds of reasons why you should have already dropped your support for this guy. He simply cannot be trusted to represent our country in a civilized world. He can't be left to his own devices to say and do what is right for the security and future of our nation.
I want you to ask yourself this, had Barack Obama said any of these things how would you have reacted in 2008 or 2012? If Hillary said any of this stuff this year, how would you respond? We know that answer, and it makes you a hypocrite.
REAL LIFE. REAL NEWS. REAL VOICES.
Help us tell more of the stories that matter from voices that too often remain unheard.
BEFORE YOU GO
PHOTO GALLERY
Republicans Who Have Refused To Back Donald Trump