A poster in Hollywood promoting Netflix's acclaimed documentary "13th" was vandalized on Thursday, sparking outrage among company employees and the film's director, Ava DuVernay. 
The poster, which represents a film that explores how the country's issue of mass incarceration disproportionately affects black Americans, originally depicted a black man holding a sign that reads "Am I Next?" in one hand while the other is raised in the air as a fist.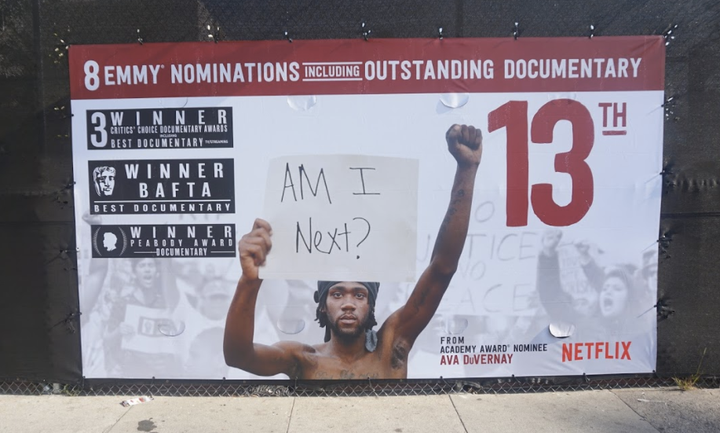 On Thursday, one Twitter user shared a picture showing a portion of the poster ripped off over the young man's face. Myles Worthington, a Netflix employee, sent the full vandalized image to HuffPost: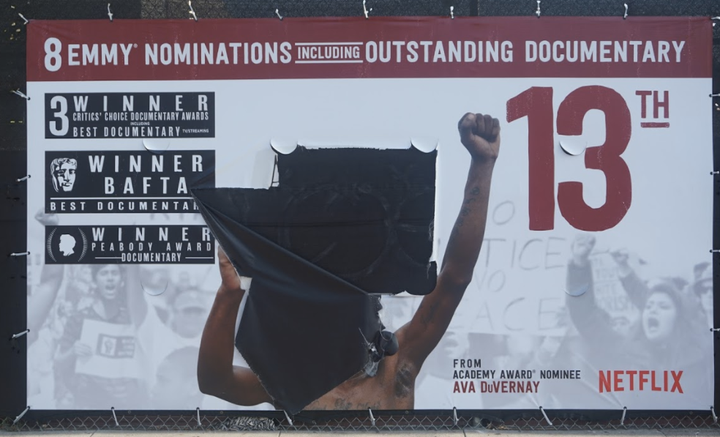 DuVernay, who saw a tweet that included the picture, retweeted the image on Thursday and denounced the hateful act by sending a compelling message: 
The vandalism occurred during a tense week, where white supremacists, KKK members and neo-Nazis have been further emboldened by President Donald Trump, who refused to outright condemn the violence they launched in Charlottesville, Virginia, on Saturday. Trump's comments have led many, particularly Americans of color, to feel outrage and fear for their safety. 
One Netflix employee, Myles Worthington, told HuffPost how disheartening it was to witness the poster vandalized and said that despite the damage that was done, he remains prideful of the film and the message it sends.
"I walk by the '13th' poster every day on my way to and from the Netflix office with a huge sense of pride," Worthington said. "When the face of the black man was slashed and a gaping hole was left in its place, I felt like someone just punched me in the stomach, especially given the current events in Charlottesville."
Worthington noted that the man's clenched fist remained untouched, which he believed captures his own feelings on remaining resilient and strong. 
"I looked closer, and his clenched fist was still intact and raised high in ... pride, so I knew my light could not dim with these hateful actions, because that's what the person who did this would've wanted," he said.
Worthington worked with a crew to promptly fix the poster, and told HuffPost that neither he nor Netflix will tolerate such acts of hate. 
"Our team quickly connected, rush ordered a new poster, and within 24 hours love conquered hate and we replaced the powerful image on Sunset Boulevard for all to see," he said. 
Calling all HuffPost superfans!
Sign up for membership to become a founding member and help shape HuffPost's next chapter
BEFORE YOU GO
PHOTO GALLERY
Powerful Black Lives Matter March In Washington