The burger category continually remakes itself. New concepts are created. One-offs morph into multi-unit endeavors. Small chains spread out and away from their home markets. New names become familiar brands. Below are 14 concepts that are on the move. These are concepts that might not be well known yet -- just as BurgerFi, Burger 21, Big Smoke, Mooyah and many others were a few years ago -- but they have heart, moxie and style.
The concepts below perhaps are opening a second or third location and thinking about where four, five and six will be. Some have reached the point where they're making the leap to new markets. Others have the drive to dream of a national presence. They're all worth watching in 2014.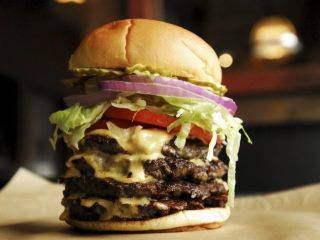 American Roadside Burgers
The five-unit chain was acquired this summer by Chanticleer Holdings, which operates Hooters restaurants outside the U.S. The new parent intends to expand ARB beyond its North and South Carolina locations throughout the Southeast and maybe beyond. The signature burger is the quadruple-patty Roadstar (above). Build your own (BYO) also is an option.
B Spot
Cleveland's very own Iron Chef Michael Symon opened the first B Spot there in 2009 and proceeded to take home the trophy at the South Beach Burger Bash in each the next three years. Now he's planning to open as many as three in Detroit and is looking south to Columbus, Ohio, and beyond. The December Burger of the Month is the Bambino (below): beef topped with prosciutto, tomato, red onion, provolone cheese, arugula and lemon vinaigrette. You can BYO, too.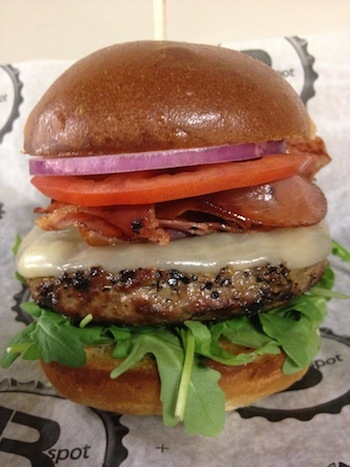 Bad Daddy's Burger Bar
Colorado's Good Times burger chain acquired a 48 percent stake in Charlotte, N.C.-based Bad Daddy's and the two companies quickly assembled a top-notch franchising organization headed by former Buffalo Wild Wings exec Bill McClintock. Bad Daddy's should grow quickly. Order a signature burger like the Pittsburgher (topped with house-made American cheese, spicy garlic ketchup, lettuce, tomato, onion and shoestring fries) or go BYO.
Beck's Prime
Having conquered Houston with 12 locations, Beck's has moved on to Dallas, opening three. There may be no stopping it. The burgers are Certified Angus Beef chuck. A favorite is the Bill's Burger with sautéed onion, Cheddar, bacon, jalapeños, Prime Sauce and lettuce. Sides include hand-cut Idaho fries or sweet-potato fries. The big menu also has mesquite-grilled hot dogs and Texas-size steaks.

Burgatory
The champion of this year's BurgerBusiness.com Burger Brackets is spreading across Pittsburgh. There are two open (plus a stand at Consul Energy Center arena) and two more in development. Try a signature build like the Morty's Steakhouse (peppercorn-crusted beef with horseradish Cheddar, haystack onions and Cabernet sauce), build your own or check out the daily special (one last week was a Chorizo Burger with Chihuahua cheese, fried egg, tomato, iceberg and spiced sour cream on brioche.
Burger Boss
The first location opened in suburban Elmwood Park but now Burger Boss is on the move, opening on Chicago's North Side where quality burger bars abound. It'll win its share with 100 percent Angus beef burgers and freshly cut fries. Have a Southport Boss (applewood-smoked bacon, all-natural Cheddar, lettuce, tomato, Boss Sauce, pickles and grilled onion on a brioche bun) or do the BYO deal.
CaliBurger
This Chinese burger chain celebrates an idealized California surfin' ethos that may have vanished when the remaining Beach Boys hit Social Security age. CaliBurger is open in Shanghai and Hong Kong now and says it soon will open in Los Angeles and Washington, D.C. If it can do a cross-country opening like that, it can open anywhere. Try a Cali Cheeseburger (beef patty with melted real American cheese, tomato and iceberg lettuce) and get Santa Fe Hot Wings on the side. Will it really take on U.S. burger concepts on their home turf? Worth watching.
Flip Burger Boutique
"I don't think we'll be a 200-unit concept but certainly there's a possibility we could get to 100," new CEO Rick Tasman told BurgerBusiness.com this fall. Founded in 2008 by "Top Chef" Season Four fan favorite Richard Blais, Flip Burger Boutique -- with its Osso Bucco and Raw Steak Tartare burgers -- might seem too upscale to gain wide acceptance but Tasman disagrees. "It's a crowded segment, certainly, but we occupy a different place in that we're full-service with innovative, chef-created burgers, a full-service bar and a loyal following." Flip operates three locations in Atlanta and one in Birmingham, Ala. Tasman names Charleston, S.C.; Charlotte, N.C.; Indianapolis; Louisville; Nashville and Raleigh N.C., as markets where it would work.
Flipdaddy's Burgers & Beers
The Cincinnati concept last month slipped across the Ohio River to open a third location in Union, Ky. It's big one with 5,500 square feet and seating for 186. Each location has 24 to 35 craft beers on draft and burgers made with a proprietary blend of short rib, brisket, and chuck. The Chuck Norris, described as "a roundhouse kick to the mouth" tops the beef patty with "secret spicy signature sauce," fire-roasted green chile-and-jalapeño compote, lettuce and pepper-Jack cheese.

Freakin' Unbelievable Burgers
The first location only opened a year-and-a-half ago in Flint, Mich., but founder Brent Skaggs has already geared up a franchising program. In a June interview with BurgerBusiness.com, he said the strategy is initially "focusing on the Big Ten markets from Pennsylvania to Iowa. We'll dip into a couple of SEC markets like Tennessee and Kentucky, but we won't grow beyond what we can manage operationally." Corporate stores will be in Michigan and a location in Detroit suburb Farmington Hills opens soon. Try a Fusion Burger with wasabi mayo, cream cheese, Eel Sauce, cucumber, fried wontons and lettuce or build a less ambitious one to your liking.

Grub Burger Bar
Jimmy Loup started by serving burgers in 2012 to Texas A&M students and others in College Station. But in short order it has opened locations in Houston and Dallas is leaving the state soon to plant the flag in Atlanta. If "Grub" seems an unappetizing name, consider that it's an acronym for "Good people, Real food, Unique vibe and Big flavors," Loup says. The burgers Certified Angus and the shakes are hand spun. The concept has become known for clever monthly specials like the Muffuletta (beef, provolone, hard salami and house-made olive tapenade on a garlic-sesame bun.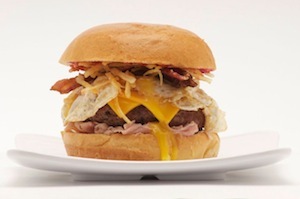 Liberty Burger
This is what the burger category is about: A burger bar committed to quality that opens, finds its audience and then starts to spread. The original opened just two years ago in Keller Springs, Texas, but now a second opens soon in Lakewood, Texas. After that, who knows? The burgers are made with a blend of tenderloin, brisket, and chuck and there are custard shakes to go with them. The Nooner brunch burger (above) has American cheese, applewood-smoked bacon, ham, hash browns, ketchup and a fried egg on a house-made bun.
Plan B Burger Bar
The essence of the modern burger bar: natural, antibiotic-free, never frozen beef chuck burgers accompanied by craft beers, boutique bourbons and fun. It has quickly expanded to five locations in Connecticut (and another coming); one in Springfield, Mass.; and plans to open in Atlanta, Boston and Chicago. The Ultimate Cheese Burger has four cheeses: two on top and two tucked in the beef patty, with lettuce and tomato.
Slater's 50/50
Scott Slater and Brad Lyons opened the first one in Anaheim Hills, Calif., in 2009. Since then -- with its namesake blend of half beef, half ground bacon patties -- Slater's 50/50 has gained national attention for its no-holds-barred approach to burger creation. Consider its recent Bulgogi BBQ Beef Burger: a seasoned, all-natural beef patty with a red-pepper flake and cucumber kimchi, topped with beef bulgogi, sautéed mushrooms and crispy wonton slivers all covered in Korean BBQ sauce and served on a toasted brioche bun. Like that. There are six California locations now and Slater told BurgerBusiness.com earlier this year that he plans to take the concept nationwide but not to franchise it. He just might do it.
Related
Popular in the Community