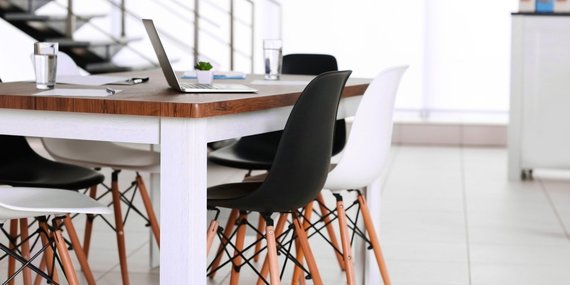 Deciding to start a business is an incredibly exciting moment, but for new entrepreneurs, that excitement is often accompanied by uncertainty, anxiety, and doubt. Many of these feelings stem from financial worries: not only do you have to worry about whether or not your business will be profitable in the medium- and long-term, but you also have to think about the cost of starting a business in the first place.
And those business startup costs can get pretty big. You have to buy equipment, software, sign a lease, and hire staff--and those are just the obvious ones. What about licenses and permits, website hosting, and business cards?
It's all too easy for gung-ho new business owners to jump into planning without thinking carefully enough about the business startup costs they'll need to pay, and whether or not those costs are feasible.
Here, we've put together a list of 14 different types of business startup costs you'll need to consider when drawing up that first business plan.
14 Startup Business Costs for You to Know

Almost every business will have an immediate need for some sort of equipment.
If you're starting your own moving company, you'll need a truck. If you're opening a restaurant, you'll need commercial-grade ovens, stoves, dishware, and cooking utensils. If you own your own hair salon, you'll need styling chairs. You get the idea.
This equipment can be costly, especially if you have multiple employees who all need their own equipment.
Luckily, there are many different types of equipment financing available, from loans to leases to lines of credit. Both traditional and alternative lenders are accustomed to business loan applications from entrepreneurs in need of cash for equipment--and the equipment itself can be used as collateral to secure the loan.
One of your first to-dos when you're setting up a business is to choose a business entity, which determines the way you pay your taxes and can affect your loan applications.
If you decide to incorporate your business, making it a separate legal entity, you'll need to file articles of incorporation with your state, which comes with a price tag attached. You can look at the SBA's state-by-state breakdown if you want to know what incorporating would cost in your state.
Even if you're not incorporating, you'll probably need to apply for federal or state licensing or permits.
The specifics of this depend on the type of business you're operating and where you live. Some businesses, like those in the agriculture or aviation sectors, require federal licensing. Service-based industries like hairdressers and doctors need to have professional licenses. Businesses based around sales will need sales tax licenses or permits.
Confused and looking for more specific information? The SBA comes to the rescue again.
Renting an office or store space can get pretty pricey, whether you rent or buy.
If at all possible, you should work from home in the beginning, or look into coworking spaces, which are ideal for very small businesses: they're much cheaper, and they can also be great ways to meet other entrepreneurs and exchange ideas with them. If you own a service-based business--maybe you're a massage therapist or a pet groomer--you can travel around to clients in the beginning in order to decrease the overhead cost of your own space.
Of course, if you own a store or if your small business isn't so small, you'll need your own space. Rent will be a sizeable portion of your fixed costs.
If your business provides a service, inventory startup costs might not apply to you. But if you're in the retail, wholesale, manufacturing, or distribution sector, chances are high that you're in need of inventory to sell--STAT.
Balancing your inventory supply can be a tricky balance: if you have too much inventory, you risk spoilage or damage, but if you have too little, you could lose disgruntled customers who aren't willing or able to wait for an item to come back in stock. This is especially true for seasonal business, like landscaping companies or ice cream shops, whose inventory might vary drastically vary year-round.
Although inventory financing does exist, it's not a viable option for brand-new businesses, because lenders are looking to see that you have a history of consistent sales and inventory turnover. So you'll need to apply for other types of financing, like short-term loans or lines of credit, in order to get the cash you need to buy inventory at first.
Advertising materials include signs, banners, business cards, and paid advertisements, as well as more creative options, like videos and giveaways that might require you to hire a consultant or a video producer.
We live in the age of social media, so a lot of advertising can be done for free. Thanks to sites like Facebook, Twitter, Instagram, Tumblr, Pinterest, and LinkedIn, advertising costs are often much lower for small businesses just starting out now than they would have been 20 years ago.
It's extremely important that your business have a website that looks professional, is easy to use, and offers current and future customers all the necessary information about your services, products, hours, and contact information.
Most customers start their search for a product or service on the Internet. (How many times a day do you Google something you need?) But even so, 59% of businesses with fewer than five employees aren't online.
It's very easy to make sure that you're in the other 41%, thanks to services like GoDaddy, Squarespace, and WordPress.
Here's what you need to do:
First, you need to register a domain name, which usually requires a small yearly fee.
Then you'll pick a content management system (CMS) through which to build your website. These are sometimes free, but often require a monthly or yearly subscription cost.
If you're fairly tech-savvy, it's pretty easy to do this even without a coding background, but if you're not very familiar with computers you may want to hire someone to build the website--which is an additional cost (although a very worthwhile investment).
7. Office Furniture & Supplies

Office supplies and software add up fast:
If you're operating a traditional 9-5 office environment, then every employee will need a desk, a chair, a computer, and a phone.
Add in a microwave, water cooler, filing cabinets, and bookshelves, supplies like paper and printer ink, and then the cost of any computer software you might be using, like QuickBooks Online for accounting or Basecamp for scheduling, and you'll reach a hefty sum.
In addition to rent and the down payment, you'll be responsible for paying the electric, gas, water, Internet, and phone bills.
You need to pay your employees, even in the beginning when you're not bringing in much revenue--and that includes yourself, too!
Remember that payroll includes benefits as well as all forms of compensation: bonuses, stipends, commissions, and overtime pay.
And keep in mind that your staff might grow over the course of the year as your business starts to pick up.
10. Professional Consultants

It's tempting to tell yourself that you can do everything all by yourself and that you're able to get by without hiring any professionals like bookkeepers, certified public accountants, or attorneys. But in many cases, this can be a really, really bad idea.
Certified Public Accountants (CPAs), for example, are extremely helpful when setting up your business: they can walk you through all the different legal structures, help you figure out which benefit program to implement for your employees, and make sure you're complying with all those pesky state and federal regulations. When tax season rolls around, they'll be your right-hand men and women and may wind up saving you huge sums of money in deductions.
You don't need to hire an in-house attorney, but expert legal advice can save you from making major mistakes like failing to trademark your logo or developing relationships with vendors without a contract in place. The SBA can help you out a lot here: at their Small Business Development Centers, you can receive free advice and get referrals to professional attorneys if necessary.
And you might be able to do without a bookkeeper, especially by using software like QuickBooks, which helps you keep track of your invoices, purchases, and payroll. Although this software is a much cheaper option, it isn't completely free, and your time is worth money, too.
Just like you protect your health, your home, and your car with insurance, your business needs protection, too.
There are plenty of different kinds of business insurance, from protection from angry customers that decide to sue or disaster insurance for a catastrophic kitchen fire that shuts down your restaurant for weeks.
They're a necessary evil and they come around every year. You can often save money by working with a CPA, because they'll be able to figure out what exactly you can deduct so that you pay as little as possible--and they'll save you time, which is money in and of itself.
If you have a consulting business or you travel to your customers' homes, you'll be traveling a lot--which can add up. Factor in the price of airfare, gas money, and train tickets, in addition to accommodation and food costs for your employees if relevant.
Are you going to be shipping products to customers?
Then factor in shipping costs, including packing materials and postage. Services like Stamps.com have made this a lot easier for small business owners, because they can now print out their own postage without having to buy a costly postage meter.
One-Time Costs vs. Recurring Costs

Keep in mind that many of these costs are recurring, so you'll need to keep paying them over and over again.
Others, like the incorporation fee or office furniture, are one-time costs.
When calculating your startup expenses, a good rule of thumb is to be able to cover 6 months' of expenses up front. In other words, don't count on your business's revenue to start easing your costs until at least after that early period is over. You'll want a cushion while you get your feet under you and work on attracting business.
Bargain Hunting

Do your research before you make any purchases and recognize that there are absolutely ways to take care of some of these costs on the cheap.
Using software like QuickBooks instead of a professional bookkeeper, working from home or in a coworking space instead of leasing an office, and doing the majority of your marketing through social media will all help to make your budget a little more manageable.
That said, there are some costs that shouldn't be skimped on.
Don't buy poor-quality equipment just because it's cheaper: you'll lose time and money in the long run making repairs and eventually buying new equipment. Hire a legal or accounting expert if you're in over your head. And make sure your website and advertising campaigns are professional-looking and effective.
Very few small business owners can fund their business startup costs all on their own.
According to the SBA, about 75% of small business startup financing comes from loans, lines of credit, and business credit cards.
If you've put together an estimate of your startup costs and are feeling panicked, check out our page on small business startup loans. We're here to help!
Financing is one of the most stressful parts of entrepreneurship, but being realistic about how much money you need and accurately estimating your business startup costs will go a long way towards getting your company up and running. Good luck, and let us know in the comments if you have any more questions!
This article was originally published on the Fundera Ledger on September 7, 2016.