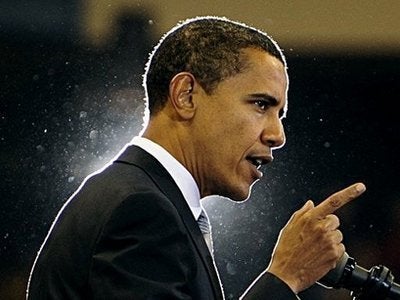 Jesse Lee is the Online Rapid Response Manager for the DNC, this is a daily update on the day's messaging.
Here was Obama today, keeping focused on the middle class, even telling supporters when they booed McCain, "No, No, We Don't Need That - We Just Need You to Vote":
And while Obama told the crowd "we don't need that" when they got personal against McCain, John McCain not only seems to think he needs "that" and worse, he's "proud of it." After being called out on the hypocrisy of the deceitfully vicious robocalls he once denounced as "hate calls" but now embraces, today he seemed to embrace the widespread myth that he is somehow not responsible for his campaign. The Baltimore Sun aptly describes his CBS interview last night: "'Listen to me, I'm the candidate,' McCain snapped at one point after a question quoting others in the campaign who questioned the attacks on Obama."
For McCain the low point of the day, if not his entire career, came when he was confronted by KSDK in Missouri with a despicable RNC mailer being sent out to support him.
As a final humiliation, back in Florida, one of McCain's earliest and strongest backers, a man once on the short list for VP, followed in Colin Powell's footsteps to throw McCain's chief talking point overboard:
Gainesville Sun: "Crist was asked about the attacks from many McCain supporters that Obama is advancing a 'socialist' agenda. 'I imagine different people have different definitions. I don't think it looks that way to me,' he said."
Popular in the Community