 Traveling can be hectic, especially around the holidays. Between the TSA lines (or the anticipation of the TSA lines) and delayed flights, travelers have many reasons to be weary.
No matter. In trying to calm travelers as the chaotic holiday travel season continues, we've come up with a list of 14 things to not worry about while traveling. Thanks in part to an onslaught of technology, here are things you no longer have to worry about back home while enjoying your time on the road.
1. Your inbox and your real inbox: Stop worrying about the mail, the invitations, and the bills piling up at home and just enjoy your vacation. And, if it really stresses you out, put a hold on your mail or even plan to head home a day early so you have a full day to unwind from vacation and get back into your groove. For email, sign up for Boomerang (for Gmail and other providers) to hold your emails you filter while you're gone -- it will resend them to you upon your return.

2. Your cell phone bill: If your phone can go international, call your provider and let them know you'll be abroad and want to adopt a plan overseas. Otherwise, get a pay-as-you-go phone when you arrive.
3. Missing out on the news or your favorite shows: Download apps from your favorite news outlets, DVR your favorites or sign up for Hulu Plus or Netflix.
4. Losing track of your finances: Download the following apps to help you save money and stay on top of your finances on the go: GasBuddy for where to find the cheapest gas while on a road trip; Evernote for receipts and jotting down expenses; Mint.com and LearnVest for logging expenses; and Trip Splitter to keep track of who paid for what while traveling. Several U.S. banks have ATMs abroad, including Citi, HSBC, and Bank of America (with partners).
5. Getting lost: Pick up a local map before you go, or if you can, have your cell phone's map guide you. If you're lost and in need of a restroom, (who hasn't been there?) restroom-finder apps like Where to Wee and SitOrSquat can help you find the closest facilities.
6. Keeping track of your itinerary: Use an app like TripIt (or the similar app from Kayak) to cull together your itinerary in one place. No more folders of info and papers for you!
7. Keeping in touch: Send an old-fashioned post card or carry a tiny Moleskine notebook around to jot down your thoughts while you're away. It'll make your stories that much more enjoyable for your loved ones when you return.
8. Don't worry about speaking the language: If it's worth it, take classes ahead of time before you leave or download a few apps to help you translate on the go.
9. How to get around: Uber, that car-beckoning service available in numerous cities, is actually a great idea for travelers in a pickle. Or, if you need to find how to get to and from the airport, check out the TravelNerd app which shows every transportation option at a designated airport (as well as the cheapest parking options).
10. Locating historical spots: History Here is a wonderful app from A&E that highlights historical places near you.
11. Finding that perfect place to stay: An app like Hotel Tonight can help you book a room at the last minute for a discounted rate.
13. Your safety: Enroll with a local U.S. consulate before you go abroad via the Smart Traveler Enrollment Program. You can also buy piece of mind with travel insurance, says Matt Kepnes, the author of the forthcoming book How to Travel the World on $50 a Day (Perigee). "[Travel insurance] will be a blessing when you have to go to the hospital because you popped an ear drum scuba diving or you get sick on the road or break a leg," Kepnes writes on HuffPost Travel. "Chances are nothing is going to happen to you while traveling, but for when it does you are going to want to have insurance."
What are your foolproof methods for staying sane while traveling? Do you have an app, guide book or method that keeps your trip organized? Share your trick below in the comments.
And if you still need a moment of zen, check out a few of our favorite sunsets below.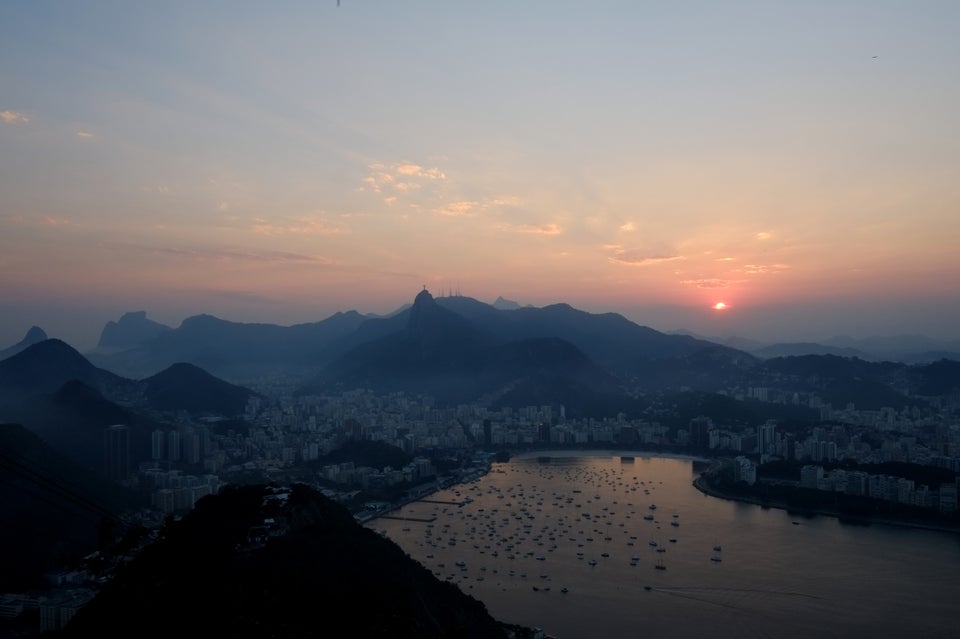 Best Places To See A Supreme Sunset