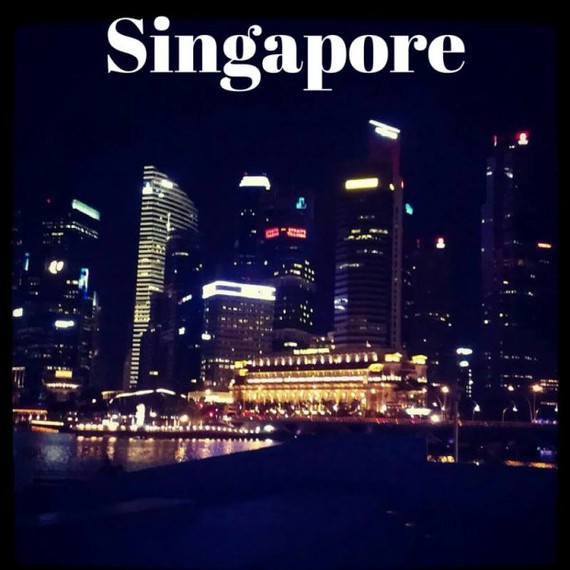 By College Tourist's Summer Team of Student Travel Bloggers.
Live like a local, explore like a traveler in Singapore.
Get outdoors. Nicole Darian, University of Iowa
Singapore is best known for its plethora of skyscrapers, beautiful shopping malls, and for being very high-tech. Want to get out of the busy city and explore the outdoors before your retail therapy and nightlife? Head out to Mt. Faber Park for a beautiful view of the city, which is connected to a hiking trail called Southern Ridges, which is Singapore's best trail. The walking trail itself even looks very high-tech and is raised above the ground - you'll be suspended over the forest canopy, definitely a must-see. Another trail to hit is the Bukit Timah Nature Reserve, the only large area of primary rainforest left in Singapore. There are four trails, one being the highest natural point in Singapore. Don't miss out on these outdoor options when you need a break from the hustle and bustle of the city life!
Experience the cuisine. Ben Rissler, American University
Eating is essential to daily living, but foodies from around the world have deemed food in Singapore to be a multifaceted art form. Being a very diverse nation with a large expatriate population, the food is influenced by many different cultures. Primarily comprised of Chinese, Malay, Indian, and Eurasian inhabitants, Singapore embodies the true essence of what it means to be an international community. Hit the streets for incredible food that ranges from spicy to sweet to bizarre. Eat like the locals at the various hawker centers (similar to food courts) downtown for a variety of options. Don't forget to try Singaporean favorites like laksa, satay, roti prata, hokkien mee, or even fish head curry for the culturally adventurous. Whether you're paying for a glamorous, expensive meal overlooking the city or buying noodles from a street vendor, this global food capital will not disappoint!
Explore the art scene. Whitney Barnes, University of Central Florida
Singapore offers a modern and contemporary art scene. If you are looking to spot some of its most sought after pieces head over to the Ritz Carlton. Yes, the hotel. The Ritz Carlton located on Raffles Avenue is no ordinary hotel. At the entrance lies a pair of Dale Chihuly crystal glass sculptures. The sculptures are lined with a variety of different eye-popping colors and their asymmetrical design allows the viewer to form their own interpretation of the piece. Much of the custom made art is hidden away in suites but they do have a few on display for enjoyment. The collection includes Andy Warhol's celebrity expressions, David Hockney's portraits and stage designs, Rainer Gross's geometric styles, Henry Moore's abstract sculptures, and Robert Zakanitch pattern and decoration pieces. Now you may think that viewing such notable artists' work would cause quite a blow to the wallet. However, the Ritz Carlton provides a guided tour of the collection for free.
Learn about the rich history. Hannah McIntyre, Spring Hill College
Singapore has a rich history and has grown into an urban island over the last few hundred years, and a great way to learn about it is to visit the many heritage trails on the island. The Malay Heritage Centre is a museum and compound where visitors can see artifacts from Singapore's national collection and pieces from the community. The galleries show how Singapore has become the urban and cosmopolitan island it is today. The Chinatown Heritage Centre will teach visitors about the years during which Singapore was established as a seaport. The Eurasian Heritage Centre is where visitors can learn about the oldest residents of Singapore, the Eurasians, a mix of Europeans and Asians. The Chinese Heritage Centre teaches visitors about Chinese culture and traditions in their different communities around the globe. The Civil Defence Heritage Gallery aims to teach visitors about the island's defense developments since the 1800s.
Celebrate Chinese New Year. Molly O'Connor, Southern Methodist University
Composed of citizens from various walks of life, the city of Singapore comes alive when celebrating the Chinese New Year. Starting on January 1 and lasting through the 15 of January, families reunite and come together to celebrate the start of the new year. Relatives will bring younger children tiny red bags filled with money, referred to as "hong bao" and will garb themselves in new clothes for the sole purpose of rejoicing the new year. Families head to Chinatown to experience this area all lit up and decked out with markets and decorations. This lively atmosphere thrives the most during the Chinatown Street Light Up, where lion dancers, fire eaters and dance troupes parade throughout the area, putting on a show you will never forget. Make sure to catch the focus of all activities: the Chingay Parade. This parade dazzles everyone with out-of-this-world performances; colors burst from every act and talent can be seen left and right in forms of dancers, fire eaters and more. If you're fortunate enough to experience the Chinese New Year in Singapore, you'll leave full of luck and prosperity for the upcoming year.
Head to the local farmers' market. Ashley Ulbrich, University of Central Florida
I love food, especially farmers markets. Combine my love for food and markets and I am in heaven! Singapore has a farmers market called, Kranji Countryside Farmers' Market.This market has local produce, fish, eggs, jams, nuts, fruits, herbs, vegetables and so much more! I would love to be able to walk around this market and explore. Trying new markets recently became a hobby of mine, and this one sounds amazing. Check it out!
Connect with the animals. Angela Serednicki, Ryerson University
At first glance, it's hard to believe that the big bustling city of Singapore is a perfect destination for animal lovers. Your trip wouldn't be complete without a trip to The Night Safari, the world's first park for nocturnal animals. Here you'll see close-up views of a of a Malayan tiger or an adorable bull elephant. If you want to see some animals from down under, visit the Singapore Zoo. Australia recently gifted the world famous wildlife reserve with four koalas in celebration of Singapore's 50th anniversary of independence. Looking for more wildlife? Check out Flamingo Lake at Jurong Bird Park, where you'll be able to see three out of the world's six species of the magnificent bird.
Enjoy the botanical gardens. Marilyn La Jeunesse, New York University
While Singapore has quickly developed into a nation of skyscrapers and fast-moving cars, there is one spot in the country that has preserved almost all of it's natural rainforest: Singapore Botanical Gardens. This attraction hosts a plethora of native plant life, and even boasts a 3,000 species orchid garden (2,000 of these are hybrids of the original flowers). The park, which is open from 5a.m. to midnight, makes this a perfect place to go for your morning jog, or just to see another side of city life in the country. The gardens are almost always filled with dogs happily walking about and tai-chi practitioners. There's an abundance to see and do here, but most of all it's a tranquil spot to just sit and relax.
Check out the PasarBella marketplace. Amanda Tempesta, Hofstra University
PasarBella is the go to destination for all marketplace lovers. Located in Turf City, The Grandstand, ParsaBella has over 30 unique stalls from around the world. Vendors have their own unique flare which make this market the most diverse in Singapore. Walk around and let your eyes scan the charming interiors while the quaint stalls, various aromas and entertainment satisfies all your senses. This market brings a special personality to eating, buying, and trading produce. "Pasar" deriving from the local term for "market" combined with "bella" the Italian term for "beautiful" perfectly describes what you can expect from a visit.
Go on an adventure to the MacRitchie Reservoir. Elena Metzner, University of Connecticut
Singapore is a nation known for its beautiful city skyline, but only 14 minutes away is an even more impressive skyline, that of the natural MacRitchie Reservoir. Here they offer a TreeTop Walk high above the forest canopy. With an abundance of plants, from indigenous flora and fauna, to many rainforest animals, there is a lot to see and a good way to get away from the hustle and bustle of city life. Adding to the excitement is the suspension bridge that elevates your walk and sense of adventure. And don't forget about the monkeys that swing freely around you.
Kayak through the mangrove forests. Mia Kavensky, University of Illinois
Paddle deep into the jungles of Singapore on a mangrove forest kayaking tour. To locals and tourists surprise, the northern tip of Singapore is covered in mangrove forests. Within the forests lie two rivers: the Sungei Mandai Besar and Sungei Mandai Kechil. On these rivers, the Nature Society of Singapore schedule kayaking trips to this amazon-esque destination. Relax on the river and keep your eyes out for a horseshoe crab or a sea eagle!
Live-it-up in the nightlife scene. Tori Danforth, University of South Florida
Singapore is filled with interesting and unique things to do during the day, but at night is when the place really comes alive! The country boasts over fifteen rooftop bars, as well as a plethora of other clubs and nightlife scenes to satisfy the taste of any traveler. Start the night off with a visit to Clarke Quay, Singapore's premier party place. Walk along the riverfront until you find the perfect hangout spot, or hop aboard one of the Chinese junk boats for a chance to party on a floating pub. Other noteworthy places to check out are The Library, a quirky "password only" cocktail bar. How you find out what the password is each week, I have no clue but that's half the fun! Once you're in, enjoy funky cocktails like "Shrub-a-Dub-Dub" which is served in a mini bathtub pitcher with rubber ducks or "Grand Theft Nacho" which includes a Dorito-infused tequila. Though a little pricey, this is sure to be one of the most unique bars you'll ever go to. A-1 Altitude is the highest of the rooftop bars in Singapore and well worth a visit, while Zouk is the king of all clubs in the area. Even if you're not a night owl, staying up late will be well worth it for the beautiful city lights.
Get in touch with sea life at Underwater World. Jamie Coulson, Flagler College
If you love wildlife and immersing yourself with the animals, Underwater World in Singapore is the place to go. This oceanarium has a wide variety of actives from diving with the sharks to swimming with dolphins. Ever heard of a pink dolphin? Underwater World has them! This attraction has shows that appeal to the young and old viewers in the audience. The family-friendly atmosphere makes for a fun and educational trip as you learn about marine wildlife and have the opportunity to get up close and personal with the animals of the sea. Love giving back? Underwater World also aids in protecting the fragile sea life and provides the animals a safe rescue area to preserve the species of unique ocean life.
Take bumboat ride to Pulau Ubin Island. Timpani Woodson, Northern Arizona University
Take a step back in time and visit Singapore's last village. Just a short bumboat ride away, Pulau Ubin Island is the perfect way to experience what Singapore was like before it was industrialized in the 1960s. As you walk through the forests that surround the village, you may encounter a wild monkey or two, or even a wild boar. Then, there's Chek Jawa, a wetlands reserve that boast 7 unique Eco-systems. While it makes for a nice day trip from the city, you can also stay on the island at Celestial Resort Pulau Ubin.