From "Ecclesiastes" to "House of Leaves," from Dante to Stephen King, "The Word Made Flesh: Literary Tattoos from Bookworms Worldwide" is a celebration of and tribute to the vibrant and vital Babel that is literary culture today. Our contributors are women and men of all ages, living all around the world (though Brooklyn is, naturally, the best-represented region). Their tattoos stand as testaments to their dedication to literary culture in general, and to books culture in particular. (There are many personal anecdotes shared in "The Word Made Flesh," but not a single tattoo's origin story mentions words first read on a Kindle, iPhone or Nook -- at least none we've seen yet.) As well, the tattoos commemorate personal moments in each of their lives -- tragedies, triumphs, great loves.
In our book you'll find lines of verse, illustrations from novels and children's books, portraits of authors, and a few astonishing blocks of prose sprawling across arms and shoulders, covering whole backs. You'll find literature in translation and in its original languages: French, Spanish, Italian, Latin, Russian, German, Berber, and Japanese. You'll find typewriters, typographic symbols, whole alphabets, and the Dewey decimal number for poetry.
Every tattoo, like every book, tells a story, and represents somebody's attempt to forge what Melville called "an image of the ungraspable phantom of life" -- a sentiment which Oden Connolly of Berkeley, California liked so much that he inscribed it permanently on his leg.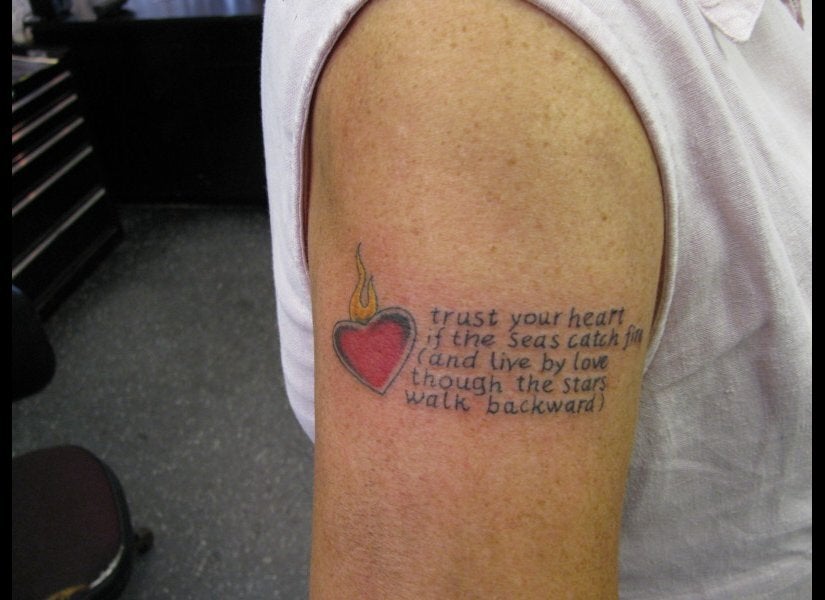 Word Made Flesh
Popular in the Community