If you love cooking and being in your kitchen, chances are you have a healthy supply of cook books of all varieties. I've know some ladies with very impressive collections that could fill libraries. But they can quickly overtake a space and leave you wondering where to put them. So what's a person to do? Get creative and check out these awesome ideas for storing cook books.
1.Wire baskets- on the wall!
Repurposing unused items is a hot trend right now and this one nailed! Get those books off the countertop and show them off by turning a wire basket sideways and mounting it to the wall. This would go well in vintage, coastal, and rustic kitchens.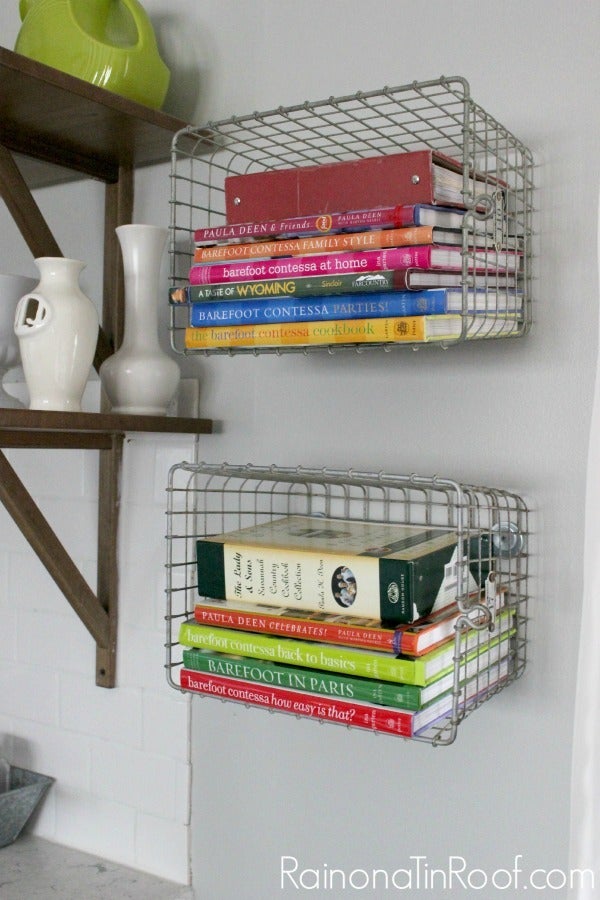 2. Under the cabinet
When designing your new dream kitchen, don't forget to add cookbook storage under a cabinet to keep them handy. Wait? You don't have $50,000 lying around for a kitchen remodel? That's ok! Just check out this blog and the creative way the homeowner's got more space under the cabinets. Then, they built a cabinet to hold the cookbooks. A great DIY option that looks professional.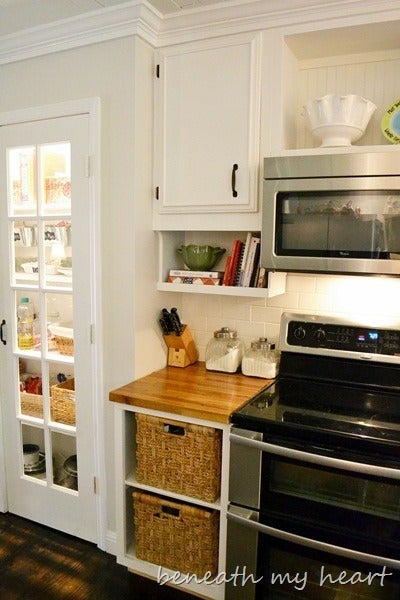 3. Over the microwave
If you have a microwave installed in a cabinet, most of the time the space above is underutilized. Take those doors off and create a shiny new space to show off your cute book collection.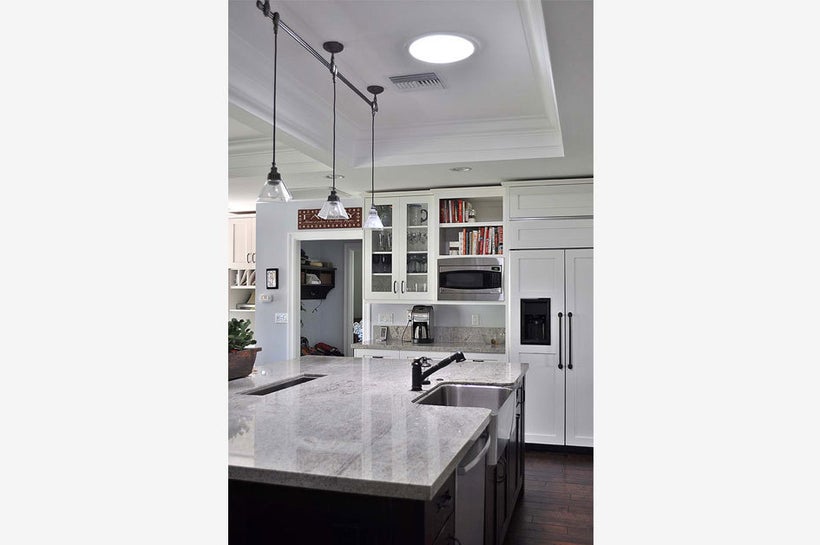 4. From stock to custom
The space over the sink is also one o those unused areas. Make the most of it by adding a cookbook shelf in between cabinets. This DIY'er takes stock IKEA cabinets and make them look custom by adding just such a shelf. She takes you through all the steps so check it out here.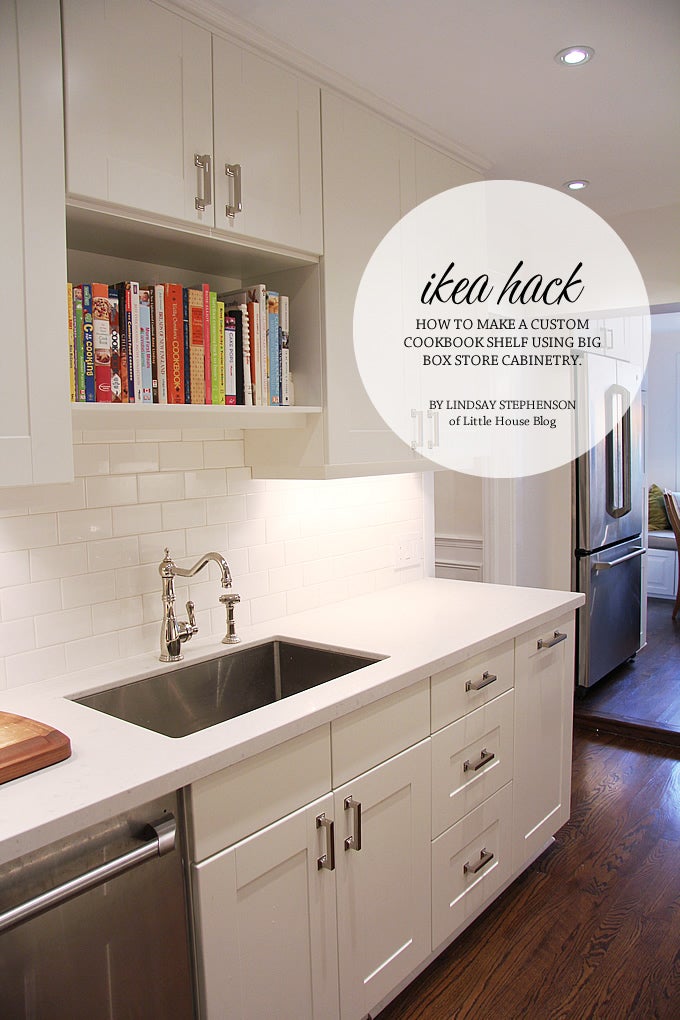 5. In the office
In this kitchen, an extensive collection gets a dedicated space above the home office. It's the perfect spot to keep them water and grease free. The rustic wood warms up the white, modern cabinets.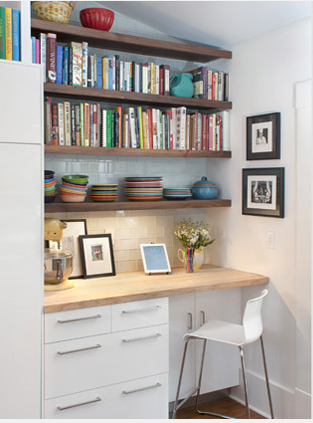 6. Floating shelves
A great example of modern floating shelves used to display cookbooks. The books are stylized and very visual.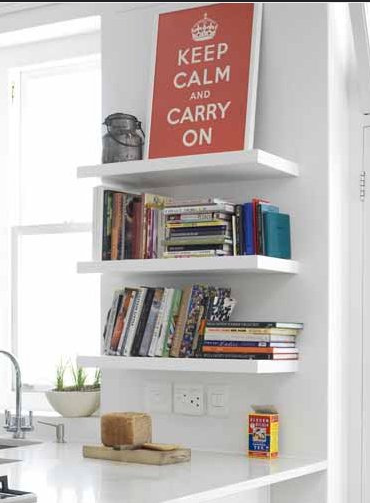 7. On the buffet
This dazzling array of books get displayed across a long built-in sideboard. Your guests will expect a gourmet meal when they spy this collection.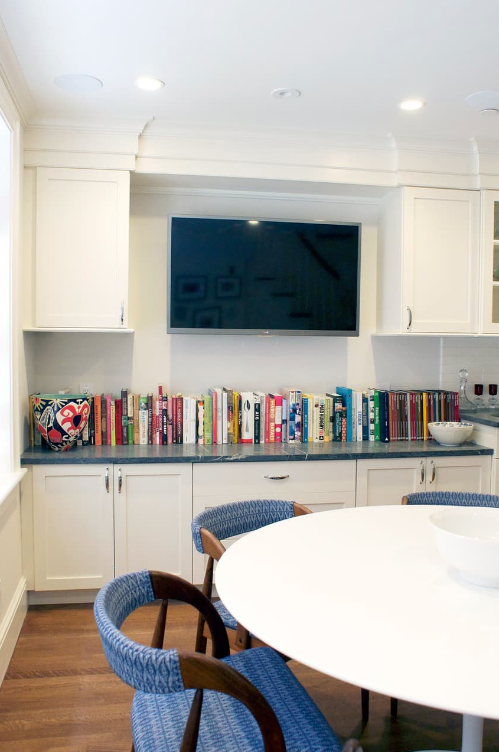 8. Retro cart
This cart adds a vintage vibe to any kitchen and adds a ton of storage without taking up much floor space.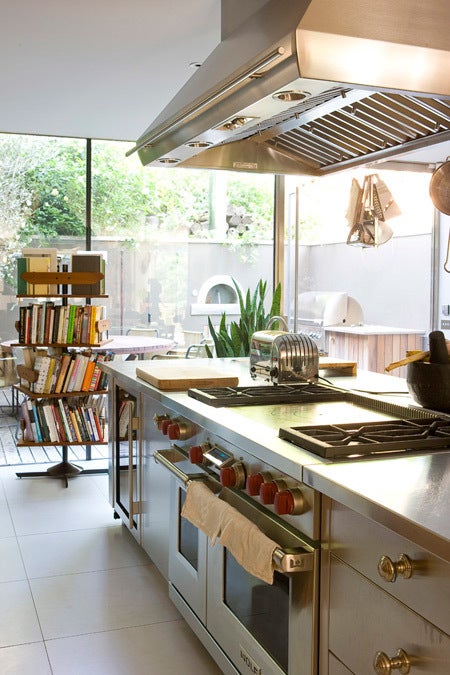 9. Custom rack
This custom holder, via Etsy, is smart and stylish. A little wall space is all it takes to create a one-of-a-kind display. Plus, the pins act as bookmarks and are moveable.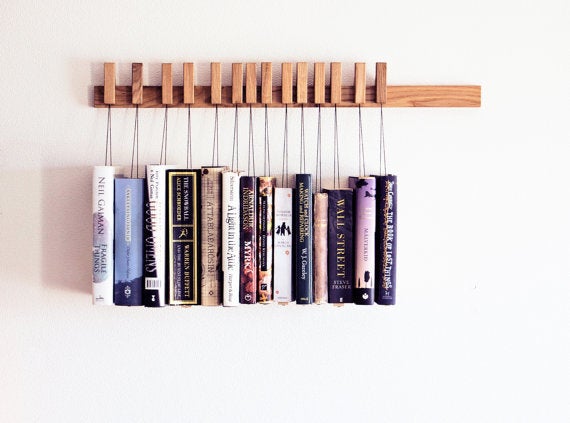 10. Over the fridge
This idea, found on Pinterest, uses crates placed on top of the refrigerator; a great way to use that often wasted space.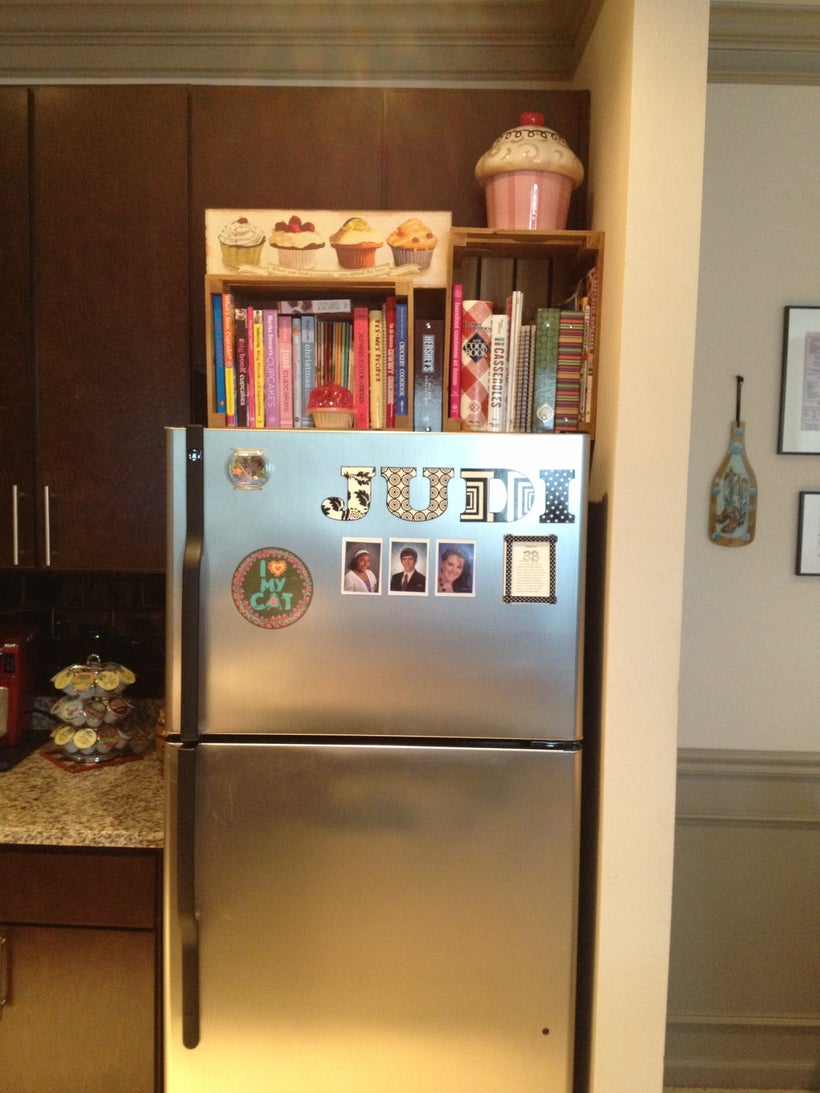 11. Hide them away
This is pure genius. If you like to keep things tidy, tuck them out of site behind panels in a column.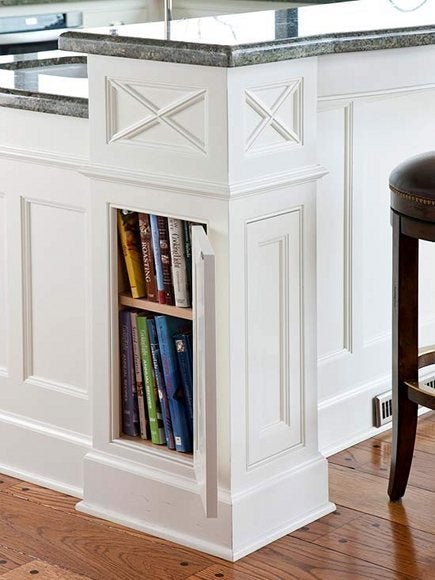 12. Library stand
This quaint library stand serves another purpose when used to display cookbooks. It fits perfectly at the end of an island and has a very retro feel.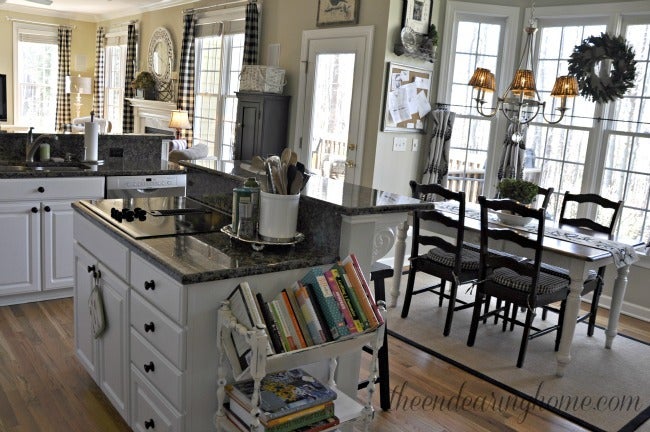 13. A picture ledge
Shelves don't have to be plain. Dress things up with a decorative picture ledge to show them off in style. Finding a book is also easier when you can see the cover and quickly grab the one you need.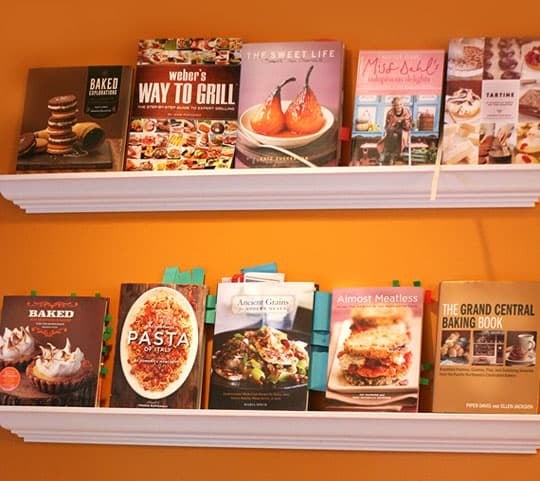 14. An etagere
Skip a cabinet all together and opt for more open storage. Here, an etagere displays cookbooks and pretty dishes.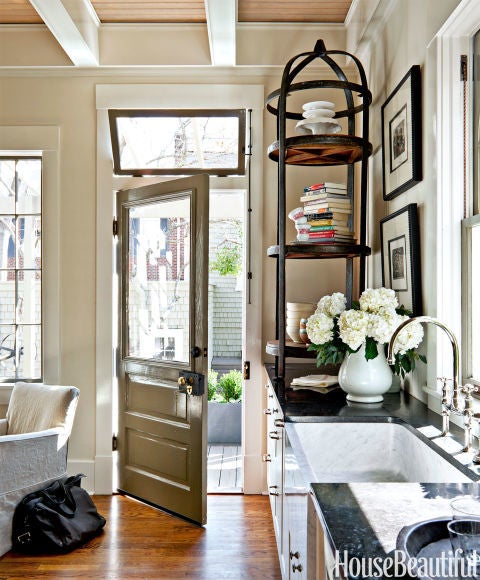 15. Custom built holder
The pros at This Old House know how to build almost anything and they came up with a beautiful solution for cooking magazines. Check out the DIY tutorial here.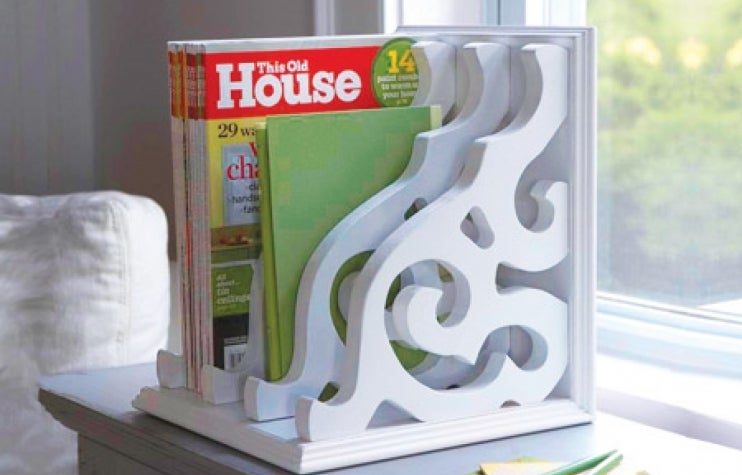 Showing off those loved and well-used cookbooks and recipes is something good cooks love to do. With these creative solutions, those books will be stylish and easy to reach. Show us how you display your cookbooks!
Calling all HuffPost superfans!
Sign up for membership to become a founding member and help shape HuffPost's next chapter
This post was published on the now-closed HuffPost Contributor platform. Contributors control their own work and posted freely to our site. If you need to flag this entry as abusive,
send us an email
.