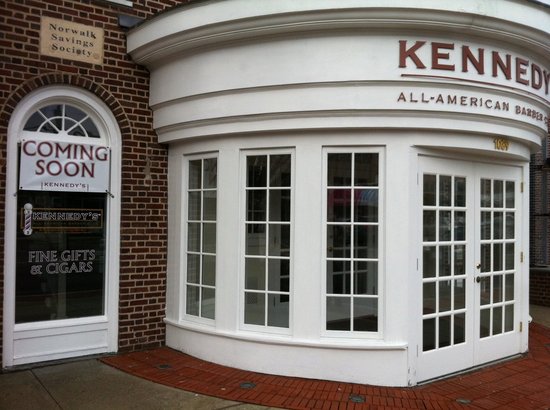 Several years ago, a vintage barbershop on the verge of closing approached me for help. Ultimately, I bought it and changed the name to Kennedy's All-American Barber Club. We've now expanded the franchise into thirteen locations in four new states, and today I own and operate my own shop in Lake Mary, Fla.
Below are 15 tips (in no particular order) I've learned firsthand through my experience with Kennedy's for those of you thinking about buying into a franchise or opening up your own.
What's love got to do with it? Franchisees sometimes jump into a franchise because they fall in love with it, setting aside the business' financial condition. Do not fall into this trap. A love of taxidermy does not guarantee the success of a Stuff-Your-Own-Dead-Pet franchise. Always do your homework and ensure that a franchise has proven turnkey operations already in place with a successful operating history.
Don't cannibalize yourself. If you already own a business or franchise, never look into any franchise that would compete with your current clients.
Never settle for Baltic Avenue, but Boardwalk and Park Place aren't the only Monopoly squares worth owning. Find a franchise that offers above-average profitability for franchisees. This means in the double digits, but it doesn't necessarily span 30 percent or greater net margins. Be realistic.
Keep it simple. Franchisees frequently find themselves so smitten by a complicated concept, only to find out later that this doesn't work well for them. The simpler the concept, the better.
One size does not fit all. Often times the ideal customer isn't considered. An affluent customer is more likely to have cash to spend on your product or service as opposed to a down-market potential customer. Look for a franchise geared toward an ideal niche audience, particularly to consumers least and last affected by economic downturns, i.e. the "mass affluent."
Smart marketing beats flashy marketing every time. Under-developed marketing and positioning strategies hinder growth. Forward-thinking, effective marketing and positioning isn't often considered. Just because a franchiser runs TV ads or newspaper ads doesn't mean they are marketing smart.
It's never too late to aspire to world domination (unless your name is Kim Jong-un). Don't restrict your franchise concept within a tight frame. Think into the future with an open mind and be creative. Consider any areas the franchise concept could evolve into and exercise a preference for businesses with a potential for synergistic product line additions.
Owning your own commercial property = winning. Leasing a small place isn't bad either. Find franchise opportunities that offer wealth-creation through commercial property ownership. Or select a franchise with space requirements so compact that space is readily-available to lease. By the way, I wrote a book on this topic: "The Entrepreneur's Secret to Creating Wealth."
Don't be the ketchup, be the Sriracha sauce. Don't get commoditized. You want to select a franchise with a concept that focuses on consumer experience. This is extremely important. Make sure your franchise delivers a unique, memorable experience not readily available elsewhere. This way your offering doesn't turn into another commodity.
Copy Ben & Jerry's Ice Cream as much as possible without looking like a copycat. Franchises that last in their communities are those that give back to their consumers. Ben Cohen and Jerry Greenfield were ahead of their time on this and have set the social responsibility bar pretty high, but even just one franchisee can make a difference in his or her community. Find a franchise that encourages its franchisees to volunteer, sponsor youth sports teams, enter or support charity fundraising marathons and other events. You want a franchise that has the potential to add a social responsibility component congruent with your target demographics.
Pizza is not a necessity. The world probably doesn't need another pizza or sub shop. Choose an ongoing, necessity-based business versus just a "regular" transaction-based business. The key is to pick a franchise that satisfies a need and that lends itself to repeat business.
Membership is not an ugly word. Many new franchise concepts are terrified of offering memberships, but we are becoming a subscription-accepting society. More consumers expect and even prefer paying a flat monthly fee in return for unlimited services. Continuity and membership-driven businesses reduce cash flow issues, and cash flow is always the largest issue in the early days of a franchise. Subscriptions also enable you to put a "fence" around your core customers.
Ignore your mother-in-law - you don't always get what you pay for. Never buy a franchise that demands an initial franchise fee of $200,000 or more. Most franchises require a new franchise to pay a one-time initial fee to become a franchisee. This fee can be as low as $5,000 or higher than $100,000. The average or typical initial franchise fee for a single unit is about $20,000 to $30,000. You also want to make sure that the franchise also requires minimal build-out time. Low cost and fast speed-to-market are essential.
Stalk your fellow franchisee owners. Do your research into the franchise's history with other owners. You want a franchise with proven success with both owner-operators and absentee owners. An ideal franchise should be successful with both, because it further demonstrates how sustainable the concept is.
Do not underestimate the value of potential frequent flier miles. Look at franchises with an opportunity for sizable domestic and international expansion. Why buy into something with limited expansion opportunities?
These tips should help guide you towards making a more informed franchise decision. Without first performing extensive research, planning and preparation, becoming a franchisee can be riddled with unexpected obstacles and risks. Make sure you know what you are getting into and that you believe in your franchise concept. Franchising isn't for everyone, but for those who have taken the time to do their homework, and know what to expect, owning a franchise can be an extremely rewarding and lucrative experience, both financially and professionally.