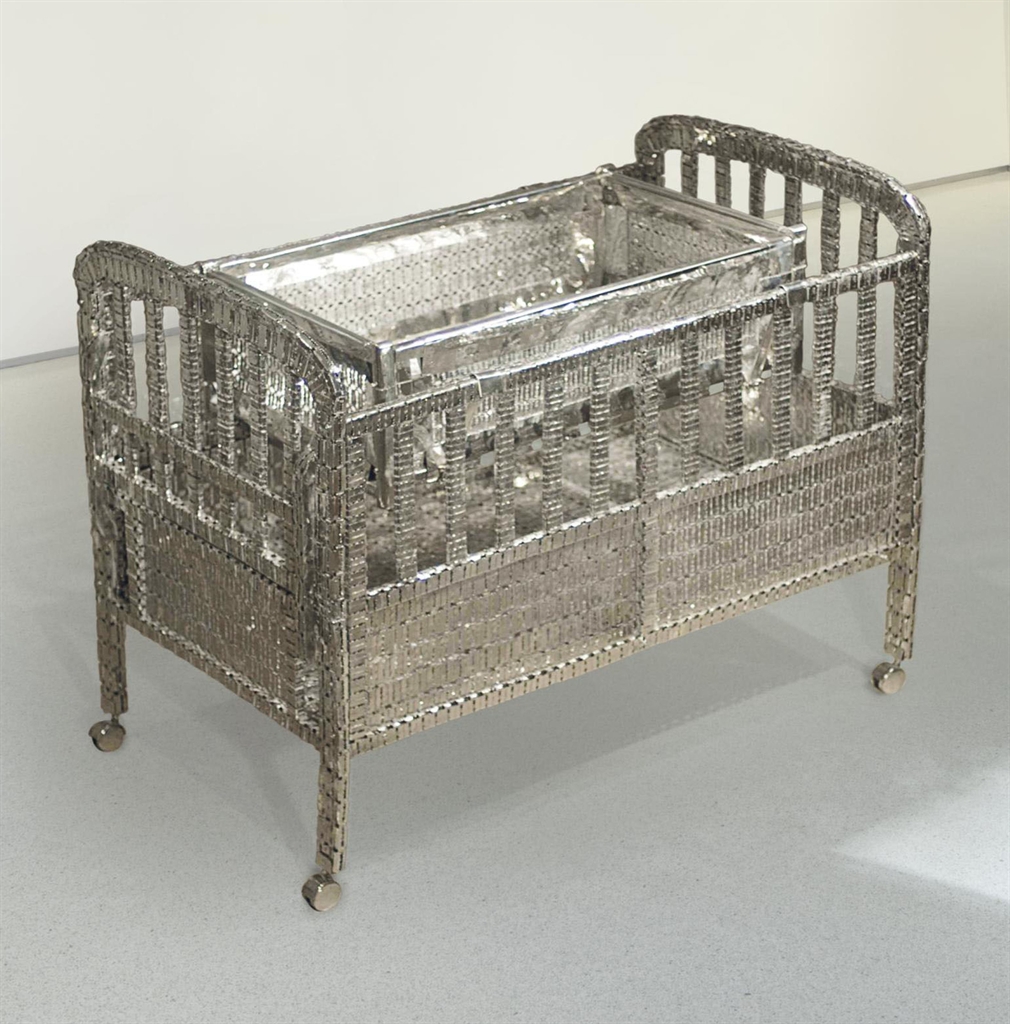 Tayeba Begum Lipi's My Daughter's Cot II (2012) is made entiredly of stainless steel razor blades. © Christie's Images
When Andy Warhol appropriated Campell's soup cans as high art -- not to mention Brillo Pad boxes, Perrier bottles and an array of celebrity fanzine photographs -- he was continuing a tradition that started with Marcel Duchamp's "readymades": Whether he set a urinal on its head or propped a snow shovel against the wall, Duchamp's art -- like Warhol's, decades later -- was about disrupting our notions of what art is, or what an artist can be. Maybe their beauty was in the things we saw every day. Or maybe art institutions had too much power to decide what we consider art.
High-Minded Art Made From Low Brow Materials
It was high-minded stuff -- a bit too abstract for some, perhaps. A new crop of contemporary South Asian artists is using everyday objects in ways that feel arresting and subversive. In some cases surveyed below, there is more at stake in the objects appropriated, as there was for African-American assemblage artists in Los Angeles in the 1960s and 70s -- artists like John Outterbridge, who built his early assemblage sculptures from detritus collected after the 1965 Watts Riots. The effect: you feel a cunning contradiction of chills and excitement mingling.
Meet the artists who have disavowed convention and found a way for violence and beauty begin to live together with intentional contradiction.
When female Bangladeshi artist, Tayeba Begum Lipi, uses razor blades, for example, to construct brassieres and full-scale baby cribs, it is charged with challenges to cultural and gender politics faced by women across Bangladesh that most Western women will never face.
"I'm the 11th of 12 children," she has said, explaining My Daughter's Cot II (2012 ), the crib sculpture.
I was born in the northern part of Bangladesh in a very small town called Gaibandha. I watched my nephews and nieces grow up next to me. Those days women gave birth at home with the help of a village woman. The only tool to support the delivery was a new sharp razor blade that had to be boiled on a stove before the baby was born.
Sequin-Like Sequenced Bindis
Female Indian artist Bharti Kher's use of the bindi -- the tiny dot or design Indian women traditionally affix to their foreheads once married -- functions similarly. They are everyday objects in Indian culture, but their place on the body gives them special significance: They demarcate the body as female, they signify sexual maturity, loss of innocence. When Kher places them all over her sculptures -- a murdered baby elephant, for example, or the excised heart of a blue whale (the largest heart in the world) -- they change what the bindi signifies. They become a means of transforming the things they cover, invoking a sense of migratory flow, building and dissipating in complex and cosmic rhythms.
Kher's husband, Subodh Gupta, has made himself into one of India's most successfully and internationally recognized contemporary artists through his own appropriations. He's used cow dung, he's used bicycles, but he's particularly famous for his use of stainless steel objects: pots, pans, strainers and utensils, reshaping them by cobbling them together into new shapes, giving the banal objects new meaning. Stainless steel objects are ubiquitous in Indian life (just sample the Thali cuisine of a South Indian or Nepalese restaurant), making the banal transcendent.
Similarly other artists use the obvious to call in to question shady institutions and symbiology. Kallat co-opted the rupee in the Death of Distance (2007). His social commentary on India's telephone campaign "one rupee a minute" is set off by the chilling story of a schoolgirl's suicide. She couldn't afford the one rupee school lunch. Jitish Kallat's Analgesic Studies (2005-2007) are Rauschenbergian Pop Art pastiche, incorporating an array of objects, from the ramshackle, colorful streets of Mumbai, where he was born -- political and humorous, lewd and mischievous.
For Conditions Apply (2007), Kallat uses seven nibbled (and slightly burned) pieces of traditional Indian roti bread to depict a progressively waning moon. Of the work he said, "the twin metaphors of deprivation and hope are morphed into one composite image."
Popular in the Community