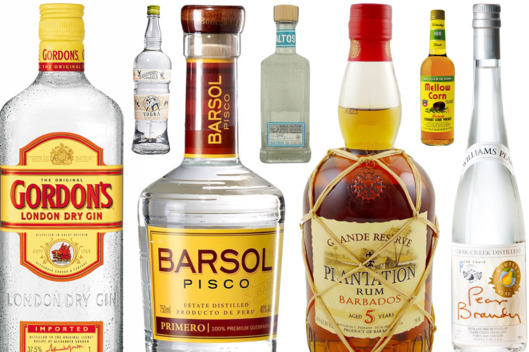 There are enough great bars (and cocktails) around the country that you could probably never drink at home again and still never have to drink the same thing twice. But sometimes the occasion calls for something more laid-back than a night out. You want to head home, pour yourself something nice, and chill. Maybe with a friend, maybe with a basketball game, or maybe just with some good music. Another benefit: It can be far cheaper to drink in the comfort of your living room. In fact, there are a lot of very good spirits -- the kind served at top-shelf bars -- that cost as much (or less) per bottle than a single cocktail at a fancy bar. So we asked bartenders which bottles they'd suggest stocking up on for less than $25. Their picks don't disappoint.
Barsol Pisco Primero Quebranta
Price: $26 for a 750-milliliter bottle
Ivy Mix, head bartender and co-owner of Leyenda, says, "Barsol is a great company, and quebranta is a good grape varietal that is not too floral. It makes a great utilitarian pisco that really can't be beat for the price."
Aylesbury Duck Vodka
Price: $20 for a 750-milliliter bottle (currently on sale, normally $25)
Jim Kearns, head bartender and partner at the Happiest Hour, says, "Aylesbury Duck, from the 86 Co., is a popular brand with a good price and good taste. Vodka is, by law and definition, distilled to remove all flavor and odor compounds. If you're looking to go cheap anywhere on a home bar, it's a good place to do it."
Old Overholt
Price: $15 for a 750-milliliter bottle
Danny Neff, bar manager at Holiday Cocktail Lounge, says, "It's like my 'spirit spirit' of choice. If you find me sitting at a bar, [I'm] more than likely having an IPA and Overholt. Spicy, bold, enough of a kick. Plus, you're not going to get a lot of good stuff at that price point as a consumer."

Rittenhouse Rye
Price: $23 for a 750-milliliter bottle
Natasha David, co-owner and head bartender at Nitecap, says, "It's my favorite rye for a Manhattan. It's got a nice spicy backbone like any good rye should have, and has a little extra kick at 100 proof."
Mellow Corn
Price: $12 for a 750-milliliter bottle
Sam Anderson, head bartender at Mission Chinese Food, says, "Definitely my vote is Mellow Corn. It is a straight corn whiskey, and it's 100 proof as well, so you can do all kinds of stuff with it and it stays. Like, if you take the difference between rye bread and corn bread, you're definitely going to see a sweetness to it, but because it's 100 proof you're able to mix it without that sweetness being overpowering. And, yeah, it's also cheap."
Gordon's Gin
Price: $25 for a one-and-a-half-liter bottle
Damon Boelte, head bartender and co-owner at Grand Army, says, "This is a super-traditional London dry at a budget price that still holds its own in cocktails. It's not the most juniper-forward London dry gin, but that's part of the appeal. It works in everything."

Citadelle Gin
Price: $20 for a liter bottle
Toby Maloney, former partner at Pouring Ribbons and currently beverage director for Mother's Ruin and head bartender-partner at Nashville's the Patterson House and Chicago's the Violet Hour, says, "I personally drink gin all the time. The Citadelle gin, that's another thing that I always have in my house. It's made by a cognac house, and I think the quality of distillate is just incredible. They've been making cognac for a long time, and they can make anything and it's going to be of a higher quality just because they understand the process so well. It's big and bold and complex, but it's also such a high quality that you can drink it straight or in cocktails and it stands up."

El Dorado Eight-Year Rum
Price: $25 for a 750-milliliter bottle
Anderson says, "I'm going to say El Dorado. It's a value that is unparalleled. It's sugar-cane rum. I prefer the eight-year or, if not, the five-year. It's super mixable; you can do a great rum punch or an Old Fashioned. It's super valuable, and a lot of people don't know of it, either, which usually doesn't happen if you're introducing someone to a great spirit."

El Dorado Three-Year White Rum
Price: $15 for a 750-milliliter bottle
Boelte and Maloney both stress El Dorado's three-year as the best-value rum on the market. Here's Boelte: "El Dorado makes a killer daiquiri, and it's basically free. What more can you ask for?"
Plantation Grande Reserve Barbados Rum
Price: $19 for a 750-milliliter bottle
Jillian Vose, bar manager at the Dead Rabbit, says, "Thanks to five years spent in casks, it's rich with tropical fruit, chocolate, dried orange, and vanillin. This makes it perfect to sip neat or over ice, but it's also extremely versatile in cocktails. It also works really well with other spirits such as Armagnac, cognac, genever, and of course other rums. Try making a daiquiri with demerara or cane syrup and add a dash of aromatic bitters to it. The result is a rich and refreshing cocktail made really easily and can be done simply at home."
Punt e Mes
Price: $20 for a 750-milliliter bottle
Wiznitzer says, "If you like vermouth and amaro, then this product is for you. A slight hybrid of both, it kicks up your Manhattan to the next level and is even better with some grapefruit juice and a salted rim (an Italian greyhound)."
Clear Creak Pear Brandy
Price: $25 for a 375-milliliter bottle
David says, "I'm cheating a little, because it's a 375-milliliter bottle. I like to store mine in the freezer and sip on it at any time of the day, because it's that delicious! Imagine drinking a cold nip of boozy Bartlett pears! Refreshing in the summer and transportive in the winter."