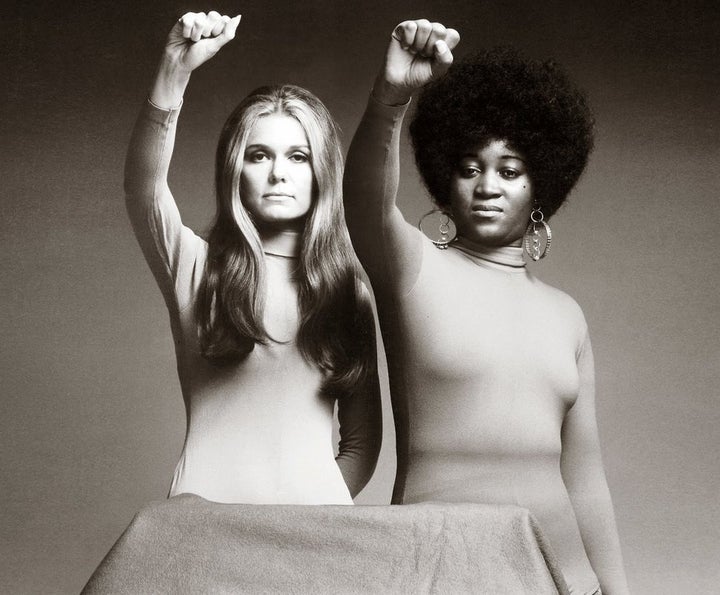 It is women's history month and what better way to honor the past by naming the future? The following 15 female names reflect three hundred years of fighters for women's rights. Most of these women have advocated several other causes, most commonly civil rights, well before their time. Each name below includes the origin and meaning of the name, as defined by BabyNames.com, as well as just some of the women who carried that name along with their causes.
1. Amelia: Amelia is of Latin origin and means "work."
Amelia Earhart (1897-Unknown) was a women's rights activist and the first woman to fly solo across the Atlantic Ocean.
Amelia Bloomer (1818-1894) was a women's rights and temperance advocate.
2. Bell/Bella: Bell is of English origin and Bella is of Italian origin. They both mean "beautiful" although Bella can also mean "God is my oath."
Bell Hooks/Gloria Jean Watkins (1952-) is an author, feminist, and social activist. She is the author of Feminism is for Everybody: Passionate Politics.
Bella Abzug (1920-1988) has been widely recognized as one of the leaders of the women's movement in the 20th century. She also was a lawyer and U.S. Representative.
3. Dorothy: Dorothy is of Greek origin and means "gift of God."
Dorothy Pitman-Hughes (1938-) is a feminist and African-American activist. She is the co-founder of Ms. Magazine as well as the Women's Action Alliance.
4. Elizabeth: Elizabeth is of Hebrew origin. The meaning of Elizabeth is "God is my oath."
Elizabeth Cady Stanton (1815-1902) was a social activist who was a suffragist and abolitionist in the 19th century. She fought for women's rights, including as they relate to custody, income, divorce, and birth control.
5. Frances: The name Frances is of Latin origin and can mean "from France" or "free."
Frances Ellen Watkins Harper (1825-1911) was a political activist, author, public speaker, abolitionist, and suffragist. She was a part of the Underground Railroad and co-chaired the Pennsylvania Abolition Society.
6. Gloria : Gloria is of Latin origin and means "glory" and "glory to God."
Goria Steinem (1934-) is a social and political activist who co-founded Ms. magazine with Dorothy Pitman-Hughes. Long considered a feminist leader in the 20th century, Steinem also co-founded the National Women's Political Caucus and Choice USA.
7. Ida: Ida is of German origin and means "hardworking."
Ida B. Wells (1862-1931) was one of the founders of the NAACP. She is widely known as an early leader in both the civil rights and feminist movements. She also was a sociologist, journalist, and newspaper editor.
8. Lucretia/Lucrezia: The name Lucretia is of Latin origin and the name of Lucrezia is of Italian origin. Both names mean "wealth."
Lucretia Mott (1793-1880) was an early U.S. social reformer, preacher and abolitionist who also focused on women's rights. She was a co-founder of the American Equal Rights Association.
Lucrezia Marinella (1571-1653) was a 16th and 17th century poet and author who wrote frequently about women's rights issues. One of her most famous books was The Nobility and Excellence of Women and the Defects and Vices of Men.
9. Malala: The name Malala means "grief stricken" and is of Arabic origins.
Malala Yousafzai (1997-) is a young woman who is known world-wide for her activism for female education and human rights. She won the Nobel Peace Prize in 2014 for her work on children's rights.
10. Margaret: The name Margaret is of English origin and means "pearl."
Margaret Sanger (1879-1966) was a nurse who started organizations that eventually became Planned Parenthood. She was an advocate for birth control and sex education.
Margaret Cho (1968-) is a comedian and feminist who has advocated for several issues, such as women's rights and Asian humanitarian issues. She was featured on the cover of Ms. Magazine in 2003.
11. Maya: The name Maya is of English origin and means "great."
Maya Angelou (1928-2014) was a poet, memoirist, and civil rights activist. She was the author of I Know Why the Caged Bird Sings as well as 35 other books. She is considered to be a great contributor to feminist and African American fiction and poetry.
12. Shirley: The name Shirley is of English origin and means "bright meadow."
Shirley Chisholm (1924-2005) was a feminist civil rights activist who became the first black female member of the United States Congress. She ran for president in 1972 and co-founded the organization African-American Women for Reproductive Freedom.
13. Simone: The name Simone is of French origin and means "to be heard."
Simone de Beauvoir (1908-1986) was a French writer and political activist who wrote several books on women's issues. One such book, The Second Sex, is considered to be seminal writing for contemporary feminism.
14. Sojourner: The word sojourner is a variation of the French word so'journer, meaning "temporary resident."
SoJourner Truth/Isabella Baumfree (1797-1883) was an abolitionist and women's rights activist. Born into slavery, she delivered the celebrated speech Ain't I a Woman at the Ohio Women's Rights Convention in 1851.
15. Susan: The name Susan means "lily" and is of Hebrew origin.
Susan B. Anthony (1820-1906) was a suffragist and women's rights activist. A member of the American Anti-Slavery Society, she also cofounded the American Equal Rights Association.